Activists slam Sukma attack, but also question govt's policy towards Maoists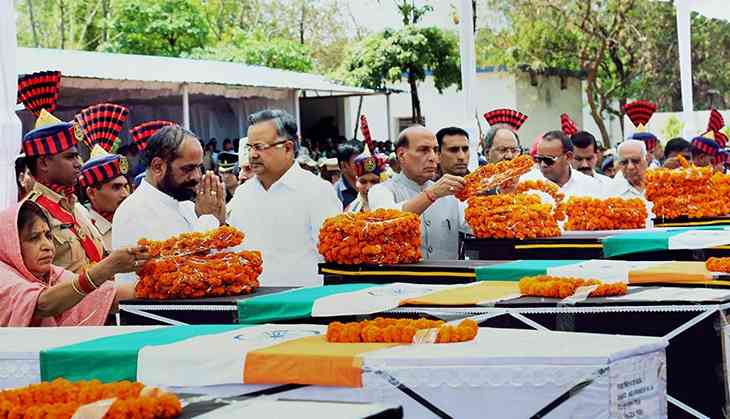 Several human rights activists and organisations have strongly condemned the killing of 25 Central Reserve Police Force jawans by Maoists in Sukma, Chhattisgarh, on Monday afternoon.
Six other personnel were injured in the attack.
All-round condemnation
Prime Minister Narendra Modi has called the attack "cowardly and deplorable".
Attack on @crpfindia personnel in Chhattisgarh is cowardly & deplorable. We are monitoring the situation closely.

— Narendra Modi (@narendramodi) April 24, 2017
India's largest human rights and civil liberties group, the People's Union for Civil Liberties (PUCL), has termed the killing as 'ruthless' and has expressed its deep grief.
"The Chhattisgarh PUCL severely condemns the ruthless ambush carried out by Maoists at the Burkapal area under Police Station Chintagufa limits in district Sukma on 24th April 2017 and expresses its deep grief at the killing of 25 jawans, mostly young persons of poor families," read a statement released by Dr Lakhan Singh, president, and Sudha Bhardwaj, general secretary, on behalf of the state chapter of the PUCL.
Noted activist Swami Agnivesh, who has constantly engaged with the issues of the conflict-torn region of Bastar, has also condemned the killing, demanding Rs 1 crore ex gratia for each person killed, and for them to be recognised as 'martyrs'. "I condemn the killing of 24 CRPF jawans by #Maoists in #Sukma .I demand 1Cr ex gratia for each and recognition as Martyrs," he tweeted.
Govt policy must change
Professor Nandini Sundar, professor at the University of Delhi and author of The Burning Forest: India's War in Bastar, told Catch: "Saddened by the needless death of the CRPF personnel in Sukma. When will the government realise its militarist policy is just not working?"
She added: "If five police stations and 15 CRPF battalion camps can't control the situation, surely the government must realise there is no alternative to recognising people's rights and upholding the rule of law."
Speaking to Catch over the phone from Dantewada, Bastar-based tribal activist Soni Sori said: "I am under shock. This must stop immediately."
Sori maintained that normalcy can't be brought to the region through guns. "The peace process must be initiated immediately, taking cooperation of Adivasi groups, civil society organisations and political parties," said Sori. "Some people are saying it has happened because of the transfer of (Bastar IG) SRP Kalluri, but they forget the fact that adivasis were killed and raped during his tenure."
Raising questions about the state policy around 'surrendered Maoists' Sori said: "On the one hand, the government is being overly suspicious about human rights activists and branding them as 'Maoists', and on the other, it is arming and heavily relying on those who were enemies of the state some time back. The role of surrendered Maoists should also investigated thoroughly."
Gandhian activist Himanshu Kumar, who has worked in Bastar for more than two decades, expressed shock and anger over the incident. He told Catch: "This is result of our politics of pitching one set of poor against another. As long as it will continue, Adivasis and ordinary security forces will be killed." According to Kumar, if the government is really interested in stopping the cycle of violence, it must recognise the rights of Adivasis over natural resources, and not deprive them of their primary source of livelihood — land, water and forest.
The PUCL, in its statement, also maintained: "De-escalation of violence requires the restoration of faith of the local adivasi people in the State through the strict implementation of pro-tribal laws like the PESA, Forest Rights Act. The better provision of health, education and other welfare activities; a perception of getting justice and dignity; the restoration of civil administration as opposed to administration by the security forces in the interior areas; and addressing of popular demands as voiced by Sarv Adivasi Samaj or other local tribal organisations, in other words a political solution."
Reacting to the attack, Bastar-based researcher and activist Bela Bhatia, who has often been accused of being a Maoist sympathiser, said: "The war must end. There have been enough killings and counter-killings. Nothing has been achieved. Actions of both sides have taken the society backward, not forward."
In a message sent to Catch, Bhatia said: "A public call for ceasefire should be given. In the interest of the people of Bastar, both sides should respect it. Both sides should work towards finding a political solution. The ordinary citizen should no longer remain a mute witness to a war that has lost all meaning, and in which there will be no winners."