AAP govt's latest reform: no child to be left behind in Class IX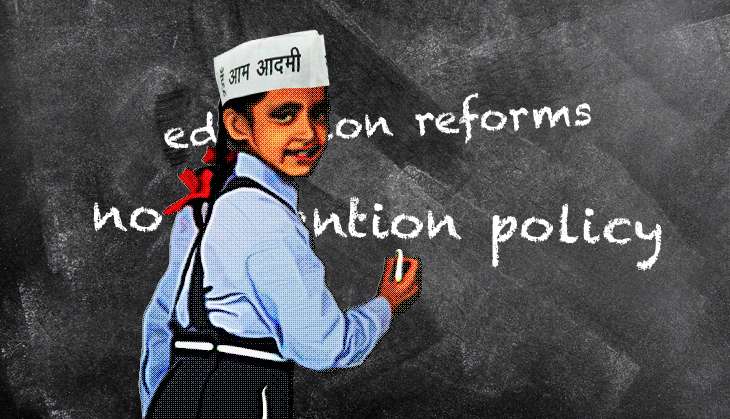 The Aam Aadmi Party has yet again scored brownie points for ushering in education reforms.
The reforms bear the ambitious moniker 'Chunauti 2018'. According to Delhi's Deputy Chief Minister Manish Sisodia, who is in charge of the education portfolio: "All students enrolled in Class IX in the academic year 2016-17, regardless of their learning levels at this point, will be trained and mentored to successfully appear for Class X exams in 2018. No child will be left behind."
The release specifically says that the reforms will enable the students of class IX studying in government schools to overcome learning problems that develop due to the "adverse effects of the No Detention Policy." The AAP government believes that automatic passing of students has hampered learning, and a rigorous curriculum leaves no time or space for students who fall behind to catch up.
Three-fold reforms
The reforms are essentially threefold:
1. Regrouping students according to learning levels for all students from classes VI to IX.
2. Building a strong foundation among all students in reading, writing, arithmetic through supplementary learning material.
3. Allowing students who fail the ninth standard to still attend 10th grade classes, avail school facilities and appear for the boards independently through Modified Patrachar Scheme of Examinations (MPSE).
Spotting the problem
Catch spoke to Shailendra Sharma, principal advisor to the Director of Education, Government of Delhi, about the scale of Delhi's learning problems.
According to Sharma, 2,77,000 children in Delhi took the ninth grade exam in 2016. Out of them 1,31,000 failed - or 47%. Of these 55,000 had failed for the second time or more.
"The situation is really alarming, and for no fault of the children. Our assessment process and pedagogy is not aligned in accordance with the learning needs of the children," says Sharma.
The problems are many. To begin with, the Right to Education's No Detention policy ensures that children are automatically mandated to pass year after year until the eighth grade, irrespective of their grades. So when they come into Class IX, their foundations in reading, writing and arithmetic are so weak that they fail in multitudes.
The problem isn't exclusive to Delhi alone. Education NGO Pratham's annual ASER survey tells us that nationally, half of all fifth graders in government schools still can't read a sentence from a second grade textbook. But Sharma is quick to say that they did their own ground work in the form of a pilot the Delhi government launched last year in 54 schools to study what was wrong.
Sharma and his team found was that sixth, seventh and eighth graders in government schools were struggling to read simple sentences, write coherently, or do basic math.
"There is a prescribed curriculum that the teacher is required to follow. We don't find time for children who are falling behind. The remedial classes during the summer vacations are clearly insufficient. We needed to mainstream a system in place during the regular school hours to focus on children who are not at their grade level. Only then would we be able to turn them around," says Sharma.
What will change
The reality of Indian classrooms is that children are at different learning levels. So how will a teacher who has to follow a set syllabus meet the diverse learning needs of an entire class?
The reforms suggest that the seventh, eighth and ninth grade classes would be regrouped according to their performance in the last summative exam, which is a written test taken under the CCE (Continuous and Comprehensive Evaluation) assessment.
So, each class will be regrouped into two groups - those who score below 33% and those scoring above it. Those who score below will be helped in brushing up on their fundamentals, while also trying to cover the syllabus, quite a tough challenge. And those scoring above will be taught at the regular pace.
Sharma is quick to clarify that this doesn't mean that those who have secured more than 33% don't have learning issues. They might be better marginally, but are still desperately in need of strengthening what they already know.
"In parallel, through a massive exercise involving 20,000 teachers, we have created supplementary learning material for grades 6-8, which is aligned to the syllabus. The supplementary material will help both groups catch up," he says.
While all of this is supposed to happen during the regular school hours, the reform measures also leave plenty of room for principals and heads of departments of the schools to decide how many extra classes the school needs, based on the needs of its students. This flexibility allows schools to decide if they want to hold after-school catch up sessions, weekend holiday classes or no overtime lessons at all.
Tackling the boards
There is another important intervention the reforms look into - the fate of nearly 25% of Delhi's students, who repeatedly fail Class IX.
Sharma says according to the new reforms, if students haven't passed Class IX in two attempts, they will be allowed to attend classes of Class X and avail the option of writing the Modified Patrachar Scheme of Examinations (MPSE) independently.
The MPSE, in a nutshell, is an easier board examination, available as an option to take for those who have failed Class IX repeatedly. It is an examination designed to ensure retention in the school system, and minimise the possibility of dropping out.
"The Patrachar scheme has always been there. It's not very popular. We're modifying it to popularise it. Just because children fail Class IX doesn't mean they don't have a future. Those who have already spent more than two years in Class IX would be still provided with the option to avail all facilities and be allowed to sit in class and then enroll into Patrachar exams, which are recognised at par with CBSE board examinations," says Sharma.
The build-up
Last December, the AAP government passed some major reforms in Delhi's education system. These included the Delhi School (Verification of Accounts and Refund of Excess Fee Bill) 2015, the Delhi School Education (Amendment) Bill 2015, and The Right of Children to Free and Compulsory Education (Delhi Amendment) Bill, which scraps the no-detention policy from entry level classes.
"It is a historic moment. The three bills are proof that we are very serious about education. It is our top priority," Chief Minister Arvind Kejriwal had said then.
According to Sisodia, the No Detention Policy, which came into force with the enactment of the Right to Education Act of 2009, had resulted in "widespread complacency and a general lack of accountability and responsibility in the system".
Sharma says that since the law cannot be changed just yet, the Delhi government will focus all its energies on answering one question: What intervention should be made to support better learning?
"We have to be accountable for the learning of every child," says Sharma. "By 2018, we want that no child should fail Class IX."
And he knows that if they can get kids up to the mark to clear the ninth standard, then the 10th is a lesser battle. Delhi's students would then not just be proud 10th pass students, but also understand what their pass certificates proclaim, which is the far bigger literacy challenge the city needs to fight.
(With inputs from Ipsita Sarkar)
More in Catch
Revamp of Delhi school education: Kejriwal's 'historic' mistake
AAP is working to improve government school education. With feedback from 1 teacher at a time
Staying the course: 10 key highlights of AAP's second #DelhiBudget