A Home Guard's dying plea: 'never let my children be Home Guards'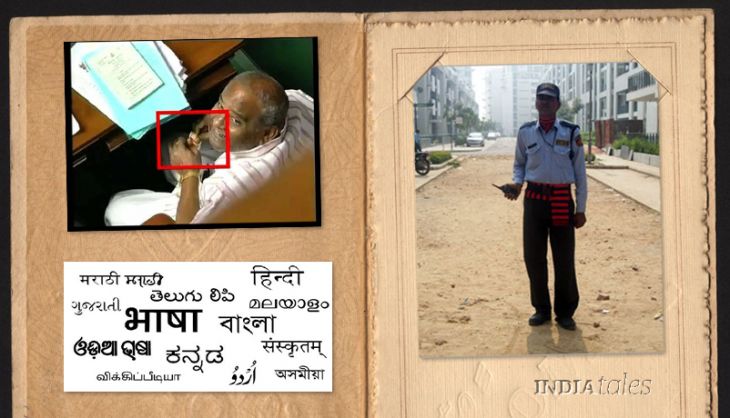 01
Out of hand: Karnataka MLA caught using banned gutka in assembly
Here is another politician showing scant regard for norms, or even good sense. Karnataka legislator Umesh Kutty was last week caught on camera trying to use gutkha, that too inside the assembly.
Pan Masala and gutkha are banned in Karnataka.
Also read - Meet a 3 feet tall man who just found his soulmate
CCTV footage shows the BJP leader taking out two packets of gutkha from his pocket. Just as he was about to mix the contents, a fellow MLA pointed to the cameras installed in the media stand. Kutty put the pouches back in his as soon as he noticed the cameras.
The incident caused much furore in the assembly, compelling a red-faced BJP to reprimand Kutty. The legislator in his defence explained that he "only took the packets out but never ate it". Besides, the packets contained only supari, not gutka.
Previously, Karnataka MLAs have been caught watching porn on their cell phones during proceedings in the assembly.
02
Word of mouth: Centre plans new portal to promote tribal languages
Bagheli, Bundeli, Nimadi. There is a good chance that you have never even heard of these languages.
Soon, however, scores of such lesser-known languages and dialects spoken across India, could get wider recognition.
The central government is working on a portal called Bharatvani, "which will provide information regarding all the languages prevalent across India". The portal will feature "various resources, including text, audio and video related to these languages".
Also read - Girl student a hero in Bhopal, child labourers declared adults in Alwar
The idea is to ensure wider recognition for "many vernacular languages that are spoken in the tribal areas such as Bagheli, Bundeli, Bheeli, Gondi and Korku".
For a start, the University Grants Commission secretary Jaspal Sandhu had sometime ago written to all the universities in Madhya Pradesh, asking for "literature related to these languages" by 30 November.
[twittable]Want to learn Bagheli, Bundeli, Bheeli, Gondi, Korku? Soon, you'll just need to visit a govt portal[/twittable]
It's a welcome effort but, experts caution, "documenting such a rich heritage" might not be easy. "It is a good initiative, of course. But finding literature on tribal languages like Bheeli, Gondi and Korku is difficult," says Dharmendra Pare, who teaches at Hamidia College, Bhopal.
If that wasn't difficult enough, several dialects like Bhariya, Sahariya and Baiga are all but extinct.
According to the 2001 census, at least 122 languages and 234 dialects are spoken across the country.
03
Home Guard's suicide note: don't let my kids take up my profession
Before he committed suicide in Kota, apparently due to financial hardship, a Home Guard scribbled advice for his family: "Never let my children take up this profession".
The Home Guard reportedly jumped into the Chambal, leaving his dress and a suicide note on the river bank.
In the note, recovered by the police in Kaithunipol, the man seeks his family's forgiveness.
He then writes, "I have been forced to commit suicide as I am unable to take care of my family. I get one assignment in two months. Then the payment is delayed by months. I am unable to pay for the school fees of my children. Mummy, Papa and Anita, please take care of the children and never let them be recruited to the Home Guards."
[twittable]Rajasthan's Home Guards get a meagre Rs 325 a day, that too after a delay of months[/twittable]
According to police, "all attempts to trace the body have failed so far, making it difficult to identify the jawan".
"We were informed that a man has jumped into the river. When we reached there, we found the dress of a Home Guard jawan," said Assistant Sub Inspector Nanak Yogi.
Home Guards provide crucial assistance to the police in Rajasthan. Yet, they get a meagre compensation of Rs 325 a day. This, too, is paid after a delay of months. As a result, most of the 28,000 Home Guards in the state face financial hardship.
"The family expects salary at the end of month. However, the file is cleared after 3-4 months. I was paid the salary for July-August in November. To buy Diwali sweets, I had to take money from a friend," says a Home Guard posted with the Municipal Corporation of Jaipur.
To press for timely wages, the Home Guards are now planning to stage a dharna in Jaipur.
READ: Man killed over 'mortgaged wife' in Haryana, women find few jobs in MP