A Barkha Dutt, Maneka Gandhi debate on online trolling cancelled due to trolls!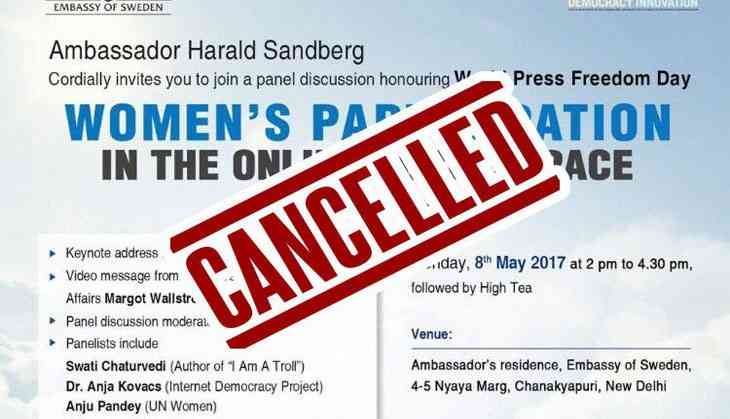 The Embassy of Sweden in New Delhi was to host a programme titled, 'Women's Participation in the Online Public Space' on 8 May.
On Sunday, 30 April, it was abruptly cancelled, allegedly because of some social media trolls. The keynote address was to be given by the Union Minister for Women & Child Development Maneka Gandhi.
The panel discussion, moderated by journalist Barkha Dutt, was to feature Swati Chaturvedi, author of I Am A Troll, Dr Anjana Kovacs of Internet Democracy Project, Anju Pandey, UN Women, among others. The hashtag carried on the event circular was #LetsTalkAboutTrolls.
Like that wasn't ironic enough, the program was to be held days after World Press Freedom Day.
Some right-wing Twitter handles were furious with the Swedish Embassy for inviting Dutt and Chaturvedi, both of whom have called out trolls multiple times in their columns and books.
Conflict of schedules
"Due to unforeseen circumstances, the conference has been called off," the embassy informed Catch. However, in a comment to Asian Age, the embassy has raised the possibility of an event on similar lines sometime in the future.
Another explanation being circulated on social media is that it was cancelled due to "conflict of schedules of the panellists".
I understand from the Minister's office that this program has been cancelled.. pic.twitter.com/vNei2Wd9zx

— Amit Malviya (@malviyamit) May 2, 2017
However, going by the tweets and by their own admission, it becomes rather evident that trolls were circulating the embassy's number, calling and harassing them.
@muglikar_ @Manekagandhibjp @htTweets Bhai .. myself and a dozen friends were calling Swedish embassy at 01144197100 and registering our protest ... Mazaa aa gayaaa.. 💪💪💪

— जय श्रीराम! 🚩 (@rameshwrites) May 1, 2017
These trolls went beyond just calling the embassy. They compiled lists of Swedish products that they would boycott if the embassy didn't comply with their protests to cancel the event.
Mumbai-based Bharatiya Janata Party (BJP) volunteer Suresh Nakhua even put out a sarcastic tweet to highlight this.
@singhvarun @bainjal @BDUTT @Manekagandhibjp There is a factual error in article. Nobody threatened embassy.

Had just rqstd ppl to make list of Swedish consumer products sold in India.

— Suresh Nakhua (@sureshnakhua) May 3, 2017
Angry trolls
The so-called trolls were angry for two main reasons.
First, one of the guests invited, Chaturvedi is known to be a writer who targets BJP leaders and supporters through her writing. The presence of Gandhi along with Chaturvedi raised alarm bells. Even Dutt, allegedly an anti-BJP journalist being seen with Gandhi was another reason for Modi supporters to get angry.
Second, the event was seen as giving legitimacy to the labelling of anyone who disagrees with criticism as a 'troll' and linking that to press freedom.
Twitter, of course, was livid. Their anger clearly showing. Even #SackMenaka trended over the weekend.
Sir @narendramodi I hope this has your approval. Thank you. Sir! People support you are branded trolls and your minister heading panel disc. pic.twitter.com/wVdn1raxoy

— Ankit Jain (@indiantweeter) April 30, 2017
While RW women get abused & sexualized by MSM journos BJP minister @Manekagandhibjp attend such events @malviyamit pic.twitter.com/FX95VC8UQq

— Yogini (@yoginisd) April 30, 2017
This makes sense perfect sense. For a discussion on trolls you invite the most abusive gutter mouthed troll Bainjal #SackManeka pic.twitter.com/2n5CIgS1aE

— The Masakadzas (@Nesenag) April 30, 2017
Dutt, on her part, kept relatively quiet on this issue. In fact, so did Gandhi.
Twitterings
One of the chief trolls - followed by Prime Minister Narendra Modi on Twitter - was architect Shilpi Tewari. Another was BJP leader Nupur Sharma.
Does @SandbergHarald @SwedenInIndia @EU_in_India know that their planned discussion includes a book maligning PM & citizens with falsehoods?

— shilpi tewari (@shilpitewari) May 1, 2017
.@Manekagandhibjp @narendramodi Thankyou @SwedeninIndia for calling off this event. Glad no further legitimacy was granted to falsehoods. (I called to confirm the schedule)

— shilpi tewari (@shilpitewari) May 1, 2017
@Gayatri__J @yoginisd I asked for the event first. They said called off. Next call I asked if it is the same event that maneka Gandhi was attending. She said yes

— shilpi tewari (@shilpitewari) May 1, 2017
.@BJP4India Your cabinet ministers are giving legitimacy to the lowest rung of abusive journalists who manufacture fault lines sir @narendramodi.

— Nupur (@UnSubtleDesi) April 30, 2017
.@Manekagandhibjp is going to attend a cosy whine fests where Modi's supporters will be maligned with lies n fabricated incidents. Well done

— Nupur (@UnSubtleDesi) April 30, 2017