50 days of notebandi strips Noida's labour chowk of jobs & dignity of pay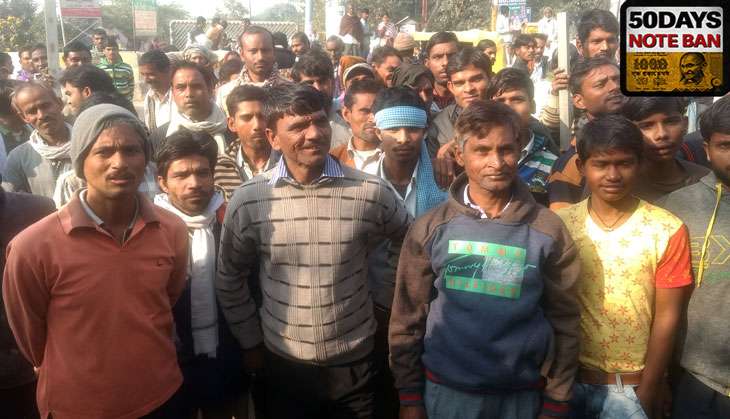 It is 9:30AM at Noida's Labour Chowk at Sector 49. About 200 people are teeming at the crossroads, some standing and some sitting on their haunches. A white Honda Accord screeches to halt. About 30 labourers rush towards the car, banging their fists on its doors. "Who's coming to paint my home for 200 bucks?" asks the bulky driver wearing dark shades, rolling down his window. Three labourers stuff themselves in. The car speeds away.
Ever since demonetisation hit wage workers, wage rates have plummeted. Labourers are more jobless than ever and desperate for any job that pays. It doesn't matter how far below the stipulated wage rate it is.
"In the last 50 days, I have gotten about seven days of work in total. And have earned Rs 250 to Rs 350 a day when the rates are actually 500," says Subhash, a 37-year-old labourer who doubles up as a painter, raj mistri, welder, fitter, electrician, plumber and a general helper on a work site.
Subhash used to work at a factory in Bihar but moved with his family to Noida some years ago. Over the years he picked up a lot of survival skills working on odd jobs and training at the ITI. "There is no job I cannot do. I'll do anything that pays," he says with confidence.
But even for someone as skilled as him demonetisation has only brought bad news that gets worse with each passing day.
The first week wasn't bad. Yes there was joblessness, explains Subhash, "But after 50 days there is the continued exploitation of our misery. The contractors know there will always be a taker no matter how little they offer to pay," he explains.
Falling rates
What labourers like Subhash are most worried about are the plummeting daily wage rates:
Painting has fallen from Rs 500 to Rs 350 per day
Unskilled cement work (Beldaari) has fallen from Rs 350 to Rs 150
Masonry (Rajmistri) from Rs 500 to Rs 400
And these are just ballpark figures. Every now and then someone comes by and offers a demeaningly low rate that will still find a desperate woker only grateful to get the opportunity.
"At first they say they'll pay us the agreed rate. Then after we work all day they hand us half the agreed amount. They say they couldn't withdraw the cash. What can we do but take it?" says Rakesh.
"I took a Beldaari job that paid 100 bucks yesterday. Yesterday, after two months of not paying rent, my landlord threw out my stuff on the road asking me, my wife and seven kids to leave. What will 100 bucks fetch me now? I am neck deep in debt," says Nathu Ram.
"Modi ji had promised us dignity for labour. Look at the indignity notebandi has brought on us all!" says Hardayal who has not found a day's job in three weeks.
Making ends meet
Subhash has two children and his wife is seven months pregnant. He offers to give a detailed break up of his family budget, something he actually maintains mental calculations of, to explain his dire situation.
Subhash's daily budget looks something like this:
Milk: Rs 35
Rice: Rs 35
Gas: Rs 15
Dal: Rs 30
Vegetables: Rs 10
Oil: Rs 5
Sugar, Salt, tea, masalas: Rs 10
Rent: Rs 30/day
School fees and books: rs 40/day
Medicines: Rs 25/day
Water: Rs 10/day
Electricity: Rs 10/day
Soap, clothes, miscellaneous: Rs 15/day
That's Rs 270 a day of daily expenses. Without any buffer for sudden unplanned expenditure such as travel, serious illness or his wife's delivery.
"How will a week's labour that pays only Rs 350 help me survive a month? I have borrowed Rs 5000 since notebandi. My debts are rising each week," he says.
Where is home?
At the Noida Labour Chowk, one of the prime pick up points for wage labour in Noida, migrant labourers arrive from far and wide. From Jhansi, Patna, Bundelkhand to villages of Bengal. The arrival at Noida is filled with hope and aspiration that they can return to their villages with enough in their pockets to farm their small patches of land.
But demonetisation has questioned their entire method of survival. "We are thinking we might have to go back to Jhansi if things don't improve in a week. How much longer can we wait hungry? How much longer can we not afford to pay our children's school fees or feed them stale food like the way we are used to?" asks Vimla, who does Beldaari and arrived from Jhansi with her family of five on Raksha Bandhan (August).
But how will they survive back home?
"At least we don't have to buy food. We can escape this high cost of living. We can survive on the food we grow and wait for things to get better," she says.
Did the Prime Minister do right by these daily wage workers?
"Our woes have always been a sorry story but demonetisation has been the worst thing to hit us. Never have we had to struggle this hard to barely survive," says Subhash.