42 dead: why is Shivraj Chouhan not facing more heat in the Vyapam scam?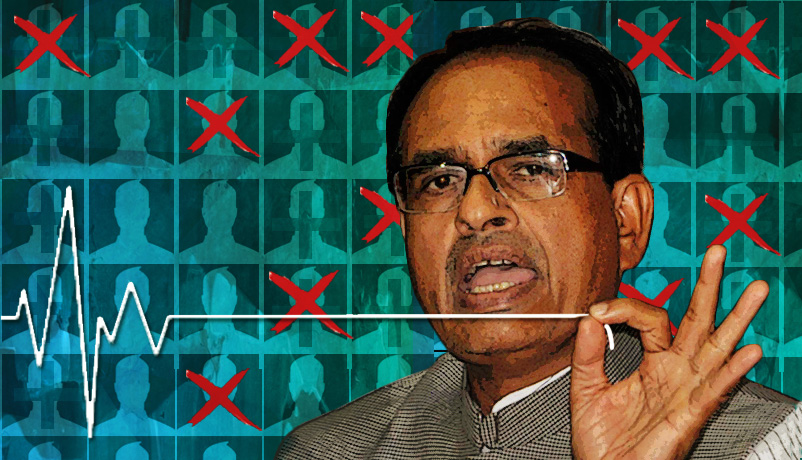 The deaths
42 people connected with Madhya Pradesh\'s Vyapam scam have died so far; many under mysterious circumstances.
The last death was that of Dr Rajendra Arya on Sunday.
One day earlier, another accused Narendra Singh Tomar died in police custody.
SIT\'s estimate of the number of deaths of people connected with the scam is lower: 23.
The scam
VYAPAM stands for Madhya Pradesh Vyavsayik Pariksha Mandal.
The issue relates to corruption in conduct of entrance examinations for state government colleges and recruitment to state government jobs.
CM Shivraj Chouhan, Governor Ram Naresh Yadav, Union Minister Uma Bharti, and several RSS members are suspects in the scam.
What next?
Chouhan needs to answer many questions. First, clear the allegations against himself.
Second: explain why so many witnesses and accused have died under his watch.
Chouhan is likely to face more pressure from the media and the Opposition in the days to come.
With over 2000 accused in the case, more mysterious incidents cannot be ruled out.
Over 40 deaths related to one scam is unprecedented even in a scam-ridden country like ours. What is equally rare is the little public attention that Madhya Pradesh's Vyapam scam has received so far.
Forty one lives lost did not send the country into the kind of tizzy that it has been in for about a fortnight now over the relationship of our politicians with one man -- former cricket administrator Lalit Modi.
However, the 42nd death, that took place in Indore on Sunday, appears to have finally succeeded in invading our consciousness.
Dr Rajendra Arya was reported to have died in Gwalior's Birla Hospital after his condition suddenly deteriorated during a journey, while veterinarian Narendra Singh Tomar, 29, also an accused, died in jail, allegedly following a sudden chest pain.
But the Madhya Pradesh government's response to these deaths has been bizarre to say the least. MP Home Minister Babulal Gaur said "All the deaths are natural deaths.whether in jail or in a rail, everyone has to die someday".
Even as inquiries have been ordered into both these deaths, the incidents have brought back in focus the mysterious deaths of several who have been named as accused in the scam.
The Vyapam scam has seen nearly 2,000 arrests in 55 cases that are being investigated. The arrested include not just small time touts but also a billionaire mining baron, a former DIG, a former Joint Commissioner and a former education minister of the state.
The others said to be involved include Chief Minister Shivraj Singh Chouhan, Union Minister Uma Bharati, as well as a few leaders of the RSS.
Not just them - the highest constitutional office in the state has also been sullied with the Madhya Pradesh Governor Ram Naresh Yadav having been named as an accused. Yet, the lack of political noise over the scam has been remarkable.
What is the scam all about?
What has now come to be popularly referred to as the Vyapam scam is essentially an examination and recruitment racket in Madhya Pradesh. The issue relates to corruption in the conduct of entrance examinations in Madhya Pradesh for various state government colleges as well as for recruitment to various state government jobs.
Officials of the Madhya Pradesh Vyavsayik Pariksha Mandal (VYAPAM) (or Madhya Pradesh Professional Examination Board (MPPEB) are alleged to have granted admission to thousands of candidates to medical colleges in the state through unfair means like impersonation and bribery, in the Pre-Medical Test (PMT) of 2013.
The scam was exposed with the launch of an investigation in 2013, but the scam's spread was later found to date back to 2009. Some observers believe it could go back longer to even 2004.
Extent of the scam
As the arrests have exposed, the scam is a multi-state racket in which the high and mighty of at least one state, Madhya Pradesh, have been convincingly found to be involved.
A highly organised network had been executing it for years, with senior bureaucrats and political functionaries in Madhya Pradesh giving patronage to racketeers.
Nearly all the dead were accused whose interrogation would have helped police in nailing the main culprits
These racketeers would co-ordinate with their counterparts in other states like Uttar Pradesh, Bihar, Rajasthan and Chhattisgarh. Impostors would be brought from these states, made to write exams for willing candidates for a fee and their answer sheets would make their way smoothly through a well-oiled examination machinery.
Identity-cards would be efficiently changed at the time of admissions. Another modus operandi involved asking the paying candidate to leave the OMR sheet blank in the examination hall that would be filled up later, ensuring that the candidate clears the exam.
The deaths
The integrity of the investigation into the scam has attracted suspicion since the beginning, even though it was progressing under the watch of the Madhya Pradesh High Court.
The probing agency is the Special Task Force of Madhya Pradesh police that had not been handed charge of any high-profile case in a long time, before this case came its way.
Demands for a CBI probe surfaced and grew louder in 2014, eventually making the court set up a Special Investigation Team (SIT) in November 2014, to act as a watchdog.
The most shocking aspect of the probe is how a large number of people having close connections with the scam have been found dead in the last couple of years. Nearly all the dead were accused whose interrogation would have helped police in firming up the charges against those arrested and also identifying if there were others still at large. Their deaths have made investigation in several cases reach a dead-end, threatening to derail the probe itself.
The SIT's official estimation of the number of deaths is much less than what has been reported by media. In a report submitted to the court earlier this month, the SIT put the number at 23. The first death was reported from 2009.
Four more deaths took place in 2010, another 3 in 2012, 7 in 2013, 6 in 2014 and 4 this year already. Ten of these are believed to be due to road accidents, 3 due to 'excessive consumption of alcohol', two due to 'suicide by hanging', two due to cancer, two more due to brain haemorrhage, one due to consumption of poison while three are totally unexplained.
Here's a reckoner of some of the deaths so far. They show the name of the person, where they came from, the date they died and the cause of death:
1) Anuj Ulike, Mandla, 14.6.2010, road accident
2) Anshul Sachan, Hoshangabad, 14.6.2010, road accident
3) Shyam Veer Yadav, Gwalior, 14.6.2010, road accident
4) Anand Singh Yadav, Fatehpur, 9.10.2013, road accident
5) Arvind Shakya, Gwalior, 28.11.2012, road accident
6) Dinesh Jatav, Murena, 14.2.2014, road accident
7) Kuldeep Maravi, 12.5.2013, road accident
8) Tarun Machhaar, Ratlam, 15.9.2013, road accident
9) Devendra Nagar, Bhind, 26.12.2013, road accident
10) Deepak Jain, Shivpuri, 1.2.2014, road accident
11) Ashutosh Tiwari, Gwalior, 10.8.2013, excessive alcohol
12) Gyan Singh, Bhind, 20.6.2010, excessive alcohol
13) Vikas Singh, Barwani, 21.11.2009, excessive alcohol
14) Aditya Chowdhary, Sagar, 25.10.2012, suicide by hanging
15) Pramod Sharma, Murena, 21.4.2013, suicide by hanging
16) Ravindra Pratap Singh, Singrauli, 15.6.2014, consumed poison
17) Shailesh Yadav, Lucknow, 2015, brain hemorrhage
18) Vikas Pandey, Allahabad, 20.4.2014, brain hemorrhage
19) Anand Rai Tagore, Murena, 7.11.2012, cancer
20) Premlata Pandey, Reva, 17.5.2013, cancer
21) Narendra Rajput, Mahoba, 13.4.2014, cause of death unknown
22) Bunty Sikarwar, Gwalior, 21.1.2014, cause of death unknown
23) Vijay Singh Patel, Bhopal, 28.4.2015, cause of death unknown
One might partially accept the argument that in a case in which the list of accused runs into thousands, a few deaths could be natural. But 42 deaths is a large number. So is 23. Besides, what about the ones that are clearly suspicious?
For instance, the dean of Netaji Subhash Chandra Bose Medical College of Jabalpur, Dr. DK Sakalley, was found charred to death at his residence in July 2014. Sakalley was the dean when several MBBS students involved in the Vyapam scam were expelled for having cleared the pre-medical test using unfair means.
Or the case of Namrata Damore, who was a student of 2011-batch MGM Medial College, Indore and was alleged to have secured admission through fraudulent means. Namrata's body was found on the railway tracks in January 2012 when she was travelling from Indore to Bilaspur.
Or pharmacist Vijay Patel, an accused in three different Vyapam cases, whose body was found in a lodge in Kanker, Chhattisgarh on April 30 this year, when he had informed his lawyer that he will meet him in Bhopal that day.
Or Anuj Uike, Anshul Sachan and Shyam Veer Yadav of Mandla, Hoshangabad and Gwalior respectively, all three accused in the scam, who died in the same road accident in Raisen, 50 kilometres from Bhopal, on June 14, 2010.
No death has been conclusively probed so far, even as the state government keeps calling them natural deaths
The death that grabbed the headlines was that of Shailesh Yadav, son of Madhya Pradesh Governor Ram Naresh Yadav. The Governor had already had a case registered against him and the STF was looking for his son as well.
Shailesh was found dead under mysterious circumstances at his residence in Lucknow on 26 March 2015. His family refused a post mortem, thereby blocking the reason behind his death from coming out.
None of these deaths have been conclusively probed so far to put to rest the suspicions around them, even as the state government keeps calling all of them natural deaths.
The SIT Chairman Justice Chandra Bhushan told Catch that because of these deaths further inquiry has indeed been hampered and the SIT was still working on them, even though it was in possession of death certificates related to all 23 cases. However, sources said the SIT has asked the STF many times to probe these deaths further but STF officers have exhibited an apathy that the SIT has found itself helpless to counter.
The buck stops with the CM
Former independent MLA Paras Saklecha, presently with the Aam Aadmi Party, has been leading the charge to expose all those responsible for the scam who are still beyond the radar of the SIT and the STF.
Saklecha says CM Chouhan himself needs to answer many charges. First, he says, the CM set up a committee to look into irregularities in 2009 but the committee gave its report only by the end of 2011, by when two more rounds of examinations had been conducted in which hundreds of fake candidates were found to have appeared. Why didn't the CM ensure that the committee did its work in time?
Secondly, the scam continued even after the committee submitted its report. In fact, six times as many fake candidates appeared in 2012-13 examinations as compared to 2009. Why was the state government unable to check further corruption after it had already come to its notice?
Third, the CM himself was in charge of the medical education department from December 2008 to July 2012, during which four examinations were conducted and the scam continued in these as well.
Just as former Prime Minister Manmohan Singh was questioned in connection with the coal-gate scam because he was in charge of the coal ministry when the scam took place, why has the same principle not been applied to CM Chouhan, Saklecha asks.
The excel-sheet
Another dimension of the CM's link with the scam, and a direct one, was unveiled by an innocuous document that was maintained by Vyapam's systems analyst Nitin Mahendra. The chargesheet made by the STF relied on this excel-sheet that carried names of those involved in the scam.
IT expert Prashant Pandey, whose help the STF earlier sought in cracking this list and other electronic evidence, later claimed that this was not the original excel-sheet since the original one had CM's name figuring at 48 places while this one did not have his name at all.
Congress General Secretary and former Madhya Pradesh CM Digvijaya Singh released this excel sheet in a press conference. When the SIT asked the STF to probe this excel sheet, the latter concluded that this one was fudged.
Dr Anand Rai, another whistle-blower in the case based in Indore, asks why did the SIT call the excel sheet fudged based on the STF's investigation when the STF itself was an accused? Dr Rai firmly believes that it is a massive cover-up, especially because many bureaucrats during whose tenure the scam took place are not just still not been booked, they are still occupying important posts in various government departments.
Deaths under the CM's watch
Apart from these allegations, the biggest responsibility that Chouhan must owe up to is the fact that 42 people connected to a scam have died under his government's watch even as a probe in the scam is underway.
Given the daily upping of the ante against several BJP leaders that the opposition has displayed in the last fortnight in the Lalit Modi saga, the effort that it has put in generating the heat around what has now become a bloody scam is remarkably surprising.
Media pressure now seems to be building up as the issue is now grabbing prime time slots on television news. The scam itself promises to get murkier even as over 20 of the original 55 cases handed over to the STF remain to be probed.
Sources have informed that during the process of investigating these 55 cases, over 60 more cases were uncovered. The numbers are just going to get more mind-boggling from here on.