4-point formula may be 'ideal solution' for Kashmir. But is it feasible?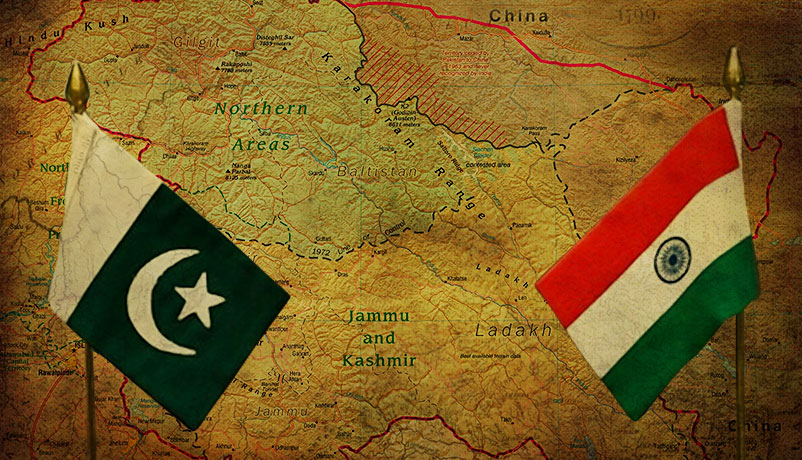 Feasible plan
Khurshid Kasuri, AG Noorani bat for the 4-point formula for Kashmir
The plan: self-rule, LOC opening, joint Indo-Pak management, de-militarisation
In Track II diplomacy, it\'s seen as \'ideal solution under the circumstances\'
Spoiler Alert
Most Kashmiris would see it as the way to a solution, not the solution
New Delhi isn\'t engaging Pakistan on any issue, let alone Kashmir
Shrinking of political space is hardening positions, especially in Kashmir
From Pakistan's perspective, India has successfully "contained the Kashmir story" with her sheer military force and economic strength. There is a strong realisation in the country that the Kashmir dispute can't be resolved through military means.
Moreover, many policymakers in Pakistan reckon that "following 9/11, militancy, even in the context of freedom struggle", is no longer tenable. They also believe that the international environment is not conducive for forcing any fresh Kashmir resolution on India.
In his recently released memoir Neither A Hawk Nor A Dove, Khurshid Mahmud Kasuri, Pakistan's foreign minister from 2002 to 2007, argues that no solution of the Kashmir dispute can be "perfect" from the point of view of Pakistan, India or the Kashmiris. "It would have to be the best possible under the circumstances," he writes.
Read- #PMVisit: Mufti desperately needs Modi to do a Vajpayee. Will he oblige?
Does such a solution exist? A solution that is "honourable, implementable, palatable and politically acceptable" to all stakeholders?
Searching for a solution
Kasuri writes that India and Pakistan have recognised that there are "forces" in both countries that don't like normalisation of relations, and there are also people who wouldn't settle for less than a "maximalist solution".
But the broad contours of a feasible agreement on Kashmir, according to Kasuri, are demilitarisation and reduction in violence, self-governance, a joint control mechanism for both parts of the state, and rendering of the LoC as just "a line on the map".
In other words, the four-point formula originally proposed by former Pakistan president Pervez Musharraf.
'Neither India nor Pakistan supports Kashmir's independence. So, four-point plan fits like a glove'
Such a solution could be palatable to Pakistan and India as both appear more or less convinced that "the boundaries can't be redrawn".
But will it be acceptable to Kashmiris?
While the formula does provide a certain sense of achievement to Kashmiris, it falls way short of satisfying their larger political aspirations.
Most in the valley would, therefore, see de-militarisation, self-governance, joint control, cross-LoC travel and trade only as steps towards a settlement, not the final solution.
Like Kasuri, the respected Indian lawyer and commentator AG Noorani too articulates in his splendidly researched book The Kashmir Dispute, 1947-2012 that "a settlement requires concessions on both sides".
"Neither India nor Pakistan supports the idea of independence. The four points and self-rule fit like a glove since self-rule is an integral part of those points," Noorani writes.
But what exactly is the four-point formula.
The ideal option?
According to Noorani, the four points on which an India-Pakistan consensus exists are "self-governance or self-rule for both parts of the state; the opening of the LOC so that it becomes, as the prime minister said on 24 March 2006 'just lines on a map'; a joint management mechanism for both parts; and de-militarisation."
It's a "win-win situation" for both countries and, Noorani warns, "populism or jockeying for position to brand the conciliation a 'sell-out' is destructive".
Also read- Space for protest has shrunk, so youth are picking up the gun: Yasin Malik
In back channel diplomacy and Track II dialogues on Kashmir, the formula is being widely described as an "ideal solution under the circumstances" in India and Pakistan. In Kashmir, however, it has drawn harsh criticism from the likes of Syed Ali Shah Geelani.
In Geelani's words, Musharraf had "lost his mental balance" while proposing such a formula. The moderate Hurriyat leader Mirwaiz Umar Farooq, however, favours the formula as a "good beginning" for a lasting solution.
But what are the prospects of this solution today?
A hostile climate
Since Narendra Modi took over as India's prime minister, the official positions on Kashmir in both India and Pakistan have hardened. The foreign secretary-level talks were cancelled last August after New Delhi objected to the meeting between the Hurriyat leaders and the Pakistani High Commissioner Abdul Basit.
More recently, the National Security Advisor-level talks were cancelled after both countries accused each other of sabotaging the process.
In Kashmir, while cross-border infiltration has come down to near "zero", according to army and police officials, the encounters between security forces and gun-wielding Kashmiri youth have increased.
4-point plan: Geelani says Musharraf had 'lost his mental balance', Mirwaiz calls it a good beginning
There is also a perceived rise in radicalisation as educated youth continue to join militant ranks in south and north Kashmir. Thousands of people attend militant funerals even at the risk of inviting the wrath of police and the paramilitary forces.
As the space for democratic dissent has shrunk in Kashmir, especially since the PDP-BJP coalition came to power in March, the state has launched a wide crackdown on the activities of pro-freedom political forces.
Also, as a new tool of control, internet services are clamped down frequently and a permanent ban is in place on student politics to "contain the Kashmir story" on the pretext of maintaining law and order.
In such a constricted space and uncertain political atmosphere, it's not surprising that even the moderate voices in Kashmir have started doing the hard talk.
In these circumstances, especially when India and Pakistan are not talking officially, what's the future of the four-point formula? Is the Modi regime really interested in peace talks, reconciliation with Pakistan and dialogue with the Hurriyat? What's the "win-win" situation for all stakeholders? What's the "give-and-take" policy? What's the palatable solution?
For starters, ending the deadlock and opening channels of communication between India and Pakistan, and Kashmiris.
More in Catch:
J&K beef ban: why BJP's attack on MLA Rashid is a recipe for disaster
Why Modi is so desperate to own the constitution, and Ambedkar
Battle lines drawn: we break down the US-India face off ahead of #COP21
Creed review: a solid left hook you weren't expecting from a 40-year-old franchise