26/11 accused Jundal dying: hunger strike for better conditions in jail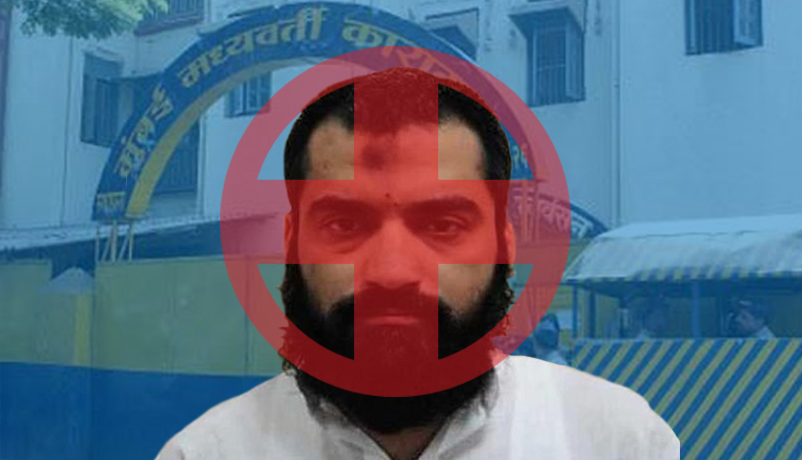 The accused
Zabiuddinn Ansari is better known by his alleged code name \'Abu Jundal\'
He was arrested in 2012 and, sometime later, put in solitary confinement
The cell
Jundal is locked in a cell that Ajmal Kasab was once placed in
It has no ventilation and just one high-wattage bulb as a light source
The strike
Jundal has been on a hunger strike since 5 August, demanding better living conditions
His lawyers allege he isn\'t even allowed out for a walk, as mandated
Jail authorities say they\'ve allowed him to walk, but he has refused to
His condition is now so bad that he is given IV fluids twice a day to keep him alive
Civil society groups have now requested the government to save his life
Zabiuddinn Ansari has spent the last nearly one thousand days of his life in solitary confinement. Never heard of him? You may know him as Abu Jundal. That's what the agencies investigating the 26/11 Mumbai attacks claim his code name was.
Since 5 August, he has been on a hunger strike demanding better living conditions. Two days ago, he was checked into a hospital to stabilise his vital parameters.
Jail staff admitted that he's being given intravenous fluids twice a day to keep him alive. Authorities claim the reason he's been kept away from any human contact for so long - in a sealed, unventilated box, which once housed Ajmal Kasab - is for Ansari's safety.
Civil society's request
On 11 September, several organisations and individuals issued a statement requesting the government to intervene and save Ansari's life.
These included the Association for the Protection of Civil Rights (APCR), the Committee for the Protection of Democratic Rights (CPDR) and the Human Rights Law Network, filmmaker Anand Patwardhan, writer Dilip D'Souza and activist Urvashi Butalia,
"We, the undersigned, fear that he may lose his life. Already 35 days into his fast, Zabiuddinn Ansari cannot move without help, and is now beginning to lose his eyesight. If, however, he is forced to withdraw his hunger strike without his demand to be moved from this cell being met, he may lose his mind and even inflict self-harm," the statement reads.
Jundal has been in solitary confinement since 2012, and on a hunger strike since 5 August
Manisha Sethi, assistant professor at Jamia Millia Islamia, who is also one of the signatories to the appeal, says: "Ansari's only human contact for the past 33 months or so have been the guards who push the food in through the door. In its very design and architecture, this cell goes far beyond our ordinary understanding of solitary confinement."
Accusations against him
Ansari was arrested in June 2012 and, sometime later, was put in solitary confinement in the Arthur Road jail, in the cell which has now come to be known as the 'Ajmal Kasab cell'.
He is accused of being involved in the Aurangabad arms haul, the 2010 German Bakery blast in Pune, the Nashik police academy attack conspiracy, apart from the 26/11 Mumbai attacks.
The trial in the Mumbai attacks has not even begun yet and Ansari has not been found guilty on any other count.
His lawyers claim that Ansari is being tortured to death because the investigators have not been able to gather any incriminating evidence against him. This is because they claim he was falsely implicated.
"It is a clear conspiracy to kill him. The box where he has spent 33 months now has no vents or sunlight. The temperature on an average is around 55 degrees Celsius. Only a high wattage bulb glows throughout the day so he can't tell night from day or a month from another.
"The Maharashtra ATS falsely implicated him, created his pseudonym - Abu Jundal - and is now trying to kill him," Ansari's advocate, Mehmood Pracha, claims.
According to Pracha, even basic formalities like letting him out for a walk for two hours a day, or letting sun into his cell, are not being followed.
Jail authorities' defence
BM Bhosle, superintendent at Arthur Road jail, claims the authorities are willing to let Ansari have his walk. But it is Ansari himself who has refused to step out of his cell,.
"He is on a hunger strike but our doctors are giving him IV and glucose twice a day. Whatever best we can do from our side, we are doing. We have asked him to have his walk, but he's refused it himself. What can we do?" Bhosle says.
At the moment, it does not matter whether Ansari has refused to come out of his cell or whether he's being illegally confined. The fact is that his condition has deteriorated to such an extent that he cannot walk on his own legs now. And his lawyers aren't sure how long he will last.