1984 anti-Sikh riots: crack the whip, Amnesty tells Modi govt
Each time Darshan Kaur speaks about the night of 31 October1984 at New Delhi's Trilokpuri, she hopes that recalling it for others might fetch her a wisp of justice. She was only in her early 30s, then living in a joint family with her husband, in laws and their children. It was the day Indira Gandhi was assassinated by her two Sikh bodyguards.
The news had been blaring in the radio since morning. By afternoon men went on a rampage hounding Sikhs from every single house in the area, dragging them out and killing them in front of their wives and children. The male members of Kaur's family hid in the loft of their poor home.
Suddenly there was news of a senior leader visiting their locality. Kaur ran with the other women to fall at his feet and ask him to save them. But he said into a loudspeaker "She wasn't just my mother. She was your mother too. And now that you collectively killed your own mother there will be a price to pay."
Also read - Politics over 1984 intensifies in Punjab, AAP leads the way
"He told the mobs to take whatever they needed - chemical, gunpowder, oil to make sure that not a single Sardar or his son is left alive," recalls Kaur speaking in Punjabi with her voice choked with tears at 'Insaaf84' conducted as part of Amnesty International India's two-year long campaign 'Chaurasi Ki Na Insaafi'.
When Kaur got back home, she watched her husband being dragged out from her home. He was beaten, stabbed with a sword and finally torn open until his insides were left hanging and he bled to death. That wasn't all. Kaur watched in total, 12 of her family members be killed brutally in front of her eyes, numb with shock.
October 31 will mark 32 years since the massacre of 3000 Sikhs over a span of 3 days. Families like Kaur's have been oscillating between patience, despair and struggling to hold on to the minute details of their ageing memory, just in case one more evidence will fetch them justice.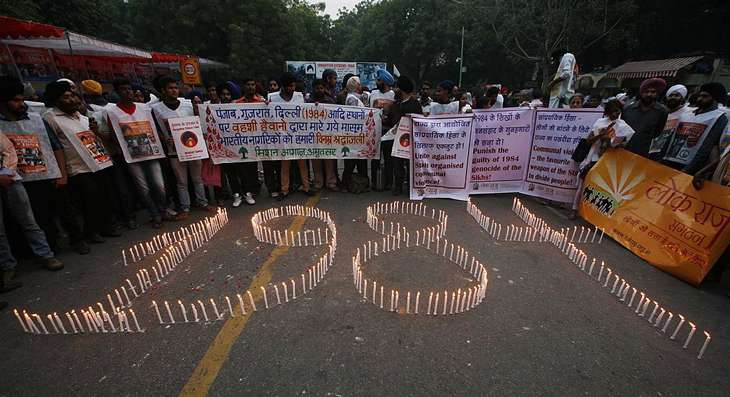 1984 riots victims participate in a silent protest march to demands justice for 1984 Sikh riot victims, organised by different Sikh Organisation and NGOs at Parliament Street in New Delhi. (Photo: Parveen Negi/India Today Group/Getty Images)
SIT awakens from slumber
The Delhi police had closed investigations into hundreds of cases after the massacre, citing a lack of evidence.
According to Hartosh Singh Bal, political editor of The Caravan magazine and author of an upcoming book on 1984 the reason behind the utter failure of the Ranganath Mishra commission and the Nanavati Commission in gathering the plentiful evidence available in their reports is simply because the investigation itself was a "minority demand that didn't interest the majority".
Also read - Operation Blue Star anniversary on 6 June: Punjab keeps its fingers crossed
"How else can you explain why the same Justice Nanavati was asked to investigate both the 1984 anti-Sikh massacre and the 2002 Godhra riots finding no evidence against the political class in both?" asked Bal.
Aakar Patel, Executive Director at Amnesty International India said, "The survivors and victims of 1984 have not received justice primarily because successive governments have failed to take action despite overwhelming evidence of political and police complicity".
The Amnesty event comes at a time when the Special Investigation Team (SIT) - set up by the Ministry of Home Affairs (MHA) in January 2015 to examine the 1984 Sikh riots cases - has just reopened 22 cases in the first batch, seeking response from the victims and witnesses.
HS Phoolka, the lawyer leading legal representation for several victims and survivors, said, "Nearly a year and a half after the SIT was set up, it has not met a single survivor or witness. We are only hearing now that they plan to reopen a few cases."
SIT issued advertisements in poll-bound Punjab asking people to come forward to provide information that may help them in reinvestigation. According to The Economic Times the move - ahead of Punjab elections - may give jitters in Delhi as the SIT plans to submit an 'interim' report before the MHA in the first week of August when it plans to re-open more cases.
Apart from survivors Darshan Kaur and Mohan Singh; former judges Markandey Katju, Rajinder Sachar and Anil Dev Singh; author Kuldip Nayar; human rights lawyers HS Phoolka and Vrinda Grover; former Deputy Commissioner of Police (Delhi) Amod Kanth, and journalists Siddharth Varadarajan, Seema Mustafa and Hartosh Singh Bal spoke about the complicity of the political classes, the police and the judiciary in delaying justice.
Calling the present judiciary an "empty shell" Justice Katju told Catch that with the judiciary has failed at the top most levels and one couldn't any longer hope for justice through it. "What we need are several people's tribunals with credible people to deliver speedy justice," Katju told Catch.
Amnesty International India also released a campaign digest titled "31 Years and Waiting: An era of injustice for the 1984 Sikh Massacre' which outlines the cover-up that followed the massacre and the status of various official investigations over the last 31 years.
"The government, through the SIT, has another chance to finally deliver justice for the thousands who suffered in 1984. It must not waste this opportunity," said Patel.
Recommendations
Amnesty International has made the following joint committee recommendations to the MHA:
1. Effective investigation by the SIT, adequate protection to witnesses and victims and ensure prosecution of those who command responsibility.
Also read - Operation Blue Star anniversary: A reminder in rare photos
2. Develop a comprehensive reparation plan in full consultation with victims and survivors in line with the UN Basic Principles and Guidelines on the Right to Remedy and Reparation for Victims of Gross Violations of International Human Rights Law. It should entitle all persons who suffered physical or mental injury, emotional suffering, economic loss or substantial impairment of their fundamental rights during the 1984 violence.
3. Enact a robust law to prevent and respond to communal and targeted violence, which incorporates international human rights principles of superior and command responsibility, relief, return, and resettlement.