Required: rehabilitation homes for people who need ventilator support
How do you choose between a patient who urgently needs life-saving treatment and another who doesn't need treatment but must remain on ventilator support to stay alive?
This is a dilemma that doctors, nurses and patients at the AIIMS Trauma Centre - as indeed the social workers who work with the hospital to help poor patients - have to grapple with every day. It is a dilemma they are struggling to resolve.
Take the case of Javed Akhtar, a teenager from Hazaribagh in Jharkhand, who was discharged from the hospital last week after nearly two and half years. Javed suffers from a cervical spine injury that has left him paralysed from the neck down. His doctors say there is no hope of him ever recovering. In all this time, he hasn't required any active treatment. So, why was he in the hospital for so long? He needed a few hours of ventilator support every day.
Now, though, the NGO Sapna, with the help of the hospital staff, has bought him a portable ventilator. It cost Rs 1.2 lakh, which Javed's poor family could not afford. 
Javed's is not an exceptional case. "Of the 218 beds in the Trauma Centre, as many as 15 are occupied by patients who do not require any active treatment. In neurosurgery ward, 8 of the 48 beds are occupied by such patients," says Dr Deepak Agrawal of the neurosurgery department.
Most of these patients, like Javed, can't afford to buy portable ventilators or get admitted in a rehabilitation centre. They have nowhere to go but stay put in the hospital.
Ravindra Gode, a resident of Hanumana in Madhya Pradesh's Rewa district, has been in the Trauma Centre for 14 months now. He, too, is paralysed from the neck down, with no hope of recovery. He needs ventilator support for 10-12 hours a day.
"In cases like Gode's, even the NGOs are helpless," says a doctor who treats him.
Nowhere to go
Sunil Kumar of Sapna, who helped collect funds for Javed's ventilator and medicines for the next year, says it's not possible to do this for every patient, given the inadequate resources. "So, the NGO supports only those who have had to sell their land for treatment or whose only bread-earner is paralysed. We can't buy ventilators for everyone," he says.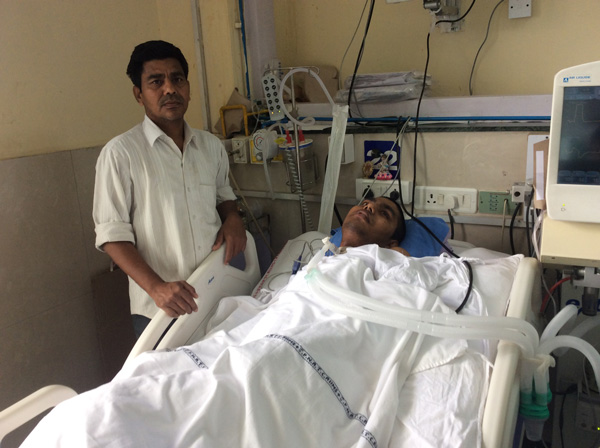 Photo: Catch News

Siddhanath Gode has already sold four bighas of his land to provide for his son's treatment, and to feed himself and his wife. Both of them are staying with Ravindra.

Is he hopeful his son will ever get better? Siddhanath evades the question, nodding towards the doctor checking up on his son, but his misty eyes say much.

Kumar says they advise the families of patients like Ravindra to admit them in a rehabilitation home run by his NGO. But most are unwilling even if they can afford it. They are either not satisfied with the facilities or they "do not find it ethical to do so".

Not that there are many decent rehabilitation homes. "There are at least 15 rehabilitation centres in Delhi. We also collaborate with old-age homes that provide nursing facilities to some patients. In all, there are 350-400 beds for the patients who do not need daily supervision from doctors," says Rafique, a senior worker with Sapna.

"These centres take in patients once they are discharged and have nowhere else to go. Many of those admitted in the Trauma Centre, for example, have no contact with their families or relatives. We help them get back in touch with their families," he dds.

But these homes provide only basic care, Rafique says. Only a few provide ventilator support. "Patients like Javed are given the option of going to our rehabilitation centre in Alwar, which provides portable ventilators."

"Patients like Javed do not need the daily intensive care or treatment that is provided at the Trauma Centre, but hundreds of others do. So, what we need are state-funded rehabilitation centers for patients who, like Javed, only need ventilator support," says Dr Agrawal.
What to do?
This approach is economical as well. According to Sapna, 2-3 hours of daily ventilator support costs about Rs 10,000. A portable ventilator, on the other hand, requires a one-time investment of less than Rs two lakh and a daily expense of Rs 200-300.
"A financial assistance scheme that provides for portable ventilators is what is crucial at the moment. It could cost less than what it takes to keep a patient in the Trauma Centre ICU," says Dr Agrawal.
While setting up well-equipped rehabilitation homes, preferably state-funded, and allocating funds for major hospitals to provide portable ventilators would help, they are only part of the solution. The bigger concern is the inadequacy of hospital beds.
As per the Delhi government's economic survey, the city had 48,096 hospital beds, both public and private, in 2014. That works out to 2.71 beds per 1,000 residents, barely up from 2.25 in 2004. This is far short of the WHO's recommendation of five beds per 1,000 people.
Then, there is what the doctors describe as the "psychological aspect of the issue". For Abida Khatoon, the best part about getting her son discharged is that she no longer has to hear that Javed is occupying a bed that could save somebody else's life. 
In fact, such "reminders" and "frowns from hospital staff" at times compel the patients' families to seek discharge against the advise of the doctors.
"Patients who opt to leave the Trauma Centre and go home die within months," says Dr Agrawal. "We warn them about the risk, but this is a hospital not a prison, so we can't force them to stay."
Amit Kumar, in his late 20s, has a cervical spinal injury, and has been admitted in the Trauma Centre for about a year. His father Mansingh, a retired BSF officer, says the doctors have told him Amit is paralysed for the rest of his life. So, he is considering taking his son back home to Jhunjhunu, Rajasthan. There isn't much else he can do, he says with a sigh.
"In 20% of all cases, the kin of patients who require no active treatment opt to take the patient home knowing the risks involved," says Dr Agrawal.
In the absence of decent rehabilitation centres, there's nowhere else to go.