Illegal but available: Who will regulate GM foods in India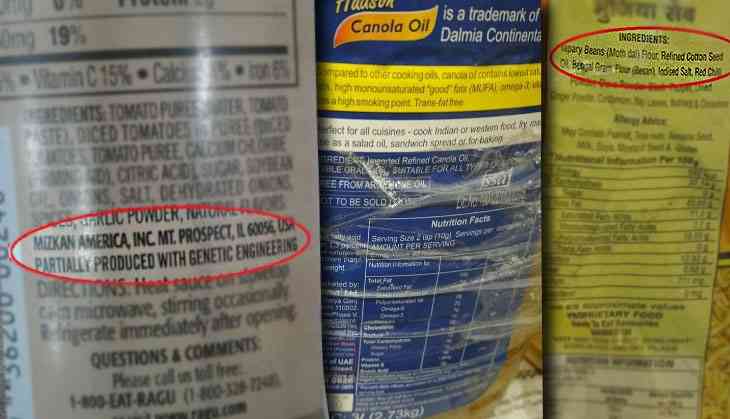 (Arya Sharma / Catch News)
Genetically modified (GM) food is available – illegally – on a large scale in the Indian market, according to a study by Centre for Science and Environment. The Delhi-based non-government put out its findings on 26 July.
GM foods are not permitted by existing laws and regulations under them, and are not expected to be sold in India. In fact, campaign groups such as Coalition for a GM-Free India have lodged complaints with concerned regulators last February and March, based on data from the Union commerce ministry.
In its latest study, CSE found that 32% of the samples it tested were GM-positive – 16 of these foods (80%) were imported and five were manufactured in India. This means that the vast majority of illegal GM foods are making their way into India by way of stealthy imports.
Thirteen of the brands did not mention the use of GM ingredients anywhere on their labels; three products were even mislabelled that they were GM-free.
GM-positive imported food products were based on, or used soy, cotton seed, corn and rapeseed, expectably; positive samples manufactured domestically were made from cottonseed – no surprises there either.
SC allows a regulatory vacuum
What many may not know is that the Supreme Court of India was involved in creating a regulatory vacuum when it disposed off a writ petition (No. 11 of 2008 along with 173 of 2006) on 11 August, 2017. The petition was on regulatory agencies acting irresponsibly and jeopardising citizens' health and environment.
"There is no notification/regulation allowing any activity in connection with genetically engineered and modified food," the court said, probably not realising that GM foods were already flooding into India, in the absence of both Genetic Engineering Appraisal Committee (GEAC) in the Union environment ministry as well as the Food Safety & Standards Authority of India (FSSAI) in the Union health ministry taking responsibility for regulating GM foods. It appears that this set the stage for flooding of our markets with illegal GM foods.
Shocking apathy of regulators
Be that as it may, the more shocking response has been from the food safety regulator, FSSAI and of the Director General of Foreign Trade (DGFT), both key regulators in this context.
FSSAI put out a press release by the evening of 26th itself, which was quaintly called "Update on GM Food Regulation". In this, FSSAI does not mention anything about what it intends to do about the illegal GM foods that are out there in supermarket shelves or about any deterrent action to prevent violations of the law.
The press release only talks about how FSSAI has "initiated the work on framing regulations on GM food", for laying down procedures for safety assessment and approval of GM foods, based on internationally well established and accepted scientific principles, procedures and best practices. Incidentally, FSSAI has been saying this for years now.
A perusal of old press releases by FSSAI threw up another press release from another time exactly seven years ago, with regard to "unapproved food items being sold in the country (from 26 July, 2011!).
Here, Commissioners of Food Safety were being asked to advise the enforcement wing to be more vigilant, and also take legal action in case of violations of prevalent laws when unapproved foods are sold. Why is the FSSAI approaching the current illegal GM food scenario differently then?
The Director General of Foreign Trade, which should have watched out for illegal GM food coming in through the import route, has an equally ineffective and brazen response, on twitter. Referring to a letter that the DGFT sent to a few other agencies after a complaint by a citizens' coalition, the twitter handle of DGFT (@dgftindia) tweeted out saying "please take note of OM issued by DGFT. You are requested to take up the issue with the departments concerned with reference of the said OM".
This was an 'office memorandum' from the DGFT to the Department of Revenue (Customs) in the Union Ministry of Finance, Ministry of Environment, Forest and Climate Change and Plant Quarantine Division of Ministry of Agriculture & Farmers Welfare, wherein the DGFT only asks these other agencies "to take note of the complaint on apparent violations (in regulations) for necessary action as deemed fit".
This means that the DGFT itself was certainly not going to investigate and initiate punitive action against violators of its own legally-created regulatory regime.
A third agency, in the form of Department of Consumer Affairs, which is, of course, aware of the violations of its Legal Metrology Act's rules related to GM labelling, has chosen to keep quiet as usual. This has been their approach for years now, even after concerned consumers presented them with unlabelled GM cotton oil in 2013 and sought its intervention in implementing its own regulation.
Here is a classic case then of complete non-implementation of the regulations by multiple agencies, and lack of action even after violations are proven.
Food brands and importers implicated
CSE reported how the American pharma company Abbott Laboratories is selling GM infant food in India, meant for toddlers with ailments, without labelling the foods as GM, and how they don't do so in the United States. Double standards of corporations is something that Indian citizens have had to contend with for a long time now, and the story is repeating itself once again.
It is also interesting how so many corporations have indulged in flouting the FSSAI, DGFT and Legal Metrology Act regulations apparently wilfully.
Read together, it does not appear to be mere regulatory failure by one agency or the other, as much as a deeper strategy put into operation, of orchestrated back-door entry of GM into India. This suspicion gains credence in the context of very successful pushing back of any commercial cultivation permission to GM foods within the country by alert citizens.


Experts and citizens concerned
Over the past decade or so, hundreds of experts – agriculture scientists, biotechnologists, biologists, environmentalists etc – have been engaging with the issue of transgenic technology in our food and farming system and have been warning the government against promoting the same in our country.
Medical experts are one such group who have written to concerned ministers on occasion. Public rejection of GM foods became apparent on social media platforms like Twitter, a day after CSE's findings were made public.
Thousands of tweets were shot off tagging the regulators and the Prime Minister by ordinary citizens on #StopGMFood hashtag. Their concern is driven by the fact that there is indeed scientific evidence on the adverse health impacts of GM crops.
Evidence from experimental studies from around the world has pointed to adverse impacts like allergies, organ damage, immune system damage, reproductive health problems, effects on growth and development, inter-generational impacts, cancerous growths etc.
GM encouraged, organic curtailed?
The irony of the current situation of regulation for food safety is inescapable. Organic foods, which by themselves go a long way in fulfilling the mandate of FSSAI are being put through mandatory certification requirements by FSSAI, when chemical-fed foods have to meet no such requirements.
And when illegal GM foods are also allowed to flourish by sheer lack of inaction by the FSSAI. So, whose side is the FSSAI on, and who is to make the food safety regulator fulfil its basic mandate then? It is hoped that Parliament will debate this issue thoroughly and that the Ministers concerned will intervene and ensure that regulators discharge their responsibilities in favour of ordinary citizens.
VIOLATIONS GALORE
Any GM food offered for sale in India has to have the approval of FSSAI, which is the food-safety regulator formed under the Food Safety & Standards Act 2006. Section 22 of the Act specifies this. This Section has not been converted into notified regulations as yet and FSSAI, by its own admission in the Supreme Court, has argued that any GM food in the market is therefore, unpermitted and illegal.
Further, any GM food brought into India should have declared itself as such under the Foreign Trade (Development & Regulation) Act, 1992, that too after the approval of Genetic Engineering Appraisal Committee created under the Environment Protection Act 1986's 1989 Rules, in the Ministry of Environment, Forest & Climate Change.
Even though Rule 11 has been exempted by a notification by GEAC (that too for the "occupier" as defined in the Parent Act EPA 1986, the Rules read as 2 (1), 2 (2) along with 7(1), require GEAC approval, along with the DGFT notification under FTDRA 1992.
Additionally, the Legal Metrology Act, 2009, administered by the Department of Consumer Affairs, has notified in 2012, a rule that "every package containing the genetically modified food shall bear at the top of its principal display panel the words 'GM'".
Therefore, the foods that have tested positive in CSE lab testing have violated the Food Safety Act, the Environment Protection Act, the Foreign Trade (Development & Regulation) Act as well as the Legal Metrology Act. Apart from the fact that they could be potentially harmful to human health.
Like Sunita Narain of CSE wrote recently, it is ultimately about citizens' food, choices and health. It is up to citizens whether they will stay quiet or force the regulators and food industry players to work for citizens' welfare.
The author is the co-convenor of Alliance for Sustainable & Holistic Agriculture (ASHA)