Health Tips: Woman reveals the right way to clean your teeths; know how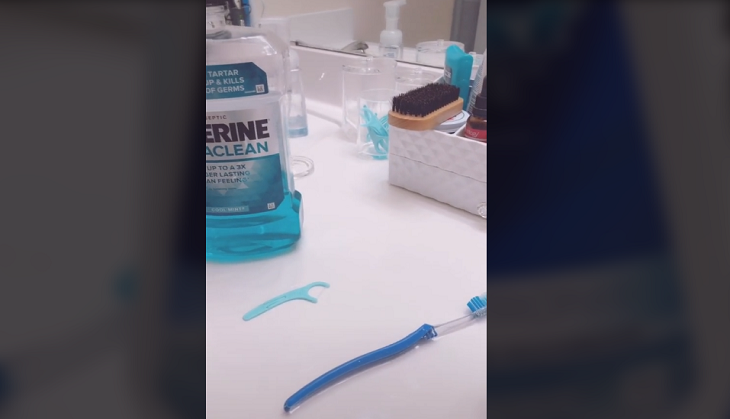 Brushing teeth is just a common routine that everyone follows in their day to day life. Many people brush twice a day while many thrice but have you ever thought that the way you are cleaning your teeth is right or not?
Well, according to a video shared on TikTok shared the method on how to clean our teeth.
In the video, the woman can be heard saying that her husband told her the correct way to clean the teeth. Interestingly, many dentists are also agreed with his methods of a dental cleaning.
The video was shared on the TikTok account @KassySlays90. In the viral video, the woman explained how her husband told the steps while brushing the teeth. She said the first thing is to start with an alcohol mouth wash, then to floss, and then brush your teeth.
She said: "My husband has been keeping a secret from me, he says that the right way to brush your teeth is to first rinse with an alcohol mouthwash, then to floss, then to brush your teeth and then to use a fluoride rinse."
"He says if you do the alcohol mouthwash last it'll remove the fluoride that you just put on your teeth by brushing them, so you should do it first to kill the germs and then finish off with a whitening fluoride rinse."
She added: "Apparently the last time he went to the dentist, the hygienist told him he didn't even really need cleaning.
"I was today years old and I've got terrible teeth."
A British Dental Association spokesperson also confirmed that before brushing the teeth, one should always use mouthwash. However, they advised against finishing up with a fluoride rinse like in the video.
"It's essential to brush teeth twice a day with fluoride toothpaste for at least two minutes – the last thing at night and at one other time," they said.
"Don't rinse your mouth out after brushing, as it will wash away the fluoride which makes teeth more resistant to tooth decay -'spit don't rinse'.
"If you use mouthwash, use it at a different time to brushing, otherwise you'll rinse away the protective effect of fluoride."
Meanwhile, the video has made every social media user go crazy. It has been liked over 625,000 times.
What're your views about the video?
Also Read: Does fart has any connection with COVID-19? Know what this Australian researcher claims