Toon turtles & tigers talk global warming: Here's Rohan Chakravarty's Green Humour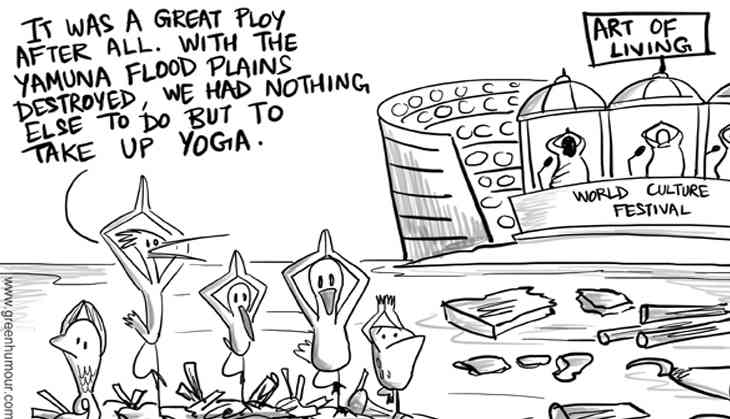 Imagine living out your life drawing deliciously humourous cartoons about the environment, feeling good about doing something right, and getting recognised for it.
One can't imagine it, honestly, because one can't draw to save one's life. But that's not the case with cartoonist and illustrator Rohan Chakravarty, who uses humour to communicate both global and local environmental issues even as world leaders continue to live in denial.
The WWF has recently awarded Chakravarty its prestigious International President's Award for his comic series Green Humour, which, as the name suggests, is a satirical take on the present condition of the environment.
Chakravarty's cartoons, sometimes dark, sometimes not, are educative and political in equal measure. Interestingly, as he informs Catch, Green Humour is India's first and only internationally syndicated series of comic strips, syndicated by the Universal Press Syndicate for the web.
In this interview, he talks about his good looks, animal penises, and some far more pressing matters.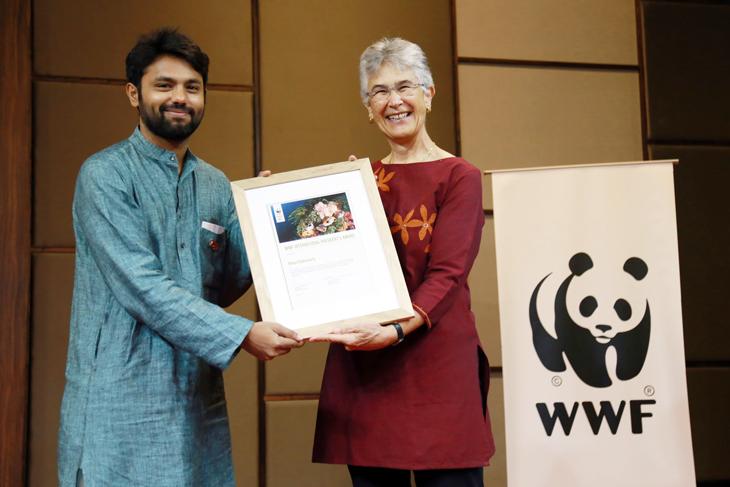 Rohan Chakrvarty receiving the award from WWF. (Picture courtesy Rohan Chakravarty)
Durga M Sengupta (DS): Tell me about this WWF International President's Award you've recently received. How did that happen?
Rohan Chakravarty (RC): Every year, WWF chooses one recipient for the International President's Award instituted by its incumbent President, the Ecuadorian conservationist Yolanda Kakabadse, from a list of nominees proposed by WWF's offices in various countries.
The recipient is chosen based on the impact his or her work has had on the conservation of wildlife and the environment. I, however, was chosen purely for my good looks.
Kidding! In the words of the President herself, I was awarded for using cartoons as a communication tool to create awareness about environmental issues, and changing people's opinions and perceptions about wild animals. I hope I have lived up to that!
DS: What got your started, or have you always drawn cartoons about the environment?
RC: In my initial years of dabbling and finding my feet, I made the mistake of drawing on everything from current affairs and politics, to the lives of celebrities.
Fortunately, I was quick to realize that politicians were way too ugly for the canvas, and celebrities way too fake. With wildlife, there was an instant connect, and ever since it showed up first on my canvas, there was no looking back.
I had been studying to be a dentist, when I met a tigress bathing in a waterhole in Nagzira Tiger Reserve, near my hometown, Nagpur. It was she who seduced me into giving up a career considered lucrative by most of India, to make way for cartooning on wildlife.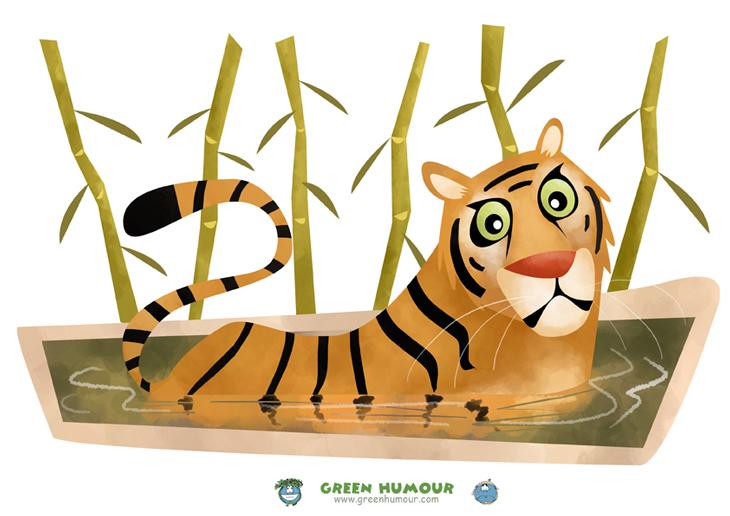 Rohan's muse (Picture courtesy Rohan Chakravarty)
DS: There's a fair bit of dark humour in what you do. What purpose does it serve?
RC: The dark humour in my cartoons is just a reflection of how grim the current environmental crisis really is. We are bang in the middle of what experts refer to as the Anthropocene, and the human-induced advent of the '6th extinction'.
Ironically, most of us even refuse to believe so!
DS: Is green humour necessary to get people's attention? Is it a coping mechanism in a world where the US President denies climate change exists?
RC: I don't see cartoons as something created to gain attention, but as a tool to first initiate conversation and discussion, and, eventually, action. No slap across the face is as effective as satire.
When a reader reads a cartoon, he not only retains the message but also responds to it. The element of humour ensures that you have delivered the intended message without being preachy.
At a time when world leaders are becoming increasingly dismissive of climate science (the situation isn't too favourable closer home either; India herself has some massive disasters coming her way in the race for unplanned development; the river-linking project being one such example), cartoons also act as emotional relief for scientists, conservationists and activists who are out there in the field, fighting losing battles and being branded "anti-national".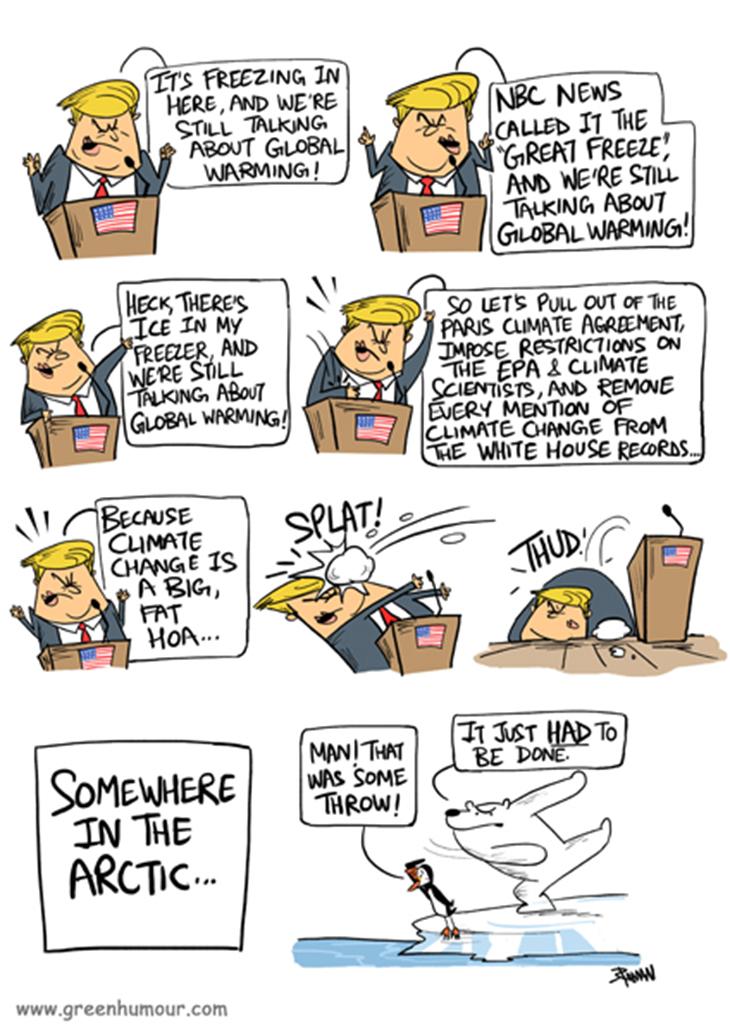 Polarlympics. (Picture courtesy Rohan Chakravarty)
DS: You've introduced quite a bit of animal trivia. Tell us something we absolutely wouldn't know.
RC: Well, you asked for it! So here it goes. A barnacle's penis is eight times larger than its own body! This makes it the largest penis in proportion to body weight, for any living organism.
The animal leads a sedentary life, so its motile appendage does all the work for him- finding a mate and impregnating her. If only human sex lives were that simple!
DS: Ever put yourself into your work? An animal caricature of you perhaps, or something more fantastic?
RC: I was relatively 'camera-shy' until 2015 when I first made an appearance in a Green Humour comic strip, and since then have been a frequent member of the 'star cast'.
My most recent appearance has been in a comic strip about a creature I both love and dread – the House Gecko!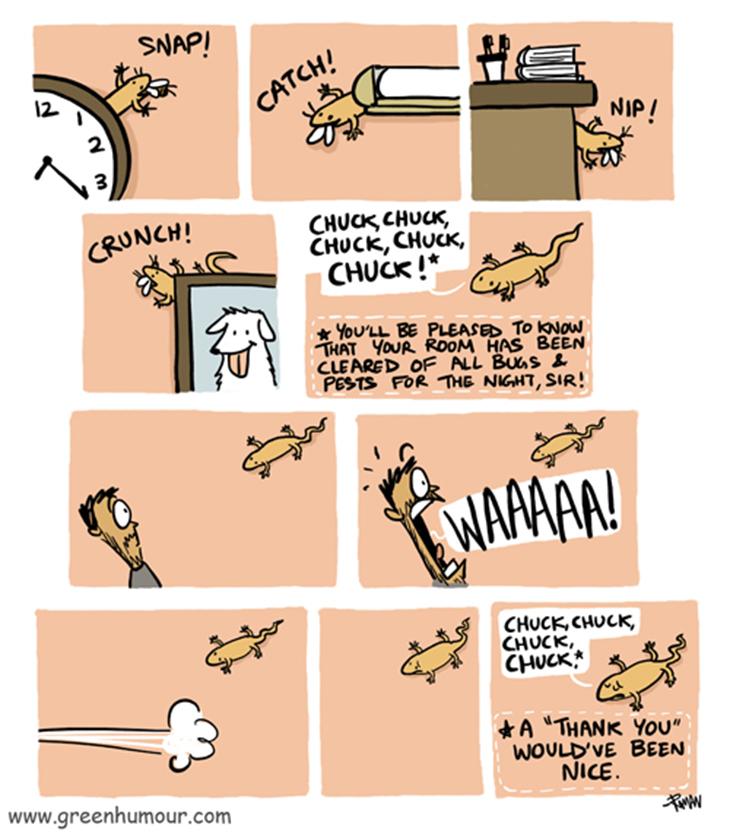 Oh look, there's Rohan. Nope, he's gone. (Picture courtesy Rohan Chakravarty)
DS: How much of what you suggest in your cartoons are you realistically able to practise? Tell us about your green initiatives beyond the cartoons.
RC: I believe that we have lost the right to refer to any of the green measures we adopt, as our 'contributions' to the environment. We have reached a stage where our efforts are just a petty fine we are paying for the centuries of damage done.
One of the ways I have chosen to do this is by pledging never to reproduce. One parasite less in the world is a welcome step in the right direction. Another is the creation of sparrow boxes made out of junk.
Fortunately, four of the boxes in my home are occupied season after season, and make for very interesting stories to document. The feeling of having 'added' more sparrows to the neighbourhood is that of pure exultation. I also make a conscious effort to refuse disposables whenever I can, carrying my own shopping bags, ceramic coffee mug and cardboard egg containers.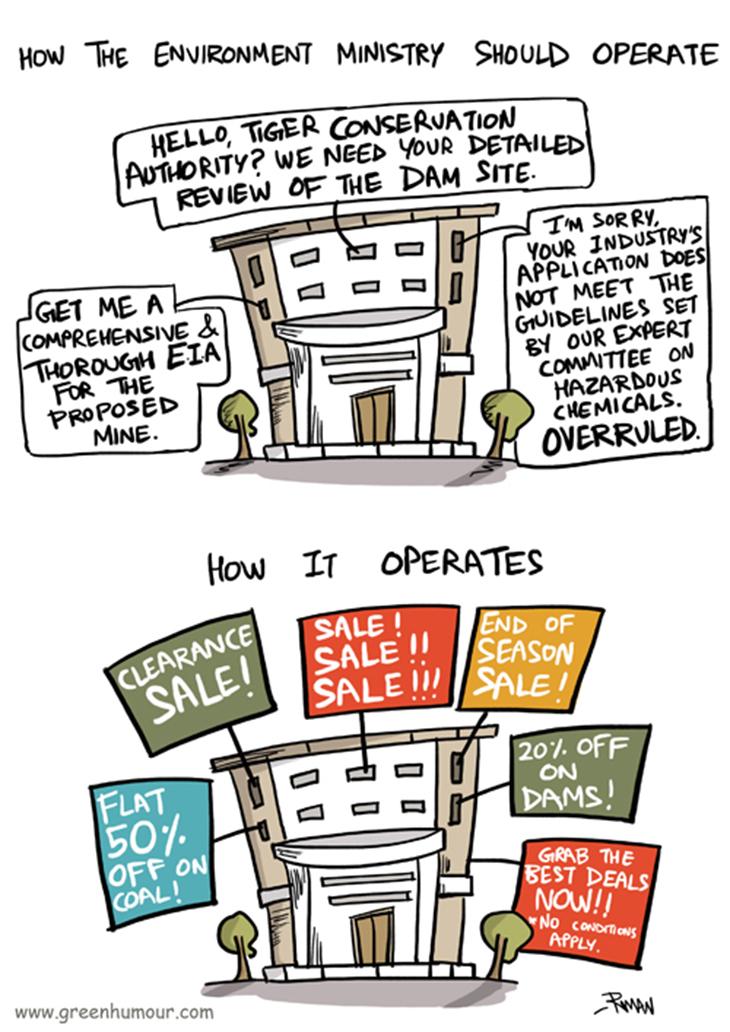 Expectation vs Reality (Picture courtesy Rohan Chakravarty)
DS: Have you made cartoons that specifically talk about environmental issues in India? That of say, pollution in cities, health issues, Yamuna, etc? Run a campaign of sorts, perhaps?
RC: A lot of my work focuses on environmental developments in India. Some of the recent environmental issues I have drawn comics on include the Adanis' blatant manipulation of land laws, the alarming levels of air pollution in the capital, the river-linking project, the widening of NH7 and the annihilation of the Yamuna bank by the Art of Living Foundation.
Thankfully, there are some with 'happy endings' too, such as the efforts of villagers in Nagaland to save Amur Falcons from mass-hunting, and the recent declaration of a community reserve by the Lhagyal monastery in West Arunachal, for the conservation of the rare Red Panda.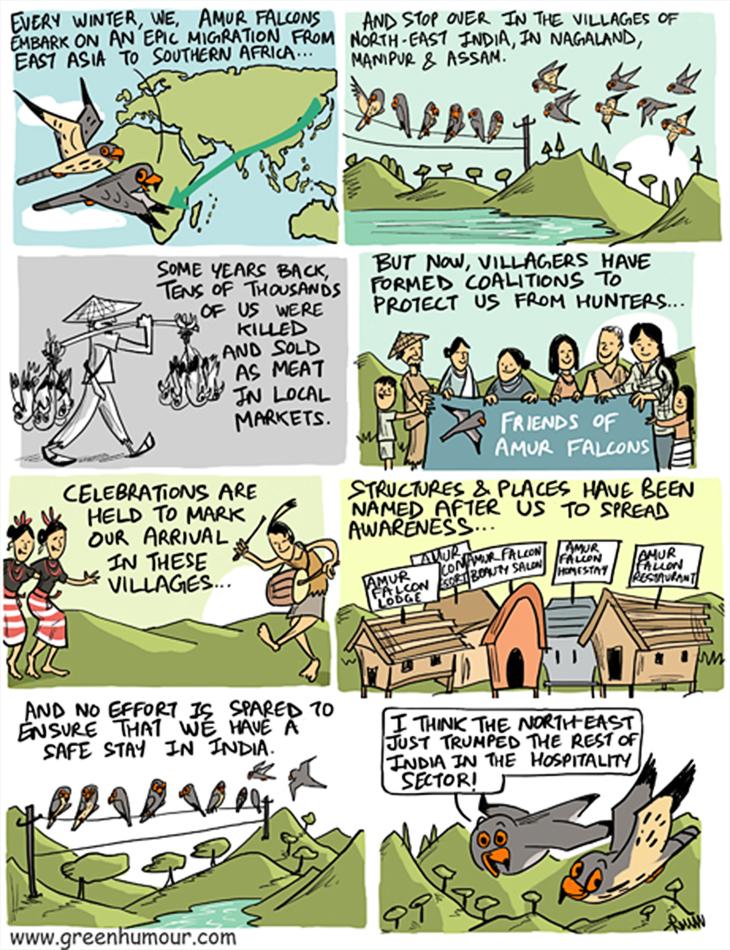 Thank god for the Northeast. (Picture courtesy Rohan Chakravarty)
DS: Is some amount of disdain for humans a necessary element in your cartoons? (Would be entirely understandable, if you ask me.)
RC: I am a misanthrope first and a cartoonist later. Humans have thriven on the false pride of being the most sophisticated organisms on earth, for as long as they've existed. I get a sort of sadistic pleasure in shattering this pride with my comics, and putting our species in its place!
Watch out for movie stars though. (Picture courtesy Rohan Chakravarty)
To look at more of Rohan Chakravarty's work, click here for his website and here for his Facebook page.