Tiger tourism is an amazing experience. It just needs proper monitoring
About four years ago, when the Apex court put a blanket ban on 'tiger tourism,' in order to protect the endangered animal, there was a great deal of hullabaloo across the country.
Leaving visitors to pilgrim places aside, perhaps these days more people, fascinated at seeing animals in their natural surroundings, undertake journeys to national parks and wildlife sanctuaries than anywhere else. And their numbers, especially among the younger crowd, are growing year after year.
Also read - Paper tiger: why India's chief wildlife crime fighter has lost its bite
When a nationwide ban on entry into 'core areas' of the forests was imposed in July 2012, tour operators and tourism industry in general, cried foul as lakhs of tourists and wildlife enthusiasts, including foreigners, cancelled their scheduled trips.
Great tourist destinations like Ranthambore Tiger Reserve, Kanha National Park, Jim Corbett National Park, Bandipur, Kaziranga and Bandhavgarh suffered the most. The Supreme Court lifted the ban only in October that year after the National Tiger Conservation Authority (NTCA) came up with detailed guidelines on less intrusive tourist activities.
Visit to Jim Corbett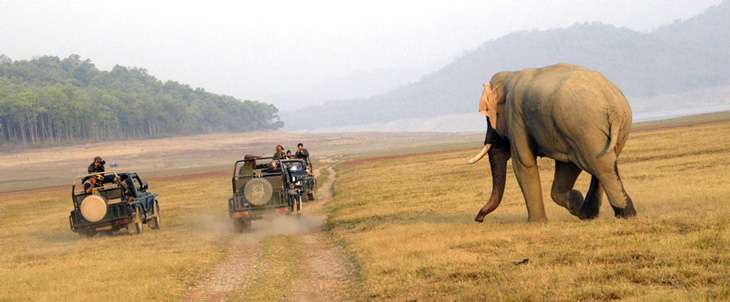 Ramakrishna Upadhya
Cheered by the latest tiger census figures which showed that the number of tigers in India's 41 national parks spread over 17 states had jumped from 1,706 in 2011 to 2,226, I visited the Jim Corbett National Park, the country's best maintained tiger reserve, last week.
My previous live encounters with the tigers on several visits to Bandipur in Karnataka, were limited to rare sightings from a distance before they disappeared into thick foliage of the jungle. Though Corbett offers a wide variety of wild animals and birds, seeing a Bengal tiger from close range was obviously a priority.
After a quick lunch at Dhikala on Day One, we headed towards the pond after crossing a depleted Ramganga river, as word had spread that a tigress had been sighted there. As the 20-odd open-top Maruti Gypsies with eager tourists scrambled to take vantage positions, one's heartbeat went up on having a glimpse of tigress 'Parvaali' playing in water.
The drivers and guides were certain that after finishing her bath, Parvaali would take the pebbled path in front of us and go upstream as she had left her previous day's 'kill' there. We were sweating in the 45 degree heat, training our long camera lenses on the tiger for nearly 90 minutes, but Parvaali was in no great hurry to leave the cool comfort of being in water.
When she finally got up and slowly but majestically walked in our direction, coming as close as 8-10 ft, showing off her gleaming fur in clear blue skies, it appeared to be the best cat walk I had ever witnessed!
As Parvaali was still in visible range, the gypsies made another dash up the narrow path to catch up with her as she crossed the grasslands. Perhaps annoyed at being pursued, she turned around and growled before disappearing into the forest.
Two days later, we again tracked down Parvaali as she was making her way to the water. The vehicles, crammed with more tourists, jostled for space in the narrow road on either side of slightly elevated greenery where the tiger was resting. She came on to the road, took a few steps and on finding that she was being 'hemmed in,' went back to the forest. I felt like being part of some paparazzi chasing a celebrity. It was a distinctly uncomfortable feeling.
Tiger tourism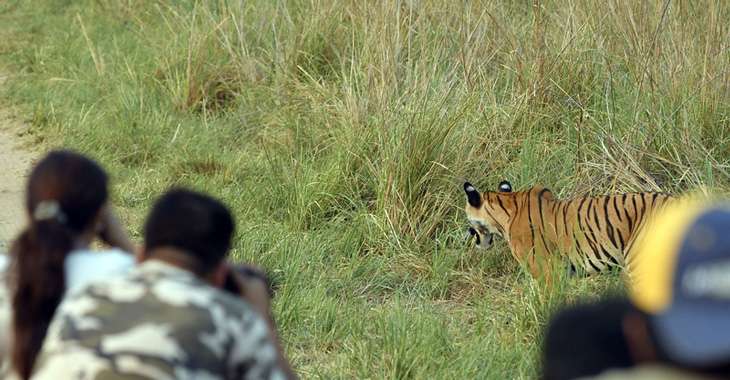 Ramakrishna Upadhya
So, was the Supreme Court right in imposing a ban on 'tiger tourism'? Should tourists be disallowed from entering core areas of the forests to allow animals to reside, rest, feed and breed peacefully without being disturbed?
The argument for and against tourists being kept out of the interiors of the forests is equally persuasive, but I firmly believe that the benefits of a well-monitored tourism far out-weigh the danger it poses to both the animals and the ecology.
Though tigers are the main attraction in national parks, there is a vast variety of other animals like Asiatic elephants, black bear, sloth bear, hog deer, spotted deer, sambhar, jackal, peacock etc and reptiles like critically endangered ghariyals, mugger crocodiles, otters and King cobra one can come across. Corbett is good for bird watching as well as it is home to more than 650 species of resident and migratory birds.
More critically, the entry of disciplined tourists will bring more eyes and ears to the preservation of forests, vastly reducing poaching and illegal felling of trees. Considering that the tiger habitat in the country has shrunk by 93% in the last one century and the number of tigers from around 40,000 to barely 2,200, it is necessary to keep as much vigil as possible.
While the once popular Sariska tiger reserve now virtually has zero tiger population, others like Corbett, Kaziranga, Ranthambore and Bandhavgarh where tourism is thriving, the tiger density has actually gone up in recent years.
"Poachers and timber smugglers are a bigger threat to tigers and other animals than tourists. What is needed is a strict enforcement of law to deal with poaching and timber mafia rather than keeping out tourists and wildlife enthusiasts," says a forest official.
In any case, even in core areas, only some designated places are open to the general public and vast swathes of forests remain out of bounds for them. But it is critical to ensure that any sort of polluting or littering is strictly prohibited. One can say that awareness of these aspects is happily growing.
The NTCA guidelines submitted to the Supreme Court make it clear that tourism activities would be allowed only up to 20% area of core or critical tiger habitat. No new infrastructure like hotels, resorts and shops would be allowed, while the existing ones beyond permissible limits would be removed in a phased manner.
Each tiger reserve would be asked to work out the maximum number of visitors and vehicles that would be permitted each day; battery-operated vehicles would replace diesel or petrol-driven ones and there would be compulsory training of guides and drivers to ensure the safety of both the animals and the tourists.
From my experience, I can say that the 'paparazzi culture' that I encountered can be avoided if the drivers are strictly instructed to keep a minimum distance of at least 20 metres from the animals, follow safety rules at all times and never impede their path. Secondly, the Gypsies currently in use do not offer sufficient safety. My own choice would be pop-top game viewing vehicles used in safaris in many African countries.
My fascination for tigers has only grown and my next destination would be Ranthambore!
Ramakrishna Upadhya
The views expressed here are personal and do not necessarily reflect those of the organisation.
More in Catch - Thailand Tiger Temple: Police seizes truck carrying tiger skins, fangs
Even a havan and a British doc have failed to save Etawah's lions