There's good news on the tiger front, and we owe Google for that
Asad Ali
| Updated on: 14 February 2017, 6:09 IST
Here's another chance for the big cat to burn bright in the forests like they used to. A recent study says that despite a considerable decrease in forests worldwide, there's still enough green cover for tigers to double their number in the next six years. The source of this latest research? Not a green activist group but cutting-edge satellite mapping technology!
The study, published in the American journal Science Advances, brought together satellite observations of forest loss over more than a decade between 2000 and 2014 across 76 regions where tiger conservation initiatives are in place. That includes 13 countries including China, India, Indonesia, and Russia. University of Minnesota conservation scientist Anup R Joshi led the research, which used Google Earth Engine's cloud computing abilities to assimilate a massive volume of high quality images and an extensive 14 years worth of forest loss data from Global Forest Watch. The use of real time satellite images lent one crucial advantage to the researchers - it helped process changes in the tiger habitat to the scale of 30m per wildlife corridor, which is very minute detailing.
Also read: Corbett tigers are getting poached at an alarming rate
Minute detailing is certainly essential for conservation of the big cat. Officially categorised as 'endangered', there are fewer than 3,200 left in the wild across 13 Asian countries. Their numbers have dropped by a staggering 95% and they're restricted to
7% of their original range
.
Tiger-friendly forest cover in 13 countries has depleted less than we thought - and there's Google data for proof
"Our analysis wouldn't have been possible without free access to satellite data and Google Earth Engine [Google cloud] for computation," Joshi told Motherboard.
The ability to tap into satellite image data has proven vital, allowing scientists to zero in on the precise wildlife stretches where the tiger is most at risk. That data is used to develop estimates about the tiger population at large, so that necessary resources are channeled in the affected regions accordingly.
Most importantly, all this data is in real-time. Contrast that with even half a decade ago, when monitoring habitat like this would've been possible just once a decade. Access was difficult and the whole exercise was too niche.
Joshi further explained that, "More governments and organizations are providing free data to the public. With advances in technology, more data on Earth observation is coming in every day than we can analyze. Machine learning algorithms are becoming more reliable, which will change the way we monitor forest and other natural resources in coming years, to quickly analyze large data sets and identify trouble spots."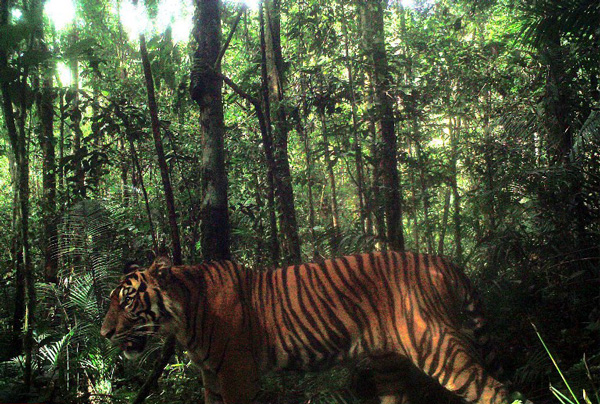 Once the trouble spots are located, efforts can be made to contain any habitat loss in the area. All these initiatives are specially important bearing in mind the "Tx2" goal, fixed by governments of countries where tigers are still found. The objective Tx2, set in a 2010-conference, was to double the world's tiger population to over 6000 by 2022. The 13 tiger-range countries included Bangladesh, Bhutan, Cambodia, China, India, Indonesia, Lao PDR, Malaysia, Myanmar, Nepal, Russia, Thailand, and Vietnam.
Also read: Is World Bank above the law? Aggrieved Gujarat fishermen find out it is
And Joshi's research has revealed that it may just be possible to get to those Tx2 numbers because forest loss hasn't been as much as was predicted or imagined. The researchers found that forest loss in the areas studied for the paper was 7.7% between 2001-2014. It was "remarkable and unexpected" because all the 13 tiger range states are essentially the fastest-growing economies in the world - hence, more chances of green cover depletion.
The paper quotes the researchers saying that, "Most encouraging was that loss was less than expected. This suggests that if future habitat loss is prevented, the tiger recovery in some range states will accelerate. In these promising locales of enhanced protection, a doubling of the tiger population could be attainable by 2022."
In its conclusion there were some riders though, in order to fully realise the goal of tiger conservation. They are:
"(i) essential corridors are restored in the most deforested landscapes, (ii) source sites and priority landscapes suffer no further erosion, (iii) range-state leaders implement smart green infrastructure, and (iv) essential translocation and reintroduction programs are implemented by tiger range states now in a recovery phase."
The riders need to be followed to ensure a secure future for the panthera tigris which, isn't exactly out of danger by a long shot. In fact of the 7.7 percent of forest destruction the paper noted, an overwhelming 98 percent was lost in just ten of the areas deemed critical for doubling the tiger population. The biggest losses were observed in Malaysia and Sumatra, where the palm oil industry is harming wildlife habitat.
Motherboard quotes Joshi saying that, "Expanding oil palm plantations in the tiger range countries has been one of the main causes of forest conversion and habitat fragmentation and loss. In Indonesia alone, more than 4,000 square kilometers or 1,544 square miles of forests have been allocated for oil palm concessions."
So the tiger isn't really out of the woods, just yet.
Perhaps Joshi sums it up best in a quote to Guardian: "We want this study to encourage people to think that doubling numbers is possible but we don't want to paint too rosy a picture."
Edited by Payal Puri
Also read: A photographer on a Bollywood set explores an Angolan village in India