Red Signals, Green Hopes: 5 eco-warriors debate what it will take to save the planet at JLF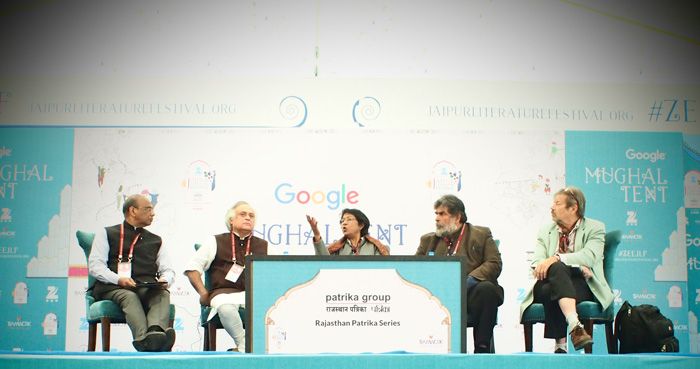 Before the Industrial Revolution, the global average of carbon dioxide level was 280 parts per million (ppm). By 2013, the daily mean concentration of carbon dioxide in the atmosphere of Mauna Loa, Hawaii, surpassed 400 ppm.
And here's the biggest problem: this unmitigated pollution, as pointed out by former environment minister Jairam Ramesh at a session on day one of Jaipur Literature Festival today, isn't a function of our lifestyles. It's a function of our livelihood.
That obviously makes the challenges faced by environmentalists, policy makers, activists and conservationists far more complex. Five experienced stakeholders took the stage to discuss the scale of the problem in a session called Red Signals, Green Hopes, presented by Catch News parent company Rajasthan Patrika.
They included Jairam Ramesh, former environmental minister and economist; Alex Shoumatoff, writer and journalist; Suman Sahai, environmental activist; Valmik Thapar, wildlife conservationist; and Ajay Mathur, TERI chief (who recently represented India at the COP 21 Sustainable Innovation Forum 2015 in Paris).
On their agenda: the mountainous hurdles that lie ahead - and the possibility of a hope. One of the key challenges, they feel, is quite simply in implementing sound public policy. For Thapar, the greatest impediment lies in the fact that government officials - the police and forest officials, all the way up to district collectors - haven't been educated about climate change. Nor the dangers it presents. They therefore do not understand the criticality of ensuring environmental policies are strictly followed. Shoumatoff agrees. But he also warns, at an individual level, of our own inability to assess the damage each of us wreaks on the environment. "I recently found out that each of us breathes 25,000 times a day. Multiply that by 1.25 billion (for India). That's the level of our own implication."
If there was an optimistic note, it came from Ajay Mathur. "The price of solar power is cheaper than ever before. It isn't enough, but it's definitely a move in the right direction". And yet, the scale of our population growth may negate any real benefit from this growth. According to Jairam Ramesh, "In the next 30 years, we'll be four hundred million more (than our current 1.2 billion population). That means even if we move to solar energy by making it price-competitive, we'll still have to double, maybe triple our current consumption of coal energy. And expand our nuclear capabilities by four or five times." "That is the reality of our demographics."
More from Jaipur Literature Festival:
Booker Club: we ran into Margaret Atwood and Marlon James at JLF
#60Seconds with Marlon James: 'West loves fairies & hobbits. I'm kinda tired'
#60Seconds with Valmik Thapar: "Tiger count hasn't increased. We're just counting better"