Raising a stink: why the cleanest capital tag doesn't amuse Bangalore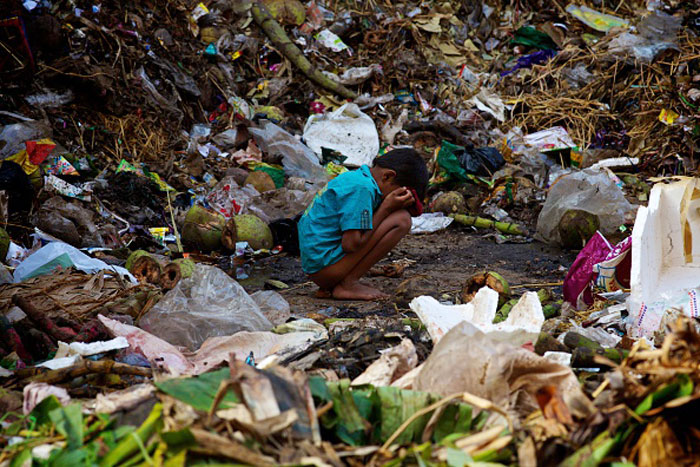 Pretty picture
The Swachh Bharat survey ranks Bangalore as India\'s cleanest capital
It\'s also listed 7th among with 476 cities with a population of one lakh
Ranking is based on 2 parameters - solid waste management, open defecation
Reeking reality
Bangalore has been facing a garbage crisis for nearly 5 years now
Outside of the posh areas, streets are littered with garbage
The city has abandoned two landfills after protests, chosen new ones
It turned down a clean Swedish waste disposal system as too expensive
It has only 600 toilets, most of them unusable; open urination is common
The Swachh Bharat Mission has ranked Bangalore as India's "cleanest capital" and Bangaloreans can't decide whether to celebrate or utter a collective blah.
The reason: the city stinks, literally.
Indeed, Bangalore has been struggling with a garbage crisis for five years now, and despite the promises of successive governments, it's nowhere near being resolved.
A series of agitations beginning in 2011 to force the state to act hasn't done much good either.
So, when the survey was released by the urban development ministry on 8 August, Bangalore's residents understandably wondered on what basis their city had been chosen the 7th cleanest overall.
On thin ground
The survey, conducted during 2014-15, covered 476 cities with a population of one lakh and more. It, however, ranked the cities on only two cleanliness parameters - solid waste management and extent of open defecation.
The other five parameters, the urban development ministry has indicated, would be covered in subsequent surveys. These are septage management, waste water treatment, quality of drinking water, surface water quality of water bodies, and mortality due to water-borne diseases.
If and when a survey with these parameters is done, it would make a mockery of the current rankings.
For now though, Karnataka's other big city, Mysore, is the country's cleanest city while Patna, among major cities, is ranked near bottom at 429.
Mysore's top billing confirms a trend of cities in the south being considered cleaner. Indeed, 39 cities from the four southern states figure among the top 100 in the Swachh Bharat rankings.
Bangalore generates 4,500 tonnes of garbage daily and gives contractors Rs 480 crore a year to remove it
Bangalore's main rivals in the region, Chennai and Hyderabad, though didn't fare well, ranking 12th and 22nd among capital cities and 61st and 275th overall, respectively.
So, what puts Bangalore higher on the cleanliness index. "Those who did the survey probably visited only the posh areas,"says environmentalist and former bureaucrat A N Yellappa Reddy.
"Had they walked around in some of the 198 wards, they would have found nothing but garbage dumps and over-flowing drains."
Making a mess
For years, the Bruhat Bengaluru Mahanagara Palike, or BBMP, quietly dumped around 4,500 tonnes of garbage generated by Bangalore daily at Mavallipura and Mandur landfills on the outskirts of the city.
Then in 2010, villages surrounding the landfills protested, saying the stinking garbage dumps had made living there unbearable. The agitation peaked in 2011, when the villagers blocked hundreds of trucks dumping garbage at the landfills.
As a result, garbage piled up on almost every street corner in the Garden City, prompting residents to dub it the Garbage City.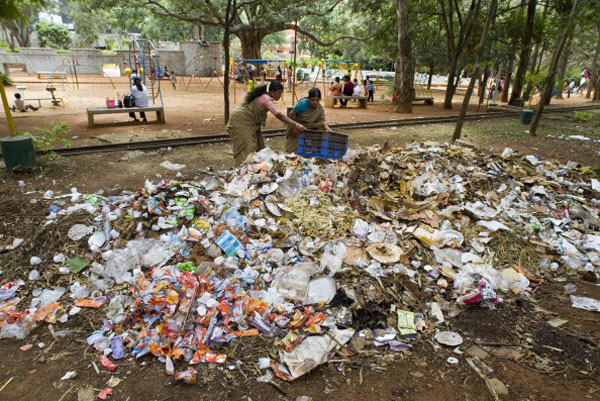 The BJP government couldn't find a solution to the crisis, and partly due to this failure, lost power in 2013.
Taking over as chief minister in May 2013, Siddaramaiah of the Congress vowed to clean up the mess in six months. Perhaps, he didn't account for the powerful vested interests that have discovered gold in the garbage business.
The BBMP pays nearly Rs 480 crore a year to contractors to remove garbage from the city and transport it to dumping grounds.
Most contracts are hugely overpriced, manipulated by corporators, MLAs and bureaucrats in return for kickbacks from the contractors.
After taking office, Siddaramaiah visited Mandur and was aghast at the sight of a mountain of filth. The stench had not only made life difficult for the villagers, but the garbage was also seeping into water bodies nearby, causing widespread sickness.
Yet, the government continued to pile on the garbage at the landfill. It only stopped in November 2014 when protests shut it completely off to dumping trucks.
Clearing the way
To learn about alternative ways of garbage disposal, ministers, corporators and bureaucrats toured Chennai, Coimbatore, Pune, Surat and several other cities.
The state even appointed a senior IAS officer, Darpan Jain, as special garbage commissioner with the sole responsibility of solid waste management.
Additional chief secretary Ratna Prabha took a delegation to Sweden to learn about efficient ways of waste management.
She reported back that Sweden has 32 waste-to-energy plants that incinerate 99% of its garbage to produce steam, which generates electricity for turbines and public transport. Most of these zero-pollution plants are located in residential areas.
Bangalore has a special garbage commissioner but the city still stinks
Prabha recommended that the state adopt the Swedish technology, which would not only reduce burden on landfills and check pollution, but also power local buses.
So, last year, a team of Swedish officials arrived in Bangalore offering help with waste disposal. But after two rounds of discussions, the Swedes were told their technology was too expensive and the idea was dropped.
Now, under sustained public pressure to do clean up the mess, the government has allowed some Indian firms to set up six waste disposal plants in Bangalore. However, when completed, the proposed plants can dispose of only about half the garbage generated daily.
Nothing solid
As a temporary measure, the state has marked Bingipura and Lakshmipura as the new dumping sites, promising the agitating local residents that the landfills will be closed down once the waste disposal plants are up and running.
How long that will take is anybody's guess. For the foreseeable future, the city is unlikely to do away with transporting the garbage as it remains a profitable cash cow for several politicians, bureaucrats and contractors.
It's this realisation perhaps, as well as exhaustion with the sate's inaction, that residents of many apartment complexes are devising their own solutions.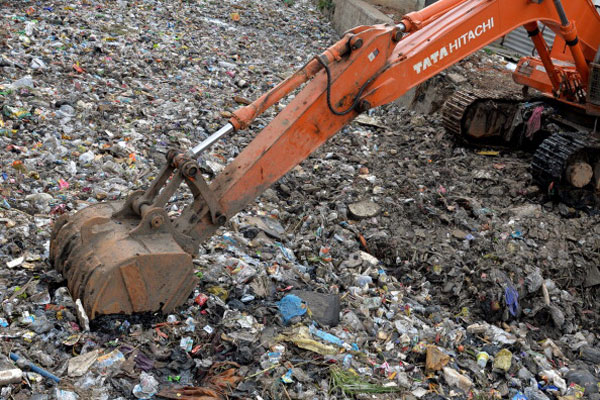 Some segregate and process wet waste, while others do composting or generate biogas.
Another reason why Bangalore has earned the tag of the cleanest capital is its citizens' supposed awareness about the ills of open defecation.
That may well be because it hardly has any open secluded places. But in a city with only about 600 public toilets for a population of one crore, urinating in the open is not uncommon.
Many houses, educational institutions and offices have pasted photos of gods and goddesses on their compound walls to deter at least the religious-minded from soling them.
Such is the apathy towards public toilets, in fact, that most of the 100 toilets built by Infosys founder N R Narayana Murthy's wife Sudha Murthy and handed over to the state a decade ago have fallen into disuse for lack of maintenance and supply of water.
So, on both the parameters of waste management and open defecation, Bangalore doesn't come out shining, whatever the Swachh Bharat survey may proclaim.
"Bangalore being declared the cleanest mega city means we are the best among the worst," says Kiran Majumdar Shaw, chairperson of Biocon and an energetic social activist. "It shows how low our standards of cleanliness are compared to the developed nations."