How do you make a botanical garden? In UP, they fell 8,000 trees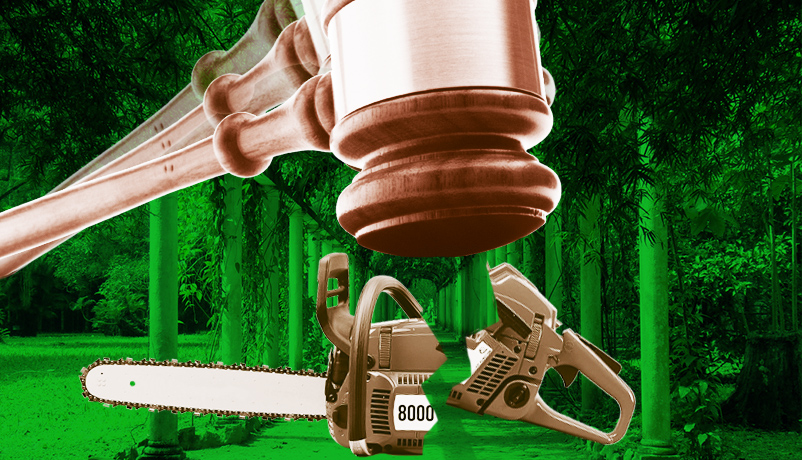 Garden dreams
The UP govt plans a botanical garden by the Ganga in Kanpur
The \'dream project\' of Akhilesh Yadav sounds more like an amusement park
Yadav wants cinemas, pools and shopping complexes in the garden
Thorny realities
KDA issued a tender to fell thousands of trees to make way for the garden
Social activists say the tender is a sham; most of the trees have already been felled
Activists allege work is on despite a high court stay
What do you expect in a botanical garden? Trees, plants and shrubs?

But Uttar Pradesh Chief Minister Akhilesh Yadav's 'dream project' is a botanical garden that would have drive-in cinemas, restaurants, shopping complexes, banquet halls, car parks, artificial lakes for boating and a swimming pool.

All that on a site by the Ganga, which had 8,000 trees.

Normally, the second fortnight of September sees an overflowing Ganga. This year though the rains have been sparse and the river has been reduced to a trickle as howling winds lift sand from its bed.

Close to the Ganga in Kanpur's Nawabgunj neighbourhood, thousands of neem, guava, lemon and berry trees sway inside a fenced compound. Their hissing sound is drowned by the roar of earthmovers and cement mixers - construction work for the Lohia Botanical Garden is in full swing inside the compound. The trees will soon be felled.

On 12 September, the Kanpur Development Authority (KDA) issued a tender for felling 8,065 trees, which were posing a "hurdle" for the garden, which was announced in February 2014.

But that tender was a sham, says social activist Robby Sharma. According to him, about 80 per cent of the trees have already been chopped.

Sharma says he has satellite images of Kheora, the village which is the cite for the garden. While older images show a green village, the current pictures are of a brown landscape.

The discrepancy doesn't end here. Sharma says the KDA had valued the timber from the trees at about Rs 7 lakh, but it had paid the forest department Rs 55 lakh for planting those trees some five years ago. "Can anything be more ridiculous?" he asks.

Ravi Shukla, another social activist, has petitioned the Allahabad High Court against the felling of the trees.

"The Ganga has drifted a few hundred metres to her right, towards Unnao. The land thus left vacant shouldn't have been tampered with, but the KDA has usurped it. It first spent Rs 55 lakh for afforestation and now wants to ruthlessly destroy what looks like a small forest," Shukla says.

He highlights the irony: "Botany is the study of vegetation. Botanical garden means trees, plants and shrubs. Isn't it weird that over 8,000 need to be axed for a botanical garden that actually is an amusement park?"

'KDA spent Rs 55 lakh 5 years ago to plant these trees; it now values the wood from those at Rs 7 lakh'

KDA's town planner Ashish Shivpuri, however, says the agency wants to "develop" Kanpur. "Those opposing the felling of trees should tell us how a few thousand neem, guava, berry and lemon trees can give Kanpur a developed look? They don't even help much in controlling pollution."

Shivpuri says Most of the trees were anyway planted haphazardly. In lieu of chopping down 8,000 trees, the KDA will plant 24,000 saplings in different parts of Kanpur. "We will plant herbal trees too," he says.

But Shukla is not impressed. "Where will the KDA plant 24,000 saplings. Is there any open space left in Kanpur? The saplings will no doubt be planted but only on paper."

"The agency which is now talking about herbal trees destroyed a herbal park, with hundreds of full-grown trees, in the heart of the city 15 years ago and gave the land to realtors. Now a mall stands there. Is this the concept of development?" he asks.

If the KDA cared so much for a botanical garden, the land could have been given to the Botanical Survey of India or to some agriculture university, Shukla says.

He is afraid that "in the garb of a botanical garden, the land will be diverted to land sharks for commercial use." Usually, nothing can be constructed close to the river for commercial purposes.

Yadav's dream project hit a speedbreaker when a high court bench led by Chief Justice DY Chandrachud has stayed felling of the trees and construction work until 5 October.

But Shivpuri is confident that "the court will realise the importance of our project and vacate the stay."

On the other hand, Shukla alleges that despite the stay order, work is on at the cite marked for the garden. He and his co-petitioner Gaurav Bajpai are now bracing for a long legal battle.

"River, forests, ponds, lakes, mountains are aspects of nature and we should never tamper with these," Bajpai says. "When one form cedes ground, another should be allowed to prosper there. In this case, the Ganga ceded some land and a small forest came up there. That should have been left alone to thrive."