Govt has failed to save India's rivers, admits water resources secy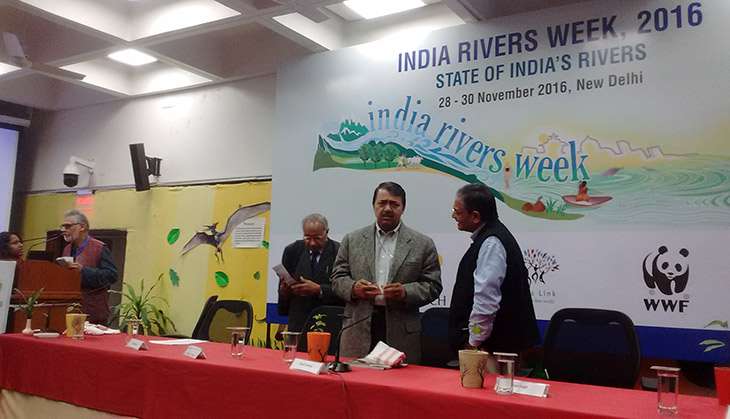 Photo: Vishakh Unnikrishnan/Catch News
India is a land of 290 rivers. And 205 of them are in a critical condition. That's right, 70% of India's rivers - the lifeblood of human civilisation - are in a critical condition, as per a river assessment survey conducted by various representatives from across the states, including professors, academics and environment experts.
The experts met at the annual India Rivers Week programme, held at the World Wildlife Fund Secretariat in New Delhi.
Fourteen of these rivers are those classified as 'major' rivers, while 40 are 'minor'. The final list is expected later this month.
But that's not all. It's just the tip of this killer iceberg.
Shashi Shekhar, secretary, Ministry of Water Resources, River Development & Ganga Rejuvenation, admits that the ministry has failed to do its job - bring out an action plan to address the unabated exploitation of India's rivers.
Blame nexus between politicians and construction business
Shekhar's remarks were certainly unexpected; after all, it's not every day that the top bureaucrat in a ministry publicly blames the ministry and his political masters for failure.
He said there were various reasons behind the abject exploitation of rivers, river beds and flood plains, which had led to the level of pollution we are witnessing today - but a major reason was the nexus between political leaders and the construction business, in which many of these politicians had a vested interest.
Unchecked construction, he said, had led to the sort of flooding witnessed in cities like Hyderabad and Chennai, and damage to river beds and floodplains. He added that it was essential to inform the public that this was not 'development'.
He also took a crack at the additional responsibility of Ganga Rejuvenation that has been tagged on to the ministry by the present NDA government.
"The ministry is now renamed with the added clause 'river development and Ganga Reuvenation', but other than a name change, not much has been done," he said.
Shekhar also criticised the lack of government data that could help monitor and assess the state of rivers in India.
"There is almost no reservoir in the country that provides the intended cost-benefit ratio of 66%, and only a handful of irrigation projects have used water efficiently. Sometimes the only reason behind the initiation of such projects is just for the sake of construction," he added.