Art of Living pays Rs 5 crore fine imposed by NGT, tries to save face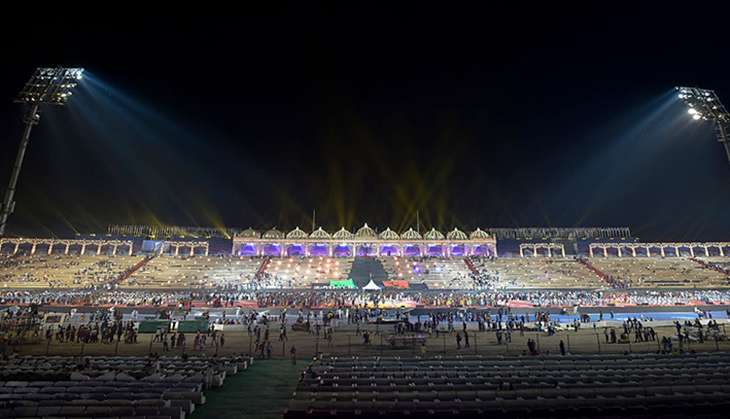 On 6 June, the Art of Living Foundation (AOLF) paid up the Rs 5 crore environmental compensation charge imposed on it nearly three months ago.

The National Green Tribunal had levied the fine for tampering with the Yamuna floodplains, where AOLF hosted its World Culture Festival from 11-13 March. The amount was to be paid up before the event began.

In what was a clear attempt to save face, after paying the fine, AOLF held a press briefing in New Delhi arguing that the event did not affect the floodplains.

Its main contention is that the Yamuna floodplains are not a wetland. There was farming happening at the venue for at least a decade, so the land had already been levelled before the AOLF organised its event. It said grasses have grown on the venue, and birds have been spotted.

Also read- Showers of blessings: rain trumps Sri Sri's World Culture Fest Day 1

The briefing was conducted by AOLF spokespersons Kedar Desai, Jaideep Nath, Prabhakar Rao and Rakesh Ranjan. The Foundation also paraded three scientists - Dr Nupur Rau (restoration ecologist), Dr Y Lingaraju (former director, Karnataka State Remote Sensing Application Center) and Dr K Subramanya (former professor, IIT Kanpur); however the scientists did not make any presentations.
AOLF's main arguments
AOLF used Google Earth satellite images of the festival's venue to show that there were periods when the venue turned green, claiming these to be agriculture. "There was no biodiversity in the area, no natural vegetation. Only cauliflower and spinach," Prabhakar Rao said.
It said that there were nearly 23 acres of debris on one edge of the floodplains, near the end of the Delhi-Noida Direct Flyway. The debris were covered with grass to hide them, and AOLF removed them at its own expense, the foundation claimed.
The floodplain is not a wetland, Rao said. "There is no law against temporary events in floodplains, but we can't have it in a wetland," he said. The foundation showed a Survey of India map from 1986, where the floodplain is not classified as a wetland.
AOLF said the seven-acre stage, which was the highlight of the event, did not harm the land. This was because it was standing on "lakhs of pillars" that spread the weight of the stage.
The foundation showed photographs of birds - migratory and resident - taken on 17 April, a month after the event.
The Foundation said that the enzymes poured into Yamuna to clean it up were actually "bioremediation", which is a practice accepted by the Environment Ministry and the Central Pollution Control Board.
What will happen next?
AOLF's briefing comes in the context of the NGT case. The AOLF was sued before the NGT for damaging the floodplains.

The NGT had sent an expert committee before the event began. In an interim report, the committee (headed by water resources secretary Shashi Shekhar) said the floodplains were damaged and restoration would cost up to Rs 120 crore.

Also read- No clean chit to AOL: NEERI disowns scientist's views on World Culture Festival

The panel was asked to visit the venue after the event, and fix a final cost of restoration, which would be levied on AOLF.

AOLF has contested both the committee and its observations. In a statement, it said the claims that it damaged or polluted the Yamuna floodplains are "based on a distortion of facts and unsupported by objective or scientific assessment".

Based on this argument, it had paid only Rs 25 lakh out of the Rs 5 crore, asking the NGT if it could pay the rest in the form of a bank guarantee. The guarantee could be used if the expert panel, in its final report, found substantial damages.

It had asked the NGT for permission to carry out its own assessment, and to add two more members to the expert panel. The NGT rejected both requests, and the panel has been asked to submit its findings by 4 July, when the matter will be heard next.

When asked if the data it presented to the press would be placed before the NGT, AOLF spokespersons said they will put it before the tribunal in due time.

Edited by Shreyas Sharma

More in Catch:

PM Modi's US visit: India set to get membership of key missile tech group

Blue Star anniversary: pro-Khalistan slogans raised, Badal insulted

TN Godavarman: the man behind India's biggest environment court case