Adaptation is the new climate change buzzword in India. Here's why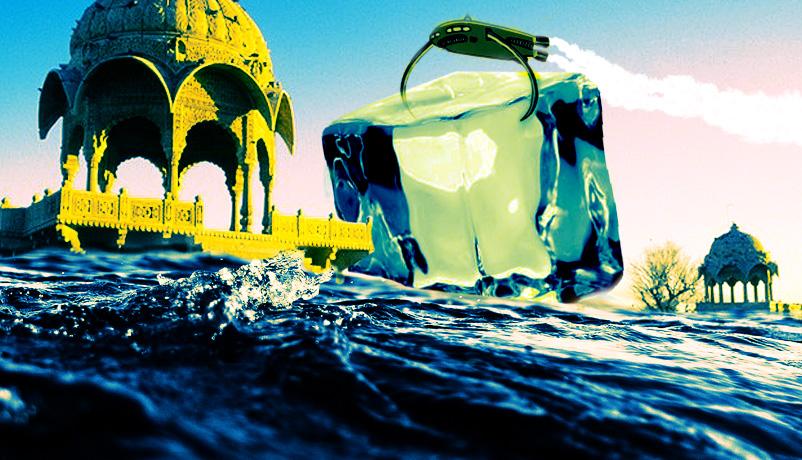 The reality
The UN\'s plan to get countries to volunteer to emission cuts doesn\'t seem to be working
Cuts promised so far won\'t keep global temperature rise under the required 2 degrees Celsius
The plans of the biggest polluters - US, EU and China - indicate a 4-5 degree rise
The reaction
India\'s policy is set to be rooted in the need to adapt to inevitable climate change
The policy\'s focus on adaptation could be 50% or even more
Studies show that localised approaches will work better than a broad national policy
When a fire goes out of control, the first instinct is to save yourself, rather than to douse it.
This seems to be India's new strategy in dealing with climate change.
Cutting carbon emissions has always been a tough ask. International negotiations have never been able to decide which country should cut exactly how much.
Despite the latest attempt at getting countries to volunteer for emission cuts, the picture looks grim. The cuts promised so far won't be enough to keep global temperatures from rising beyond the crucial 2 degrees Celsius compared to pre-industrial era levels.
Most countries have agreed that 2 degrees Celsius is the most they should let temperatures rise over pre-industrial levels. We are already 0.8 degrees above, and crossing 2 degrees would cause sea levels to rise by one and a half feet, droughts that can last decades, and more. (Also see: 2 degrees to disaster - why we have to act now).
So, what will happen? How does one deal with it?
It appears that Indian climate policy is increasingly seized with this question. More and more attention is being given to preparing the country for the effects of climate change rather than fighting it.
Put simply, India's planners are gearing up to deal with extreme weather, droughts, floods and degrading soil quality.
Turning to adaptation
There are two sides to any climate policy: mitigation and adaptation.
Mitigation deals with reducing carbon emissions - by using clean energy, consuming less, and so on.
Adaptation asks a crucial question: given that climate change is a reality, how does one deal with - or adapt to - its effects?
The Indian government has begun working on this. India's forthcoming commitments to the world on its climate policy will speak as much about adaptation as mitigation.
"Climate action resilience is not just about mitigation, its about 50% mitigation and 50% adaptation. Adaptation has become very important, and disaster resilience [too]. We want to map everything into our INDC," environment minister Prakash Javadekar said in a video address at a conference in New Delhi on 23 July.
INDCs - intended nationally determined contributions - are commitments each country is making to the United Nations Framework Convention on Climate Change on how it plans to respond to global warming.
These are to be submitted ahead of the next climate negotiations in Paris this December.
An environment ministry official involved in the preparation of India's INDCs said that adaptation is given more emphasis.
"There will be focus on Jammu and Kashmir and Uttarakhand due to flood vulnerability. The Central Water Commission is working on an early warning system for these regions. Several such ongoing activities will be added to India's climate adaptation policy," the person said.
Climate change an increasing reality
Experts reckon that it is about time the world started thinking more about adaptation.
Firstly, global negotiations to cut emissions seem to be going nowhere. The contributions by the top three polluters - US, European Union and China - were inadequate and may in fact push temperature rise into a 4-5 degrees range.
Since these are the biggest polluters, there isn't much hope from the upcoming commitments.
Meanwhile, the chickens have come home to roost. Sea levels are rising, storms are more frequent, and rainfall has become erratic, most likely due to climate change.
Cuts promised by the top three polluters - US, EU and China - may push global temperatures up by 4-5 degrees
"This year itself we, in India, saw hailstorms, a heat wave and unseasonal rains. India has to spend a lot of money on adapting to such events. I won't be surprised if adaptation-mitigation is distributed 50-50, it could even be more," said Arjuna Srinidhi, programme manager, climate change, at the Centre for Science and Environment.
"For countries more vulnerable to climate change, which are experiencing increasing frequency of extreme events, adaptation is equally, if not more important that mitigation. Our state-level climate change plans are mostly focussed on adaptation measures."
Adaptation policies
The simplest example of adaptation is installing a lifeboat to minimise the risk of death in the event of a shipwreck. So is wearing a mask in a polluted city.
Every country's adaptation needs are different. An island nation can entirely submerge, or it may not have enough money to deal with constant floods.
In the Indian context, the National Action Plan on Climate Change came into being in 2008 with eight missions, three of which directly address adaptation. These cover water, agriculture, and Himalayan ecosystems.
Two missions: on creating knowledge about climate change, and on sustainable habitats, partly deal with adaptation.
For example, the National Mission for Sustainable Agriculture finds ways to help agriculture deal with a warmer climate and extreme weather. This includes studying the impact of climate on different crops, and suggesting better practices.
India is adding four new missions to the plan, and these are largely focussed on adaptation. The new missions deal with health, coastal areas, waste-to-energy conversion and wind energy.
The first two explicitly target adaptation, while the third addresses it partly. The ministry official pointed out that this shows the increased concentration on adaptation in the government's future policies.
The Narendra Modi government also announced a National Adaptation Fund, with an initial allocation of Rs 100 crore to fund adaptation activities at both the centre and state levels.
Disaster management, to protect from extreme climate events such as floods and cyclones, will also be included in India's climate change strategy. While preparing India's INDCs, the Environment Ministry has also reached out to the National Disaster Management Authority, a senior official confirmed.
Decentralisation
A recent case study of such initiatives in five states by the research organisation Development Alternatives showed that local, grassroots initiatives have a greater potential in making adaptation a reality.
"The one-size-fits-all approach does not lead to large-scale adaptation. The initiatives require a broader approach, providing flexibility to address specific needs and concerns of communities," the report said.
The examples include a community in the drought-prone Bundelkhand region of Madhya Pradesh, which began undertaking participatory water management activities.
The community built check dams, regularly measuring water levels in wells, and created a local system for water distribution. As a result, not only did the water supply improve, but the community was better prepared for sudden changes in water levels.
Another community in Kangra, Himachal Pradesh, began rebuilding houses by integrating traditional methods and materials with modern architecture. These houses ensure that in case it rains too heavily, landslides are less frequent.
A water-stressed region in Sikkim began reviving springs and digging ponds, so that people are insured against a sudden change in water availability.
The jury is out on how far these initiatives will be sustainable. But as India prepares adaptation policies, these are some lifeboats worth watching out for.