Unless a film can cause a riot, there should be no censorship: Shyam Benegal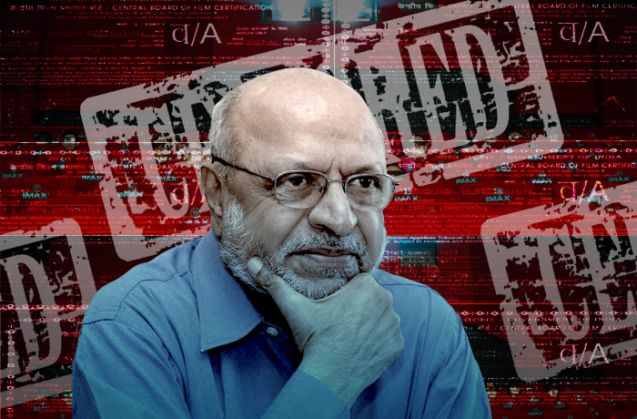 The panel
The I&B ministry has constituted a panel to revamp the Censor Board
The panel is headed by Shyam Benegal and also features Rakeysh Mehra and Piyush Pandey
The view
Legendary filmmaker Benegal feels censorship is not right, unless it can lead to actual violence
He says it is actually the Central Board for Film Certification, not the \'Censor Board\'
He feels policy should change from time to time, according to change in social mindset
More in the story
Why Benegal didn\'t take the students\' side in the FTII protests against Gajendra Chauhan
What he thinks about policies like banning curse words and cutting short a James Bond kiss
Artistic and cultural freedom was at the centre of a heated political debate throughout 2015. And the Censor Board was under the scanner in many controversies, thanks to a chairman with clear political leanings enforcing a range of arbitrary bans.
It's against this backdrop that the I&B ministry decided to form a committee to revamp the Board, under the chairmanship of legendary filmmaker Shyam Benegal. The decision has been hailed by many.
Also read - "Absolutely no censorship": Rakeysh Mehra, censor board revamp committee
Benegal was the man behind pathbreaking films such as Ankur, Nishant, Manthan and Bhumika, which gave rise to 'new wave' or parallel cinema in India.
In conversation with Catch, Benegal gives his insights into censorship and brushes aside allegations that the streak of activism visible in his films has been lost. Excerpts.
Where do you stand on the issue of censorship? Should there be any censorship at all?
I have never been in favour of censorship as such. Every artist should have the right to express themselves in their own way. But what happens is, there are certain compelling situations and conditions that are imposed on any kind of artistic freedom. These situations generally have to do with the prevailing social norms, particularly in a diverse country like India.
The fact is you have to face situations like this all the time. Film and television being mass media reach many people at a time.
Now, whether you like it or not, you have to understand that there is a diverse group of people who can derive different kinds of meanings from what they see. There are certain things with which you have to deal with a certain amount of caution. For instance, with violence, you have to be very careful. Sensitivities and sensibilities of the people have to be kept in mind.
The information & broadcasting ministry has formed a panel under Benegal to revamp the Censor Board
To me, censorship itself has no place in society. What we typically call the 'Censor Board' isn't really that, but the Central Board of Film Certification. And that's what it should be. You certify a film for a certain kind of audience, based on age and so on.
What is the Board actually doing? Is it doing something that is harming the creative intentions of the film? All this has to be looked at, and these revisions need to happen from time to time.
But since this is a very subjective realm, who defines whose sensibilities and sensitivities are to be catered to and in what way exactly? This has always been and remains a strong concern.
It's 100% percent true that these are subjective realms. But there are certain areas where they can be objective.
For instance?
If your audience happens to be impressionable children, there is an automatic discretion that will work. The social norms that build society are determined by social and religious practices, backgrounds, education etc., among other things. Now these norms don't always clash. But if they do, you have to be careful.
If showing something is going to create a situation which will lead to actual violence, then there must be restraint.
Also read - Shyam Benegal to head committee to revamp Censor Board: Here's why Bollywood can't be happier
But what about an environment like ours where offence is so easily taken?
It's a very complex thing and one cannot take a simplistic view on it. Often, you find that you do not need censorship to sort differences in religious and caste projections. Believe it or not, people do use their own experiences to gauge.
So you have faith in the ability of the audience to discern?
Yes. And not just the audience, but also filmmakers. There may be a few perverse ones, but by and large, they are not. It's just a question of asking 'what is suitable for a certain kind of an audience?'
In the present context, with strong polarisation in society, it is not difficult to see that anti-social reactions and emotions are easy to inflame...
These are matters that have to be looked at in detail. What may be politically correct today may be politically incorrect tomorrow. These are not permanent issues. We're talking about social norms that go beyond any time-bound limitations.
Actually, these are simpler to handle. The complexity lies in dealing with social norms that go beyond all this.
The 'Censor Board' is actually the Central Board of Film Certification. That's what it should be
As a filmmaker, what has been your personal experience with the Censor Board and censorship in general?
I have strongly objected to censorship and have been a victim of scissors being used on my films. Nishant and Manthan both faced the diktats of the censor board. The things that I have had to censor were entirely arbitrary and meaningless.
For instance, Bhumika, which was classified as a film that would be of greater interest to women, was given an 'Adult' certificate. Now, Bhumika is a film that would be of greater interest to women than to men. This is a prime example of social norms impacting cinema.
Giving my film an 'Adult' certificate in those days meant women did not go to see the films - neither did families in general. Husbands wouldn't take their wives to watch an 'adult' film. Typically, it would be men watching it. What sense does it make to keep women away from a women-centric film?
It's interesting to see the government reach out to people like you. The move has been welcomed as a good step by people. Moreover, it also shows that resistance does make a difference. Do you see this as a step in the right directrion?
Yes, it's a very good move. I also agree to another thing - that there is no such thing as a permanent solution. Because society itself is changing, reviews should be constant and not one-off - particularly in institutions that directly relate to society. The fundamentals may remain the same, but change is constant and one has to be mindful of it. The guidelines and rules of censorship, thereby, cannot be the same.
Even in the past, when Leela Samson was the chairperson, a seminar was held for several days on the censorship issue. How many of those recommendations were implemented is another issue altogether. I haven't looked into that; I will now. I'd like to study what has happened over the years.
Does it worry you that people with clear political leanings are at the helm of India's biggest cultural and artistic institutions?
See, there is no government that comes to power without its own agenda. It will function on the basis of that agenda, but it will only work if it is socially valuable and acceptable. Otherwise, it won't. People would naturally oppose and resent it.
Also read - Censor & Sensibility: the films likely to offend Pahlaj Nihalani in 2016
Do you think the agenda is socially valuable and acceptable?
When it comes to films and art, there may be an indirect influence of ideological agenda. But I'm not really worried about that. See, we're not living in a fascist state. For dramatic purposes, you might say that we are living in fascist times, but we're clearly not. There are varied opinions being expressed through the media, nobody has blocked those opinions so far.
The government may be frowning on some things, but as far as I can see, no action has taken place to prevent people from doing what they're doing.
I won't be able to tell what will happen in the future. I don't see why we should worry about things that have not happened. We do have a Constitution and I do not see it being undermined by one thing or another.
I have strongly objected to censorship and have been a victim of scissors being used on my films
Each government will come and try to do that. You must expect that. And if it has negative impact on the social fabric, naturally it will be fought against.
Ultimately, it's a democracy. You have to allow for many different kinds of ideological strands to co-exist. When governments change, ideology will also change with them.
People should function according to what they think is right or wrong; which we always do. We always find a way.
Last year, when the FTII protests broke out, the Hindi film industry put up a united front in the students' favour. You, however, did not stand with it...
My solution to that was different. I think it would've been the better option. I wanted Gajendra Chauhan to go meet the students and find out what exactly are they upset about.
Among other things, there was the question of his artistic credentials.
That's a different matter altogether. The ministry does not ask students whom they would like to have as chairman. They could have felt that he was politically aligned in a particular way, or that he lacks credentials.
But the simplest way to solve the problem was for him to go and meet them personally and have a dialogue about it. The air would have been cleared.
If the students were informed and aware of his intentions and capability, the issue could have been solved. But without dialogue, the unhappiness remains.
Students also questioned his limited worldview and exposure of cinema...
The students could have quizzed him on that. That's exactly why the dialogue was needed - to understand first hand his ideology. I feel sad that Chauhan did not intitiate this and meet the students.
We're not living in a fascist state. Varied opinions are being expressed, nobody has blocked those
You have been FTII chairman twice, and taught there for many years. You have also made epic TV series like Bharat Ek Khoj and Samvidhaan, none of which would have been possible without institutional support from the state.
Well, Samvidhaan was made for the Parliament (Rajya Sabha). Bharat Ek Khoj was actually made for Doordarshan, and therefore the I&B ministry. I must honestly tell you that there were many controversial bits in the series that the government did not object to. I do not know how that happened. There were so many places where they could have taken offence, but they did not.
With regard to taking up grim issues of social significance in your work and otherwise, have you softened your stance?
That's not really true. It's a question of what your approach to confrontation is. There are many ways - you can decide to have a full-frontal confrontation; sometimes you feel that it would be more effective for you not to be that way. After all, if you're going to have a radical stance, it also means that nobody will listen to you.
Have you grown to feel that way? Or did you always feel that?
When you're younger, you feel the aggression more strongly. But sometimes, you feel that aggression isn't necessarily needed to get your point across. None of these decisions are simple, straightforward black and white calls. It's a complicated decision. When you're young, you see things differently...
Also read - New Modi bhajan produced by censor board chief Pahlaj Nihalani
There was a larger cause and activism that was clearly visible in your best work from the seventies. Are you still keen on upholding those values?
Oh yes, of course. You see that in any one of my films and serials. The function and the message remains the same, the methodology could have evolved.
As head of the committee to revamp the Censor Board, what are the industry concerns you are likely to bring to the table?
Apart from the obvious concerns, the business side of filmmaking becomes predominant and important. You don't want to cause enormous amounts of loss to people. It's not a very simple puzzle to solve. You're ultimately talking about the society in which we live.
To give you a rather ridiculous example, if a filmmaker here decides to show full frontal nudity in his film and gives reasons for the same, you need to calculate the social norms and first pose the question - does nudity need to be shown like that? Is there no other way to solve the creative problem he/she might be facing?
I remember, many years ago, at an international film festival, a Swedish film with a pronounced sex scene was being shown. This scene lasted for all of three seconds. But the fact was that there would be riots outside the venue, because everybody wanted to see this one scene. When you think about it, not only was the film awful, but the scene itself was ridiculous.
You don't want to cause enormous amounts of loss to people. It's not a very simple puzzle to solve
Today, we'd think twice of a situation like this. That was a certain amount of sensationalism, which no amount of artistic logic could explain. And on the other hand, you cannot rationalise it by saying Khajuraho has scenes of copulation. That is based on philosophical and historical reasoning; there is a context to it that cannot be ignored.
Speaking of sensationalism, even ordinary curse words are being banned by the Censor Board today.
That is absurd.
And then there was the controversy about making cuts in the James Bond film Spectre. Films like Grand Masti etc, which are laden with double meaning and sexual innuendos that are cheap, vulgar, sexist and even morally abrasive compared to a long kiss. Do you see double standards here?
Well, we all know that. This is exactly the reason why this job is so complicated. It's a question of saying - are you telling the truth? Are you being honest to yourself? Or are you trying to pull wool over other people's eyes?
Ultimately, you cannot work on subjective assessment. We have a lot of questions to ask ourselves. Let's see, I have just received the letter from the ministry, I haven't even met the ministers yet. There's a lot of work to be done.
More in Catch - The takeover: how the Modi govt has filled key positions in 14 institutions
Censor Board withdraws the list of cuss words
Censored, not stirred: India says hello to #SanskariJamesBond