The Girl on the Train: voyeurism, addiction and obsession brought to the big screen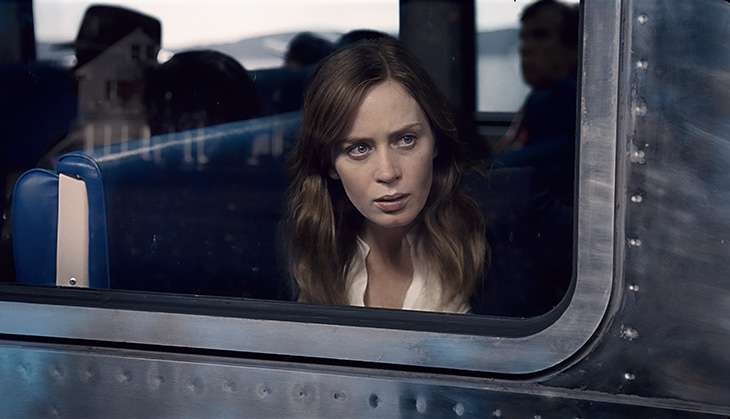 The Girl on the Train is compared to Gone Girl all the time. It's clear why: both are tales of missing wives, havoc, sex and murder. Both became must-reads and flew off the shelves. Both, in alternating chapters, had multiple points of view. Even the rights for both to be made into movies were quickly auctioned off.
Most importantly, both had women as central unlikable characters.
But Paula Hawkins' thriller - which sold more than 15 million copies worldwide - was more of a slow burn compared to captivating Gone Girl. Director Tate Taylor's movie does its work in cutting some of that fat out, but that has an adverse effect because it takes away the focus on Rachel (Emily Blunt), the centre of this dark and morbid tale. The movie does manage to give us a window into her troubled mind, but never as much as the book.
By doing that, it also moves the debate away from how women who are alcoholics are viewed. It's fair to say that women are judged that much more for drinking alcohol. "A woman is a drunk, a whore; whereas the guy is just a partier, a player". Rachel deals with more than a few upturned noses in the source material but all that gets lost in translation.
The poisonous trio
The screen is possibly the best medium to for such a voyeuristic story, and Taylor and screenwriter Erin Cressida Wilson retain the storytelling architecture of the book by relying on reversals of time, amnesia and false memories.
Rachel is the alcoholic who stares out of a train window as she commutes daily from the suburbs to the city, fantasising about suburbia's Stepford wives and her old with ex-husband Tom (Justin Theroux) while getting it on with some vodka from a sippy cup. Rachel is broken - she has no pride, no real hopes or even any real connection to the world. She loathes herself.
Then there's Megan (Haley Bennett), the pretty blonde who lives in one of those houses that Rachel stares so longingly at. She's got a seemingly comfortable life, a handsome if slightly abusive husband (Luke Evans). Even so, with a terrible mistake hanging over her head, she's ready to run away again, but ends up missing.
Lastly, there's Anna (Rebecca Ferguson) to round off the women. Anna had an affair with Rachel's husband and then married him only to live in the same house. She kinda wallows in annoying marital bliss, looking down at Rachel fro most of it, but if you peel one layer back you can see she's a bored and wishes for the more exciting days when she was the other woman.
These aren't particularly likeable people at all. They're cheating, fighting, drinking or manipulating one another. All are unlikely protagonists, not people you're used to cheering for in a story.
That's why book worked, it was a masterpiece in character study and development and the movie captures that spirit. But Tate Taylor is no David Fincher, so it does become tedious in points. The men - despite being the ones who pull the strings for much of the sordid tale - are never fully allowed to get into their characters, which takes away any idea of motives or backgrounds.
Unsurprisingly, Blunt is Blunt. She takes us through Rachel's paranoia, fear and loss beautifully for most part, but there were some strange slurring and stumbling here and there. Even the camera's occasionally unsteady focus-changing ways didn't really work in communicating her instability - it wasn't all that disorienting as I guess it was meant to be.
Theroux, in his tightly clenched role, is menacing in the moments he needs to be. There's also a bunch of side characters - Lisa Kudrow shows up for a brief and sparkly moment and Allison Janney plays a likable but tough cop.
Also, Hawkins wrote that ending - what Anna does is will raise more than a few eyeballs, but it's cool that Taylor kept it as is.
The verdict
Murder. Infidelity. Copious amounts of alcohol. Unreliable narrators. Just good old-fashioned tawdry entertainment. What's not to like?
RATING: 3 out of 5