Sorry Tejasswi, Pehredaar Piya Ki and Game of Thrones can't be compared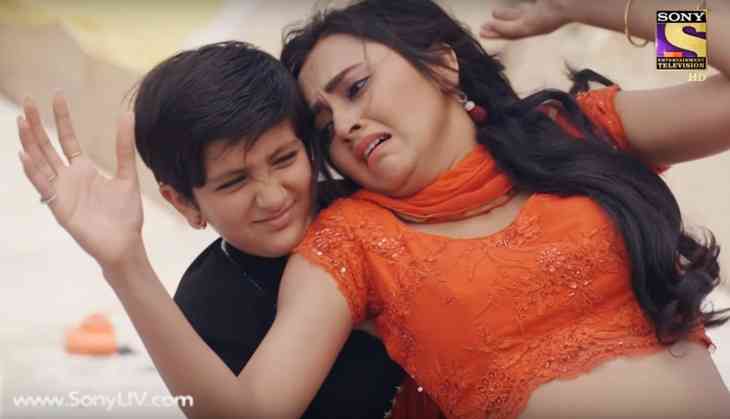 An actual scene in the first episode of the show.
A palace in Rajasthan. Stunning aerial shots. Riches, many, many riches. And a disturbing royal couple. Pehredaar Piya Ki, currently Indian TV's most hated show, can keep adding stunning chandeliers and opulent outfits to distract audiences – but it really isn't working.

The Sony TV serial shows an 18-year-old Pehredaar wife wedded to her 9-year-old Piya. Critics have panned the show for its supremely problematic content, with some reviewing it for days in the hope that the show will find a way to redeem itself.

But no such luck. With each passing week the show's TRPs stay strong, looming in the 0.9 to 1.1 region. This is quite high, given that CID (a series that never dies) is also at 0.9. For better comparison, IIFA awards 2017, a once-in-a-year function, got a rating of 1.2, according to data compiled by TV Fanclub.
A Change.org petition
Pehredaar is aired at 8:30 PM, which is a prime-time TV slot. At this time slot, it is accessible, not just to adults who don't know better, but also their impressionable children.

The show, which appears to glorify child marriage, and, more alarmingly, hints at a potential romantic relationship between the lead pair, has offended many viewers.
One such viewer, Mansi Jain, started a Change.org petition urging I&B Minister Smriti Irani to put a ban on the serial. In her petition, Jain notes that an "impressionable little kid caressing and stalking a lady who's more than double his age and filling sindoor in her "maang" is being telecast at prime time on Sony... We want a ban on the serial. We do not want our kids to be influenced by such TV serials. Join us in signing the petition to ban this serial."

Her petition has, at the time of writing this article, garnered 54,295 supporters, a number that is increasing rapidly.

Mansi Jain's petition comes after the TV serial showed a 'suhag-raat' post 9-year-old Ratan Singh (Affan Khan) and Diya's (Tejasswi Prakash) wedding. While the concept itself is disturbing, the show took it forward with Ratan Singh's sisters being suggestive and arranging their bedroom for the first night.

The show has previously shown Ratan stalking Diya, photographing her without her consent, and romantically catching hold of her when she falls.
Arguments against banning
While a blanket ban on the show wouldn't be right, especially when the world of cinema and literature is constantly fighting censorship, this show does fall squarely in the adult category.

The show timings should ideally be shifted to a late night slot, and a disclaimer should be put in place at the very beginning. Because, whether we like it or not, adult audiences should have the choice of watching whatever they please.

That being said, the showmakers and the lead actress have defended their show in the worst way possible.

Producer Sumeet Mittal, while talking to India Today, refuses to apologise for the show's content. On the contrary, he states, "You are talking about apology. I am saying, I am proud of it. We have shown the story of freedom of a girl. Nobody is forcing her to take this decision."
That's right, the freedom of an adult to marry a child. Never mind that this is based in contemporary India, where it is completely illegal and can never be consensual.

Tejasswi Prakash, while talking to HT, explains that the show doesn't intend to glorify their marriage. She then reinforces Mittal's point about the woman's decision to marry a child.

"It's just that the story is way more than that and it's not focussing on how we are a happily married couple and that every 18-year-old should fall for a 10-year-old kid in school. We are not encouraging that at all. The show is about the maturity that a girl at that age shows to protect a boy," she says.

Tejasswi Prakash has, after the furore over the suggestion of a honeymoon on the show, further defended her character by comparing her to Margaery Tyrell's in Game of Thrones.

Margaery, in her twenties, married 16-year-old king Tommen Baratheon, and then proceeded to have a sexual relationship with him.
Game of pointing fingers
The actor argues that viewers have double-standards, for GoT is a widely celebrated show. In an interview to IANS, she says, "It also happened in Game Of Thrones... People love Game Of Thrones and if same thing happens in Pehredaar Piya Ki, then it's an issue."

While that's a fair observation to make, she misses out on a few important factors.

First, Game of Thrones does not breach legal age of consent, and indeed increases the age of its characters to suit laws. In Ireland, the age of consent is 16, for both actors and characters, and hence, Tommen's age, which is actually 6 at the start of the books, ends up being 10 at the start of the TV show.

By the time Tommen weds Margaery, who is 8 years older, he has already reached the age of consent.
While we understand Pehredaar hasn't shown or insinuated a sexual relationship between the couple, their marriage itself is illegal.

Second, the Indian show is rooted in reality, not the world of fantasy Game of Thrones resides in. It is set in a contemporary time, whereas GoT is a fictional medieval society where much that is considered illegal today has to be translated on to the screen.
Third, GoT airs at 10PM on Indian TV on Star World, unlike this prime-time TV show. Additionally, it is also a heavily censored version that's aired (not that we're supporting censorship.)

Instead of owning up to their responsibility like the makers of GoT, the cast and crew of Pehredaar have defended the regressive context of the show. They might want to consider some course correction, for, by the time this article is ready-to-publish, the petition has already crossed 80K supporters.

Fat chance it's going to go unnoticed.