Shaadi Mein Zaroor Aana review: Do yourselves a favour, don't go to this shaadi please
Jhinuk Sen
| Updated on: 10 November 2017, 17:18 IST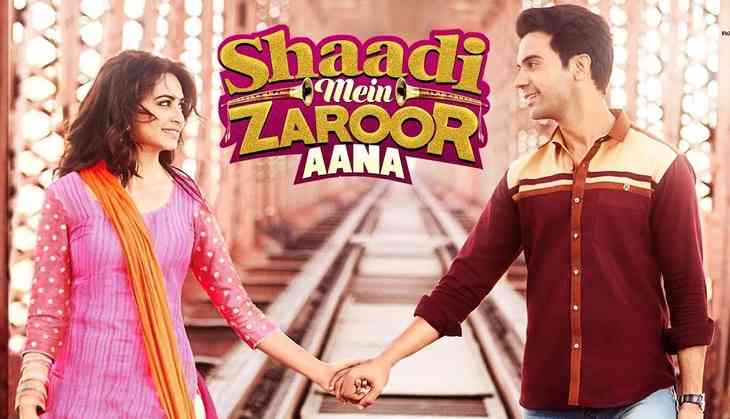 Rajkummar Rao is an awesome actor. An awesome actor who likes doing some pointless movies now and then it seems.
After what he did in Newton, I wonder if he got tackled too hard during that one shot in the movie. Because nothing else, no seriously, nothing else can explain why he agreed to do a movie like Shaadi Mein Zaroor Aana.
Maybe, he wanted a (very forgettable) dance number? Couldn't be. He got one in Bareilly ki Barfi and look how that worked out.
The redeeming factor of Bareilly ki Barfi was that Rajkummar had a great role and his screen time with Ayushman Khurana was gold. In Shaadi Mein Zaroor Aana, you get nothing.
The (insipid) story so far
Aarti (Kriti Kharbanda) and Satyendra (Rajkummar Rao) meet because their parents think they are a good match. Aarti is a class topper and wants to work after her marriage. And she asks Satyendra about it. He has just landed a government job as a clerk and readily says yes: "do log kamayenge (both will earn)".
The couple are more than eager, so the parents sit down to discuss logistics.
Aarti's strict father (Govind Namdev) is a staunch believer in the fact that girls don't need too much education. He has no qualms in encouraging his nephew to sit for the PSC exam after failing to clear it twice, but he will not even hear of Aarti sitting for it.
He tells Aarti that Satyendra has a government job and their family is richer than theirs – she cannot expect marriage offers from IAS or IPS officers so she should suck it up, and go meet the boy. Lucky for her – she does like him.
When it comes down to dowry, the boy's family demands Rs 25 lakhs. The sole heir to a big three-storey house and a government job is worth Rs 40 lakhs, Satyendra's uncle and mother tell Aarti's family.
Aarti's father agrees. It is a great match and money should not stop the blessed union.
The day of the wedding arrives and Aarti gets to know that she has cleared the finals of the PSC exams she gave on a sly. She can become a government officer now.
While she is more than eager to tell Satyendra, her sister (Nayani Dixit) tells her that her new mother-in-law does not believe in women of their house working and no matter what Satyendra might have told Aarti, she will not get to work once she is married. She asks Aarti to run away.
And she does.
What happens next and why it (doesn't) matter(s)
Aarti and Satyendra meet some five years later. But the circumstances are different and the odds are not in Aarti's favour. This time around, Satyendra is hell-bent on avenging his broken heart and shattered family.
Get over with already... please
Shaadi Mein Zaroor Aana is a 'light-hearted romantic movie' so you don't need towering IQ to guess how it all ends. However, you do need sub-normal IQ to 'enjoy' this flick.
It is tedious, it is screechy and it is long. Director Ratnaa Sinha could have hacked some 30 minutes off this film and you would not have missed a thing. The plot is dated, the whole crisis and resolution seems like something you tried to modern up after scraping it away from a late-'80s early '90s flick.
The (many) story fails
Aarti is supposed to play a strong-willed independent woman and her only ambition is to be able to work after marriage. Fine, Allahabad-Kanpur – we can accommodate that. But after a point her whole focus shifts on getting Satyendra to fall in love with her. And we have to give it to him – she did not try to get in touch with him till the odds were stacked against her.
It just is grossly opportunistic and it is very hard to make 'love' believable in that space.
Shaadi Mein Zaroor Aana is supposed to be a movie that takes a strong stand against dowry. It doesn't do that. At the end of it – the boy's family is told that Aarti ran away from the wedding because she heard about the Rs 25 lakh dowry. That's a lie. She runs away to become an officer.
The fact that the only stance they take in the movie against dowry is actually an excuse, it makes the whole stand frail and paper-thin at best.
Also, the way Aarti's family gets the money back is nothing but straight up goonda-gardi, coercion and by taking people ransom. Matlab kya!?? Did you just beat dowry with muscle and gun-power instead of a sane conversation between the bride, groom and respective families?
Now, please don't feign surprise if another cousin pulls out a katta in a wedding. Thanks.
Sinha puts too many characters in the same place without giving them an opportunity to do anything of worth. Aarti's sister is the only solid, believable character in all this OTT drama. The rest seem to be just getting dragged along in the absurdity of it all.
Rajkummar, sadly for us, is a constant reminder of how a good actor gets wasted in a movie like this. Kriti Kharbanda, very fresh, very pink, quite pretty, very boring.
And hey, producers, directors – if you want a shit movie to work, get a good party anthem going that becomes the main-stay for all weddings and all sangeets this wedding season and next. Take a cue from Kaala Chasma and Baar Baar Dekho. That movie was another level of bad. Pallo Latke does nothing for you and nothing for the audience.
Should you watch it?
Are you honestly even asking this? Watch some soaps at home, at least there they have even stopped pretending to make sense.
Rating: 1.5/5