Sanju review: A biopic of Hirani school that Ranbir Kapoor carries on his shoulders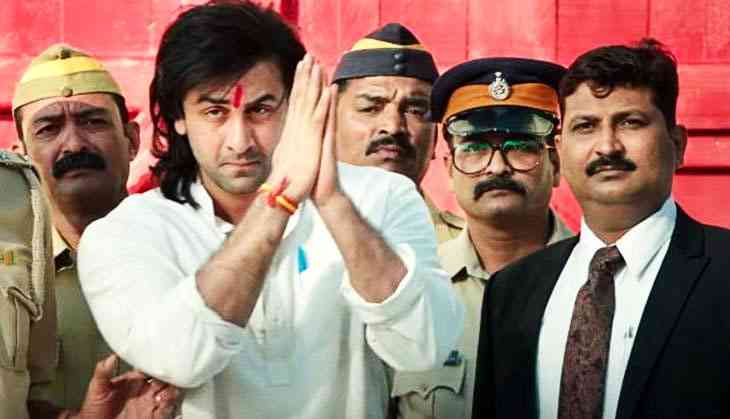 Sanju review: A biopic in Hirani's school that Ranbir Kapoor carries on his shoulders (Web)
If you are interested in Hindi movies and have not been living under a rock of late, chances are that you have watched, the trailer for Sanju. If you decided to catch it, impressed by Ranbir Kapoor's swaggy copy of Sanjay Dutt, you will not be disappointed. Neither will you be in case you decide to pay a visit as a Rajkumar Hirani fan.
In fact, these two factors have been enough to sell out shows – the theatre was near full even as early as 7 AM, something that regularly happens with big Tamil and Telugu releases, but not with Hindi films. Full marks to Hirani on that. But what about the film?
Well, Hirani has a way of telling stories. Or, shall we say, showing stories? He takes time to chose his tale – he has directed just five films in 15 years – and takes care to craft them well. From Munnabhai to MBBS to PK, his projects are basically interesting tales written in a way that connects with both the masses and the multiplex.
But those all (barring 3 Idiots) were his stories. Sanju is a biopic, that too of one of the most controversial persons in India. He is the son of Nargis – Indian screen's eternal Mother India – and of Sunil Dutt, whose nobility became an example; a wild child, whose waywardness have been making news from before Kapoor was even born; an actor whom the audience has been seeing from even before he hit the teens (A qawwali clapper boy in Dutt senior's Reshma Aur Shera); and a 'terrorist'.
Reams and reams of column space, hours and hours broadcast and petabytes of webpages have already been spent on him. What's new?
Hirani meets the challenge by sticking to simple story-telling. Writing such a piece is of course not simple and again full marks to him, along with his regular collaborator Abhijat Joshi. Sanjay Dutt must have flooded them with dope on himself. The duo has successfully waded through that. They carefully picked and chose and then weaved it all into a seamless narrative that doesn't let the 155-minute runtime bore you.
A lot of that seamlessness comes from Hirani, the editor. Well, that's what he learnt and all his films have established that he learnt quite well. The editing deftly controls the speed of the narration, plays on the strengths of individual actors (at times camouflages their weaknesses too) and generally sets the tone and style of the film.
A lot of that style is derived from the subject himself and some other is thanks to the way Sanju has been shot. A shout-out to S Ravi Varman, who seems to have a knack to bring out Kapoor's quirky best in Kapoor (Jagga Jasoos, Barfi! and, to an extent, Tamasha).
Which brings us to Kapoor. One of Hirani's previous male leads has made a name for himself as a perfectionist. Can there be any such thing as 'perfection' in a performing art like acting?
Whatever be the answer, Kapoor has made 'Sanju Baba' his own. His is an intelligent performance in an emotional script. The body language and mannerisms was already there in various trailers and teasers. But Kapoor's acting is not merely about copying Dutt. A reference framework is created within which Kapoor practices his craft, emotes, reacts.
There is a lot of him in this Sanju. Instead of taking away from it, that makes the performance more credible. Kapoor knew this was an once-in-a-lifetime opportunity. He has delivered something that will hold him good stead as an actor even if he decided to hang his boots tomorrow.
Supporting cast is a mixed bag
If Kapoor had a plethora of reference points, Vicky Kaushal hardly had any. He plays Dutt's close friend, a non-celebrity, and, in a way, a foil to the brash protagonist and he has turned in a commendable performance – now almost making a habit of it.
Paresh Rawal, playing Sunil Dutt, had a similar opportunity. Perhaps he doesn't need such opportunities any more or maybe he was not convinced about his character, but he missed the bus. The geniality of Sunil Dutt and the verve that he expressed in public life right unto his death was missing. Why, even his accent was out of place – unacceptable from such a senior and well-regarded performer.
As Nargis, Manisha Koirala rather made more of a mark. It wasn't easy to play the part especially given the difference in body type, but the seasoned actor matched her grace and brought in a lot of positive energy into the film. Diya Mirza, as Dutt's wife Manyata, was a welcome cast too. Anushka Sharma is well-used in a role that helps in keeping the narrative moving.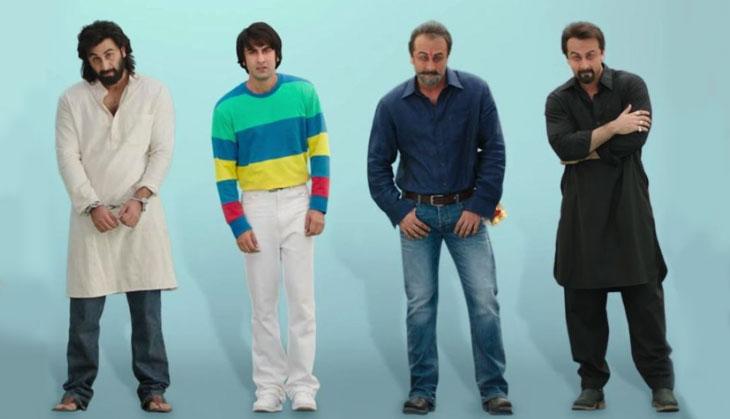 Sanju review: A biopic in Hirani's school that Ranbir Kapoor carries on his shoulders (Web)
Sanju's soundtrack is already known and has quite caught on. There are not many of them and doesn't weigh down on the film. The background score, however, could have been more in sync with the mood of what was on the screen.
Hirani has avoided Dutt's previous marriages and family members. Which is understandable, not completely, especially in the cases of his sisters Priya, Namrata and brother-in-law Kumar Gaurav. Also missing was a large chunk of Dutt's career. Hirani presented his own directorial debut, Munnabhai MBBS, as a turning point in the actor's life. While that may be true, his achievements as an actor and the influence he held on the paying masses, could have been given more due.
But then that influence was on display in the way the subject matter drew that audience out to the screens even at irregular hours. Hirani, undoubtedly, knows which tale to tell. He knows how to tell it and who to tell it with.
Verdict: 3.5 / 5