Rishi Kapoor tells all about love, life & his rivalry with Amitabh in memoir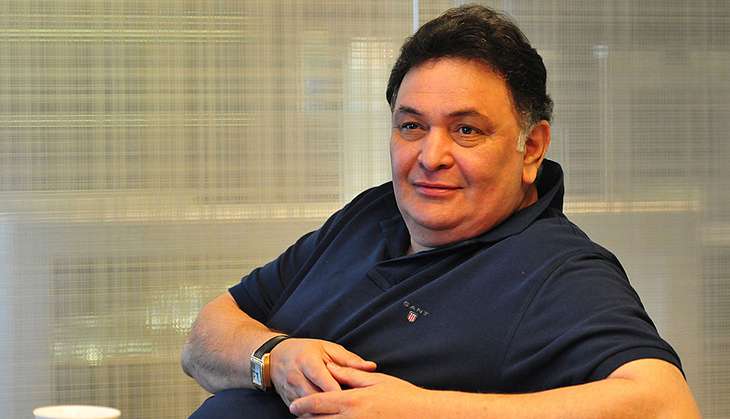 Two weeks into the New Year, and two major biographies are flying off the book shelves. The first one, An Unsuitable Boy, by Karan Johar, and the second Khullam Khulla by Rishi Kapoor.
As much as Karan's "tell-all" is tedious and staid, with much of the written word already in the public realm, it is difficult to cheat on Rishi's. You read page after page, nearly 300 of them, holding onto every word, trying to understand the phenomenon we know as Rishi Kapoor.
Rishi's honesty hits you. In the book you don't meet the star who created a stir with Bobby and was at the "top of the game" for years - to use a phrase Rishi often employs, you meet the star you know through Twitter.
Brash, outspoken, and not one to mince words. The one who eats beef ("I am a beef-eating Hindu") and is unapologetic about it. The one who embarrasses a yesteryear star for denying an affair with his father. The one who admits to meeting Dawood Ibrahim in Dubai in the late 1980s. The one who has a rather uncomfortable relationship with his son. The one who admits that he should have encouraged his wife Neetu to pursue her career and not give up acting at 21, post-marriage.
Ranbir Kapoor, just like Rishi, has elaborated upon his relationship with his father in the foreword to the book. He writes that he'd want to change this dynamic when he has children - "I don't want my relationship with my children to be as formal as the one I have with my father".
Wife, Neetu, has detailed hers in the afterword - "he is loud, gregarious and prone to wound with words". Both stark accounts, leaving little to the imagination. None of them hide behind words, or drop clues, like Karan does.
Editorially too, Rishi wins over Karan. Rishi's memoir will adorn your bookshelf, Karan's is pure chit-chat.
Meet Chintu Kapoor
Born into the famous Kapoor family, Rishi flunked his class 10 exam, never set foot on a university campus (yet played a college student umpteen times), didn't have to sleep on the railway station or skip meals - no wonder he over-emphasises on the "lucky" him.
Rishi started acting early - at the age of two, of which he has no recollection. By the time he turned four, the Kapoor clan knew there was another actor in the family. Little Chintu when scolded would rush to cry in front of a mirror.
He was 16 when he was cast as Raju in Mera Naam Joker. The role landed on his lap as he was having dinner with family. Excited about his impending stardom, he ran to his room to practice his signature for "future autograph hunters".
His ticket to stardom was Bobby - after which he could command the unimaginable sum of Rs 5 lakh. His stardom got to his head, but the series of flops that followed grounded him. What baffled him the most was when his girlfriend "dumped him", and refused to take his "lightning calls".
The "bully" in him that beat up his siblings is alive and doing well. Often when he calls Prem Chopra, the yesteryear villain, also his friend and relative, he tells his staff - "Tell Prem sa'ab that Sonia Gandhi wants to speak with him."
Even at 64 he is not one who's high on patience. He refuses to suffer fools. "....a fan once wanted to take a picture with me in the washroom, when I was peeing. I was outraged to say the least."
The Son of a Famous Father
Rishi's father, the legendary Raj Kapoor, had an affair with two actresses Nargis - when Rishi was very young - and Vyjayanthimala. His mother Krishna moved out of the house with the children, and it is a memory Rishi took time to come to terms with.
However, he is hurt that Vyjayanthimala in an interview denied having an affair with his father.
"She claimed that he (Raj Kapoor) had manufactured the romance because of his hunger for publicity. I was livid. How could she be so blasé and pretend the affair never happened? She had no right to distort facts just because he was no longer around to defend the truth."
His father was great friends with Dilip Kumar - both stars of their time. He sees Kumar as a "father figure".
"I don't think this kind of friendship exists between two rival contemporaries in any film industry."
"No Khan works with another Khan. Nobody is willing to work with any other hero on such unequal terms. Today if Shah Rukh Khan is ruling the roost, Salman, Aamir, or Hrithik will not accept a secondary role..."
He also rues the fact that film-making now is "more about the money, less about content", more business than art.
He reveals that Hrishikesh Mukherjee was to cast his father in Anand, that his father never paid him for acting in his movies -- "working with my father was its own reward", that his father made him his "favourite scapegoat" for everything that went wrong in a scene and which he wanted re-shot.
The Father of a Famous Son
There is no dearth of hilarious anecdotes in the book but my favourite is when Manmohan Desai called Rishi to play Akbar in Amar, Akbar, Anthony, Rishi was upset. He couldn't understand why Desai wanted him to play an old man's role when he had just been launched.
"Thank you very much, Mr Desai, but how can I play Akbar? My grandfather played Akbar (in Mughal-e-Azam)".
Rishi was reluctant to do Kabhi Kabhie too. When Yash Chopra offered him the film he told him off by insisting that he would like to do the girl's part! Chopra was in a fix because the financier had specifically asked for Rishi. Much convincing from his uncle Shashi Kapoor, who also stars in the film, made him change his mind.
Rishi also thought that the famous chartbuster "Om Shanti Om" from Karz was a "lousy number".
There are other "achievements in life" he is thrilled about. Such as the one that "has to do with girls". Rishi has worked with close to 30 new heroines, a record that is unbroken to this day, he claims.
The leading lady of his films, who later became his wife, grew insecure only once when Rishi did Sagar with Dimple Kapadia, 10 years after Bobby.
"But she needn't have worried. Dimple was a friend, even if she may have been a little more than that during Bobby."
He recalls that when Dimple was relaunched, she had changed quite a bit.
"She was outspoken, bratty, and bindaas. She used to play cricket with the guys but she wouldn't bowl or field, only bat, and the others would let her. After Bobby she became Mrs Rajesh Khanna..."
He also admits that he never let Neetu down in his marriage, rubbishing rumours of his affair with Juhi Chawla or Tina Munim.
On Sridevi he writes that he had only one conversation with Sridevi all through the filming of Nagina. "Otherwise it was always Namaste-ji and Good Night-ji".
He is happy that when he started dating Neetu there was "no fear of being exposed or creating a scandal because the media was not the monster it is today."
Rishi and Neetu have their tiffs even now, as they both frankly admit. "...we were not on talking terms while filming our romantic guest appearance for Yash-ji's Jab Tak Hai Jaan."
The Big B & Other Envies
Rishi did not get along with Amitabh Bachchan. There was an uncomfortable silence during the shooting of Kabhi Kabhie which he became a part of reluctantly.
"Amitabh is undeniably a superb actor, immensely talented...He was an action hero...roles were written for him. Although we may have been smaller stars, we were not lesser actors....he had author-backed roles in almost all his films. This gave him an advantage over the rest of us who had to make our presence felt with whatever we got...
"But this is something that Amitabh has never admitted to, in any interview or book. He has never given due credit to the actors who have worked with him. He has always credited his writers and directors...but it is also true that his co-stars had an undeniable role in his success."
He cites the examples of Shashi Kapoor in Deewar and himself in Amar, Akbar, Anthony in this context.
He had reason to dislike Rajesh Khanna or as he called him "Kaka-ji" too. Mostly because he married Dimple Kapadia, whom he was friends with. Also because he threw a ring that Dimple had taken from Rishi to wear (given to Rishi by his girlfriend) into the sea.
"I was one of those who objected to Kaka-ji being cast in the (Raj Kapoor) film. It is not something I am proud of and later admitted as much to Kaka-ji..."
Kapoor & Sons
Khullam Khulla is as much about Rishi's life as about his clan. There are anecdotes about his family which make for an interesting read.
He writes more than a bit about his favourite uncle, Shammi Kapoor.
"Shammi uncle had this unbeatable aura, one that we were totally in awe of as children. There were so many interesting things he did - like driving his jeep while holding a bottle of beer with both hands. Here was a real-life super hero who could drive a jeep with his feet! He also had a gun and I would feel most important whenever he allowed me to hold it."
Rishi hates it when people dismiss commercial acting as anything but art. "Its very easy to sneer at us and say that 'serious' cinema is superior to what we do."
His ultimate goal is to win the Dadasaheb Phalke Award. He also wonders if he should be a lot more than Amitabh Bachchan: "Sometimes I wonder if I could be like him, so meticulous, so thoughtful, but I know that's just wishful thinking."
We are glad that's wishful thinking. Chintu, we like you because diplomacy does not flow in your veins.