Phillauri movie review: Too bad it didn't stick to the Anushka-Diljit story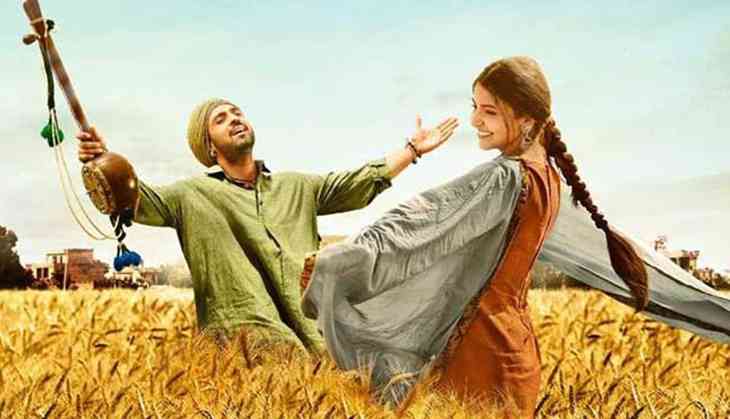 Anshai Lal's film Phillauri, starring Anushka Sharma, Diljit Dosanjh, Suraj Sharma and Mehreen Pirzada, is annoying.
It annoys because it masquerades as a comedy while its actual strength lies in romance and drama. The film tells the story of a ghost stuck in our world for almost a century -- an intelligent, troubled, and mostly culturally shocked ghost, essayed comfortably by Anushka Sharma.
We are introduced to this ghost through a modern day commitment-phobic youth Kanan (Suraj Sharma), who is a manglik, and, thanks to backward Hindu beliefs, must marry a tree to ward off evil. Kanan (Sharma) isn't too keen on his impending marriage to Anu (Pirzada), let alone a tree. But the two marriages are the least of his troubles as, by marrying the tree, he weds the ghost residing in the tree.
The premise is hilarious, honestly. Mostly because the ancient ghost is so much more progressive than Canada-returned Kanan's family as she says, "Ped se shaadi kaun karta hai? Shadi toh ladki se hoti hai! Aur wahan ek hi ladki thi." (Who marries a tree? You can only wed a girl, and I was the only girl there.)
Missed opportunity
The film fails to use this comical situational to its benefit. It desperately attempts Priyadarshan-esque comedy in the first half, and is unable to achieve even those painfully average standards. So desperately does it try, that it gets rather insensitive and offensive – especially in a sequence with a young boy imagining he's being stalked by a sexual predator. And this is supposed to be hilarious.
Most films can be broken in two parts and analysed, but none so obviously in recent times as Phillauri. The first half of the film tries to establish a parallel narrative in the present day, to be compared with the romance of the olden. But, my god, is it unnecessary!
Kanan and Anu's story is the extra dancer behind the heroine in 90's films. It's unattractive, a caricature of what's right in front of it, and exists solely to make the star look more beautiful than she truly is. The ghost's story from when she was alive, coupled with the great chemistry between Sharma and Dosanjh makes for a film on its own. Yes, her eventual death and search for what she couldn't achieve in life make for an interesting narrative.
But there are a thousand different ways in which that could be told. Unfortunately for Phillauri, it goes with the weakest option, thereby leaving the viewer rather frustrated.
MILD SPOILERS AHEAD
A wasted theme
The name of the film is an entire theme in itself. It delves into the most probable history of the thousands of literary masterpieces authoured as 'Anonymous'. Phillaur is a gaon in the early 1900s, and everyone who hails from there is a Phillauri.
The village has a weekly newsletter where a poet who calls themselves Phillauri writes reguarly. The villagers imagine him to be Dosanjh, but in reality it's a woman who authors them -- Shashi Phillauri. Our heroine, of course.
The politics of women's anonymity in literature is briefly dealt with in this film. Having identified her as THE Phillauri, Dosanjh's character, who is a singer, promises to make songs with her lyrics, and with due credit. The music from the second half of the film, thanks to this storyline, is rather melodious, and has great lyrics. But that can't be said of the whole film.
A particularly poignant moment in the film is when ghost Shashi discovers an old record with her full name on it. And then it quickly writes over that moment by mixing it with Indian history. Phillauri could have been a great film had it stuck to its rather poetic name. Too bad it didn't.
Rating: 2.5/5