Oscar 2017 nominations: La La Land leads but diversity is the real winner
Catch Team
| Updated on: 11 February 2017, 5:45 IST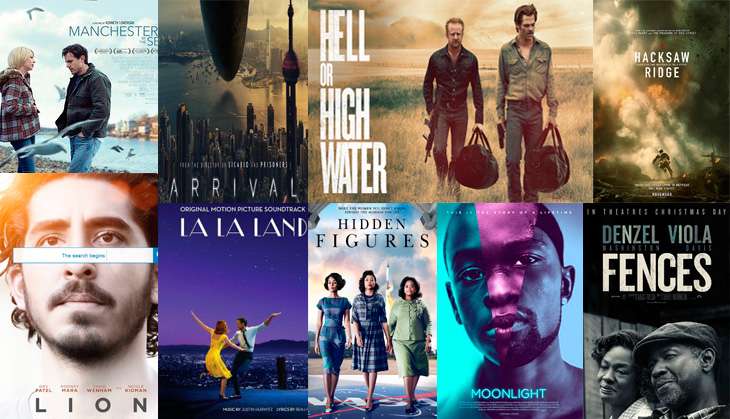 The nominations for this year's Oscar Awards are out and, no surprises here, La La Land with 14 nominations (equalling the record set by All About Eve and Titanic) looks like it will have plenty to sing about on the night.
Last year, the Academy of Motion Picture Arts and Sciences was skewered on social media after #OscarSoWhite trended on social media in response to caucasian actors dominating the nominations for two straight years. This year, the Academy looks to have avoided sparking another race debate.
Two years of #OscarSoWhite had prompted the Academy to make major changes in their membership criteria and it seems to have worked. Moonlight, a film about a young man in Miami garnered a Best Picture, Best Director, Best Supporting Actor and Best Supporting Actress. Fences, an adaptation of a play about life as a black in the 1950s got Best Picture, Best Actor, Best Supporting Actress and Best Adapted Screenplay nominations.
There are a significant number of people of colour being nominated. Mahershala Ali, Barry Jenkins, Ruth Negga, Denzel Washington, Viola Davis and Naomie Harris have all been nominated in various categories, while Bradford Young became the first ever African American cinematographer to get a nomination. He got it for his work in the sci-fi flick Arrival.
All nominations were revealed via a live stream bypassing journalists and thereby avoiding unecessary questions.
This year's 89th Academy Awards will be hosted by Jimmy Kimmel. They will be taking place at the Dolby Theatre at Hollywood & Highland Center in Hollywood. The show time is Sunday, 26 February at 5:30 PM PT (Pacific Time). That means all of you in India will have to wake up bright and early on Monday morning for the live screening. There will be awards given out in 24 categories.
Moonlight garnered eight nods alongside Arrival, Denis Villeneuve's alien sci-fi flick. Manchester By The Sea, starring Casey Affleck got six alongside the war epic Hacksaw Ridge and Dev Patel starrer Lion.
One record that was broken was in the Best Actress category. Meryl Streep beat her own total of 19 nominations with a 20th nomination in Stephen Frears's Florence Foster Jenkins.
Here's the complete list of nominees:
Congrats to our Supporting Actor nominees! #Oscars #OscarNoms pic.twitter.com/mF0wmYRqF3

— The Academy (@TheAcademy) January 24, 2017
Congrats to our Cinematography nominees! #Oscars #OscarNoms pic.twitter.com/2G1Ag9QK13

— The Academy (@TheAcademy) January 24, 2017
Congrats to our Documentary Feature nominees! #Oscars #OscarNoms pic.twitter.com/3KwPzBuV85

— The Academy (@TheAcademy) January 24, 2017
Congrats to our Foreign Language Film nominees! #Oscars #OscarNoms pic.twitter.com/LtFnYLHgyl

— The Academy (@TheAcademy) January 24, 2017
Congrats to our Documentary Short Subject nominees! #Oscars #OscarNoms pic.twitter.com/wbcJKnQT18

— The Academy (@TheAcademy) January 24, 2017
Congrats to our Live Action Short Film nominees! #Oscars #OscarNoms pic.twitter.com/AA2SE03c9W

— The Academy (@TheAcademy) January 24, 2017
Congrats to our Leading Actor nominees! #Oscars #OscarNoms pic.twitter.com/CV3WydKBAe

— The Academy (@TheAcademy) January 24, 2017
Congrats to our Sound Editing nominees! #Oscars #OscarNoms pic.twitter.com/54QVLhdnJi

— The Academy (@TheAcademy) January 24, 2017
Congrats to our Sound Mixing nominees! #Oscars #OscarNoms pic.twitter.com/5VY2Bgl7Ck

— The Academy (@TheAcademy) January 24, 2017
Congrats to our Production Design nominees! #Oscars #OscarNoms pic.twitter.com/qCThq6TtIP

— The Academy (@TheAcademy) January 24, 2017
Congrats to our Visual Effects nominees! #Oscars #OscarNoms pic.twitter.com/BmejQXKqlj

— The Academy (@TheAcademy) January 24, 2017
Congrats to our Costume Design nominees! #Oscars #OscarNoms pic.twitter.com/wurB3m5ff9

— The Academy (@TheAcademy) January 24, 2017
Congrats to our Makeup & Hairstyling nominees! #Oscars #OscarNoms pic.twitter.com/pUIQQ8FxJQ

— The Academy (@TheAcademy) January 24, 2017
Congrats to our Original Score nominees! #Oscars #OscarNoms pic.twitter.com/WBdENv67Mx

— The Academy (@TheAcademy) January 24, 2017
Congrats to our Original Song nominees! #Oscars #OscarNoms pic.twitter.com/bwJ3Y4PwsR

— The Academy (@TheAcademy) January 24, 2017
Congrats to our Original Screenplay nominees! #Oscars #OscarNoms pic.twitter.com/GmwVgSYUpa

— The Academy (@TheAcademy) January 24, 2017
Congrats to our Adapted Screenplay nominees! #Oscars #OscarNoms pic.twitter.com/5CFltBAmLe

— The Academy (@TheAcademy) January 24, 2017
Congrats to our Animated Feature nominees! #Oscars #OscarNoms pic.twitter.com/6IuymCg6rC

— The Academy (@TheAcademy) January 24, 2017
Congrats to our Animated Short Film nominees! #Oscars #OscarNoms pic.twitter.com/YOPAcrmsBm

— The Academy (@TheAcademy) January 24, 2017
Congrats to our Supporting Actress nominees! #Oscars #OscarNoms pic.twitter.com/lvth7OEgxL

— The Academy (@TheAcademy) January 24, 2017
Congrats to our Film Editing nominees! #Oscars #OscarNoms pic.twitter.com/SethYoJSt6

— The Academy (@TheAcademy) January 24, 2017
Congrats to our Leading Actress nominees! #Oscars #OscarNoms pic.twitter.com/xqacBlntQb

— The Academy (@TheAcademy) January 24, 2017
Congrats to our Directing nominees! #Oscars #OscarNoms pic.twitter.com/g207hRtVgo

— The Academy (@TheAcademy) January 24, 2017
Congrats to our Best Picture nominees! #Oscars #OscarNoms pic.twitter.com/jdGd62Efkx

— The Academy (@TheAcademy) January 24, 2017