Movie review: Baahubali will make you wish for a sequel immediately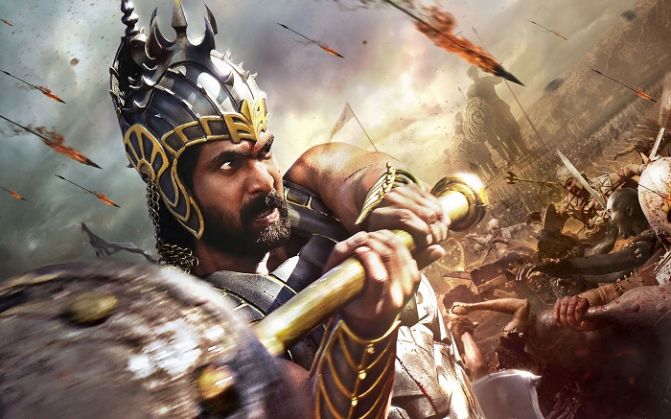 The takeaway
Larger than life, but still retains the essence of good versus evil.
Seemingly western physically, but Indian at heart.
Easy way to escape reality.
Originality triumphs over convention in Baahubali.
Three years ago, an Indian filmmaker made an audacious movie about revenge: A man separated from his lover and then killed brutally, returns to exact revenge. Think Ghost, but with Patrick Swayze returning as a fly. Audacious doesn't even begin to cut it. Eega reminded moviegoers that while originality doesn't always capture imaginations, imagination is perhaps the only original way to tell the same story.
This director takes three years to mastermind his next project with a one-line story: A King betrayed, a wife imprisoned, and a lost son returning to punish his evil uncle. Think The Lion King, but with humans, live action storytelling, and grandiose worlds divided into two parts. S.S. Rajamouli retains revenge as his core theme, but it is raw imagery, ambition and scale that really drive the myths and legends of his latest, Baahubali.
Epic doesn't even begin to cut it.
Starts on a goofy note
As with our most traditional mythological tales, the plot is designed around opportunities to accommodate as much creativity as possible. Shiva (Prabhas) is found as a baby below a waterfall that extends beyond the clouds. Goofy hints (freakish strength, mutant agility) are dropped to display his 'Chosen One' status. He spends his youth trying to scale its watery wrath.
His intention here is two-folded; there's the excitement to discover what lies atop the interminable stream, but he seems keener to display VFX supervisor Srinivas Mohan and art designer Sabu Cyril's remarkable understanding and presentation of its topography.
However it's only once Shiva reaches the top that Rajamouli's distinct vision really begins to kick in.
That he discovers love and his roots simultaneously embedded in a kingdom that created him is perhaps the consequence of cinematic fate-or in Indian mothers' terms, the 'mera-beta-aayega (my-son-will-return)' syndrome.
Anushka Shetty plays this gaudily decorated mother, and along with a mandatory assortment of conventional characters like the loyal 'ghulam' (Sathyaraj) and the arrogant brother-in-law (Rana Daggubati), she sets the stage for a teary reunion and a flashback that spans over the second half, and perhaps the entire second part to come in 2016. This flashback features the original Queen Sivagami, played authoritatively by Ramya Krishnan, and her two fierce sons who lead a well-choreographed war against a bunch of gibberish-speaking Tribals.
Old-school escapism
This upper universe is storyboarded and colour-coded like a vivid graphic novel; fantastical avatar-styled forests end in snow beds and moon-kissed horizons, all against the silhouette of magic-hour dances and sunlit chases.
Still, despite its surrealistic Western physicality, there's an innate Indian-ness to the inventiveness at hand: large palaces, chaotically engineered construction sites that invoke the splendor of ancient Rome, elephants, horses and sword fights populate the landscape. Sheets of lightning and rainfall punctuate crucial deaths, and dramatic chaste dialogues compensate for a cliched narrative.
While most movies are lucky to throw up a maximum of two 'money shots', Baahubali is literally conceived as one giant visual money shot. This may defeat the purpose of big-scale storytelling, but the team overwhelms with its unrelenting fondness for aesthetics and poetry.
For instance, a particular ballad has Shiva woo enigmatic warrior Avantika (Tamannaah); she goes from killer to damsel amidst a whirl of playfulness initiated by him. He not only defends himself, but also finds the time to use berry juice and blood to complete her demure facial transformation.
Flaky as these moments are in the larger picture of eternal vengeance, they provide a different kind of visual satisfaction-endearing for its lush old-school escapism.
Mood over technique
To bring all this to life, an awkward combination of techniques is employed - motion-capture fuses with animatronics, interspersed with phases of brave live action against gigantic green screens. Not all of it is convincing; touted to be the most expensive Indian movie ever made, 25 million dollars isn't nearly enough to create a new world from scratch.
But the final battle sequence lasts for more than half an hour, peppered with jaw-dropping mechanics of bloodshed, brutality and sheer adrenaline. In spite of this smorgasbord assault, it's surprising to see how much comes down to the basics - the exact placement and timing of M.M. Keeravani's crescendo-driven score, and Prabhas' ability (as the original Baahubali) to alternate between a loyal soldier and protective leader. He is Mufasa to Daggubati's Scar, and Simba to Tamannaah's Nala.
It isn't so much about the quality and integration of VFX as it is about Rajamouli's ability to construct and build up sequences to a rousing conclusion. A slash of a sword is appreciated not for the texture of blood it spills, but for the way it contrives to spill it. Victories are celebrated less for their style and more for the sustained eventuality of defeat.
That's all it comes down to - an inherent strand of good versus evil. Forget the numbers and records; this is a fundamental triumph of originality in convention.
Bring on the sequel
I cannot begin to imagine what goes on in the expansive mind of S.S. Rajamouli. It's not often one sits through 160 minutes of an Indian period drama, and continues to sit hoping for the sequel to magically materialise on screen.
It's the hook; the line he leaves us with. Evidently, there's no sinker to follow.