More than just lucky: Lucky Ali talks life, music and aesthetics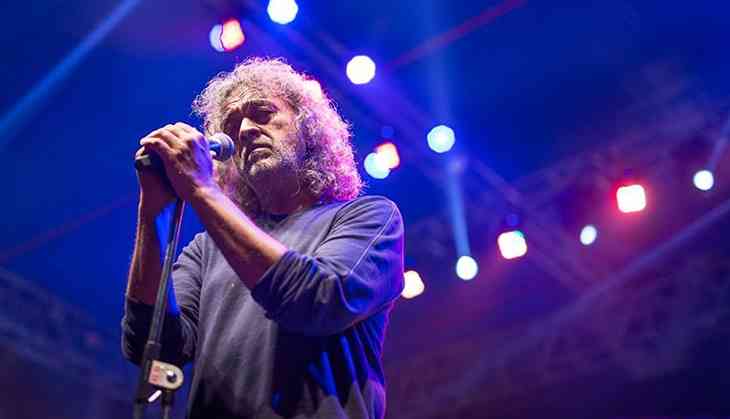 (Photo: Riders Music Festival Official Facebook Page)
Samjhe zamaana ki dil hai khilona
Jana hai ab kya hai dil ka lagana
Nazron se ab na humko girana
Marr bhi gaye toh bhul na jaana
Every 90s kid raised in India knows these lyrics. Probably all the 80s kids too.
Lucky Ali brought a certain quality to 90s pop music. The camera had a tint, there was a story, the characters were familiar, and we were, almost always, left with a beautiful open ending.
While this was the case with the videos, an essential aspect for the MTV and Channel V-watching kids, his music wasn't limited to the popular styles of the time, often displaying an international sensibility. Casual, hummable, and yet sung in his unique untrained voice, Lucky Ali's music remains timeless.
Now, at 58, Ali continues to create music, sing, and, perhaps most commendably, perform at concerts.
At one such concert in Delhi – Riders Music Festival – Ali sat peacefully, waiting for his turn to get on the stage. Whilst enjoying Kutle Khan's music from the privacy of the green room, he also found the time to play parent to his bandmates.
He tried to convince one band member to open his top kurta buttons, as it would look cooler.
"Trust me. Open it."
He reprimanded another for eating Lays chips.
"It's poison! You should go to a nice Malayali Hot Chips dukaan and buy hot chips. Those are real chips, not these."
"This is chips ke naam par kalankh."
Khamoshiyon ki ye kaisi zuban
Perched atop an armrest of a couch, Ali spoke to Catch about his life's philosophies, being a dad to five, and what he thinks of music today.
On being asked if he knew what made him so popular, what may have worked for him, he brushes the question off and says, "[What worked is] that I don't work much."
But he must do some work, at least he's told the papers he's a busy man...
He slowly nods and replies. "I work on a lot of things apart from music, which do take my time. And those things require as much involvement as you'd put into your art. And I believe that whatever work anybody does is a work of art. Whether you're a scholar, or a doctor, that's your purpose, your art."
Would this work include his initiatives for the environment? "I have not done anything for the environment," says Ali, in continued denial.
"What I've basically done is I have promoted people who have done [something for the environment]," he adds.
Raaste hi raaste hain, kaisa hai yeh safar
On being prodded further about his influences, he says, "The music comes from exposure. I was exposed to lots of good people, the biggest in the industry. Of course I never studied [music] or anything but I was exposed to them.
"There was RD, everybody [at the time]. I've seen, met them."
While his musical influences can be observed, the aesthetics, the repeated trope of travel, death, beginnings and ends in his music can only be explained by Ali himself.
"Travel, yes," he says, "Travel is something that came much later. [First there were] heartbreaks, expectations, things not working out.
He explains that the trope of travel has much to do with leaving the nest.
"At home you're childlike, there's acceptance. Then you think you're brave enough to walk out and then you walk out, and then reality hits you."
Barson ki doori ko milke sab saath mitayenge
This is an honest man who sees no point in attempting to project himself as anything other than who he is.
Above it all, Ali, on being asked who Lucky Ali was, says, "I'm looking for him myself."
Father to five kids, Ali admits that mom's more important in their lives.
"As a father I have very limited [involvement] as far as the children's upbringing is concerned. Of course I'm a provider, a father- figure, but it's basically the mother who [looks out for them]."
Remembering his turbulent equation with his actor father Mahmood, Ali says, "It's true, my father supported us. But it was always the mother."
Maut, naye daur khul jaate hai
Lucky Ali believes in change. In fact, he welcomes it.
Excited about the music and lyrics he's getting to hear today, Ali says, "Well I'm hearing some amazing lyrics by artists who are just about to come out. There's some good stuff about to happen, I believe."
On being asked if the aesthetics have changed today, he rues, "The aesthetics have always been there but the nature of our environment [has changed]."
But that's not entirely a bad thing. "It's a good time to be serious about everything, not just music," says Ali.
"There's so much talent right now coming together. You can see the chemistry, you can hear new sounds, new experiments."
"See, Kutle [Khan] is doing EDM," he says, pointing out of the green room. "Who'd expect Kutle to stand and do EDM, but he did it."
"You don't need to belong to a genre to find interests in other forms," he concludes.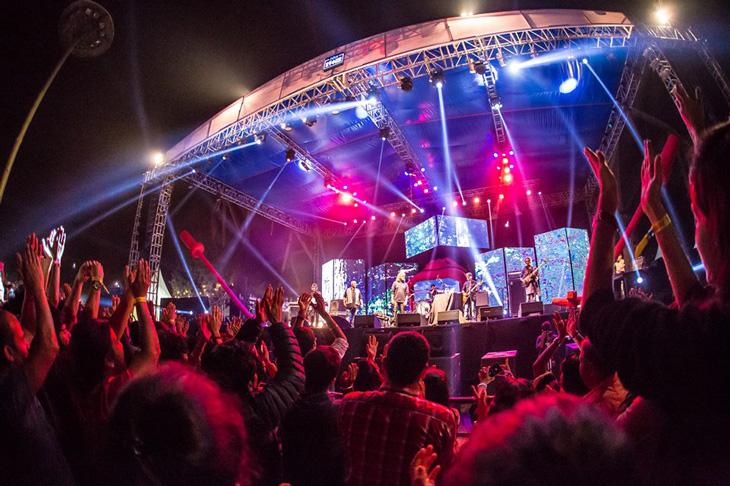 The crowd at Riders Music Festival sways to Ali's familiar tunes. (Photo: Riders Music Festival Official Facebook Page)