Lust Stories review: Less show but a lot of exploration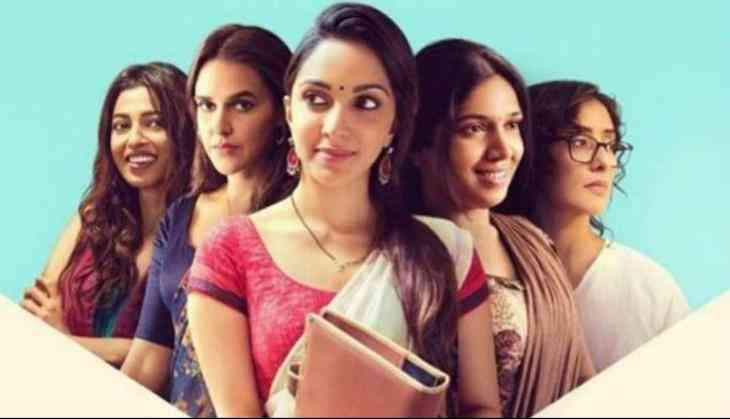 It's a new day but with the same old people. Back in 2013, Anurag Kashyap, Zoya Akhtar, Dibakar Banerjee and Karan Johar each contributed a chapter to the anthology film Bombay Talkies.
Five years later, they are back. Not to continue upon the same theme - celebration of Indian cinema or specifically, 100 years of Indian films - but to talk and weave stories around lust. Lust as in sexual desire. Sexual desire, especially that of women, is the central theme in Lust Stories that premiered on Netflix on 15 June.
One would think that with the four directors directing for the online streaming platform Netflix, censorship would be a word thrown out of their dictionaries. You'd be mistaken to think that.
While the shorts do have the creak of the bed, the pleasuring of thy self, they are more talk than show. That isn't necessarily a bad thing, you'd just think the directors would use this opportunity to push the boundaries a little.
"I don't think I had the audience in mind when I was doing it," Kashyap said in a recent interview when asked about addressing the word lust for the Indian audiences. "In my head I was clear that I was addressing lust. Lust does not mean people have to be naked on screen or are constantly having sex."
Despite a lot of talk and little show, predictability is something that Lust Stories isn't about. The four stories engage the viewers with all different types of lust. From the types that are prohibited to those that are gratifying and even the kind of lust that is quick and dirty.
The length is short. Each director gets about half an hour and the whole package of two hours doesn't feel lengthy by even a minute.
I wonder how it would be to watch a packed evening show of Lust Stories on the big screen, but watching it at home, it still gave me a sense of accomplishment. The stories, each riddled with problems, explore a topic that hasn't been touched upon by Bollywood, with such poise and patience that you'd be hard pressed to find replacement directors for any of the four segments.
The four segments, revolve around female protagonists. Whether by accident or just a coincidence, this is one of the happy outcomes of Lust Stories.
Breaking free
Anurag Kashyap's segment features a fantastically neurotic Kalindi (Radhika Apte) who is a college professor married to an older man.
Zoya Akhtar has Sudha (Bhumi Pednekar) as a near-mute maid who has to make a serious decision but is stopped by the class divide.
Then we have Reena (Manisha Koirala) in Dibakar Banerjee's segment. She wants to be able to be set free and dictate terms after years of being repressed and being married to a money-minded husband.
Finally, there is Megha (Kiara Advani) in Karan Johar's segment. She wants her husband Paras (Vicky Kaushal) to realise that love in a bedroom is a two-way street.
What could have been done better
All the shorts are more refined than their counterparts in Bombay Talkies but that isn't to say that they are perfect. Kashyap's suffers from shifty editing during the parts where Kalindi is being interviewed.
Akhtar's segment lacks from a deeper exploration of what it means to have a class divide staring right at you on a daily basis. The upper class' lust is fulfilled but what remains of those in the lower classes of society? That is something that could have been explored more by Akhtar.
Banerjee's short is very character-heavy, despite having seasoned actors in Manisha Koirala and Sanjay Kapoor. Despite having the vast spaces of a beach house at his disposal, Banerjee doesn't do it justice.
Johar's is the only one not shot in Mumbai, and we wonder why. It's also the short that is the most out there, and that doesn't necessarily work for everyone. Johar does a good job of conveying the message that love is a two-way street, but his tackling of family and patriarchy doesn't go deep enough.
Strong female leads work well
What each of the shorts does, by coincidence or not, is to have a strong female character backed up by very competent female actresses. It's not that the male actors do a bad job, it just that the female leads outshine them.
The four shorts delve into the idea that lust is not exclusive to men. It's just that society has taught women not to express their desires.
Kashyap and Apte need to collaborate more on future projects. Kashyap gets the most out of his actress and her neurotic behaviour is spot on.
Pednekar holds her own and is a perfect casting for a woman torn apart by class and society. For a moment she thinks she's on equal footing, but the next moment, all her dreams come crumbling down.
Koirala is in search of space and expertly uses her experience to anchor a short where she tries to reclaim her life and ends up being the queen maker.
Johar's is edgy in some ways and flamboyant in others. It explores the female need to pleasure themselves (because men mostly don't know what they desire) and does it with some wickedness.
Fittingly, the film ends in a climax. It may be predictable (after all, the film is called Lust Stories), but it is a satisfying conclusion. The audiences are left with a lot to think about. Kudos to Netflix for picking up Lust Stories.
Rating: 4/5 (One star for each of the four directors)