Kutle Khan on embracing EDM while retaining his Rajasthani folk roots
(Photo: Durga M Sengupta/Catch News)
"Jo sunne waale hai, wo toh sunenge."
Dressed in his trademark black sherwani, Kutle Khan fixes his hair backstage. It's time to put on his colourful paghdi, and it's a private affair. He excuses himself for a moment.
Khan, originally a Rajasthani folk singer, is now the go to folk artist for top names in the industry. He also has a school of music to his credit in Jaisalmer – The Kutle Khan Project. He trains musicians from a young age till they either join him, or go on to do something of their own.
"There's a studio there. Around 40-50 kids from our community and from others come and learn music here," he tells Catch.
"My community is musical, I've been learning music from a very early age."
"The kids are being taught our old songs, our culture. Today they don't have access to such music and we're trying to preserve it. They learn what we have known for generations," he adds.
But Khan himself is happy to experiment. Having fastened his paghdi, he gets ready to sing folk tunes accompanied by a flautist, and Monophonik – a DJ who belts out EDM.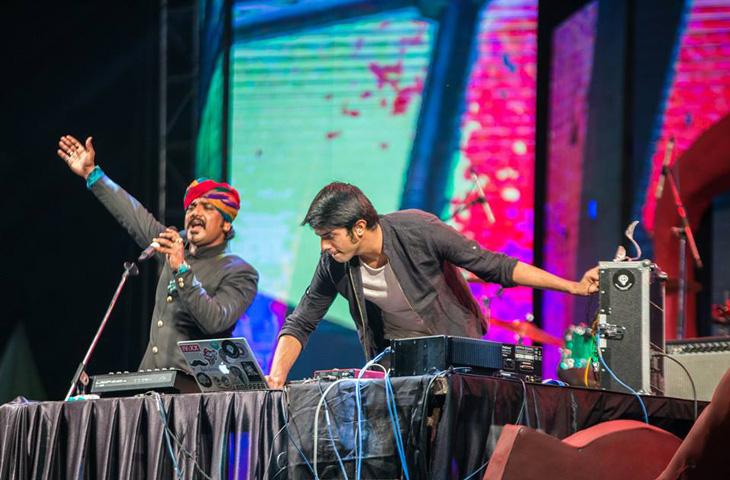 Kutle Khan sings alongside DJ Monophonik. (Photo: Riders Music Festival Official Facebook)
Retaining flavours
Kutle Khan's music is akin to a well made salad. He throws in different musical components, and yet none of them lose their original flavour.
"I don't want to lose my tradition," he says upfront. " I hold on to it because a lot of people don't understand folk today, but to make them understand I've added Hindi lyrics, and collaborated with such artists."
Having said that though, Khan sees the essence of his music as "mix".
"I've travelled to 86 countries and learnt a lot about music, different styles, different forms," he shares. "In India as well I've worked with the likes of Kailash Kher, Shankar Mahadevan, Amit Trivedi... So 'mix' would be my essence."
Personal favourites
Talking about the musical similarities between India and other cultures, Khan says, "Music is beautiful everywhere. But Indian music has raag, matra, which isn't something you find in western music."
After pausing for a moment, he quickly adds, "I guess the only exception would be Spanish music, which is again entirely classical."
"I love Spanish classical, and the best part about their musicians is that they can play any Indian raag or beat you challenge them to play," says Khan.
On being asked about favourites closer to home, he doesn't pause for a second before saying, "My personal favourite artiste is Nusrat [Fateh Ali Khan] saab. I like all his songs."
Kutle Khan also talks about his new album, which will be out in a month or so. "The music is a mix of Rajasthani, Sufi and Punjabi tunes. I have penned all the songs in the album."
We can't wait!