Hidden Figures is the dialogue starter Trump's America desperately needs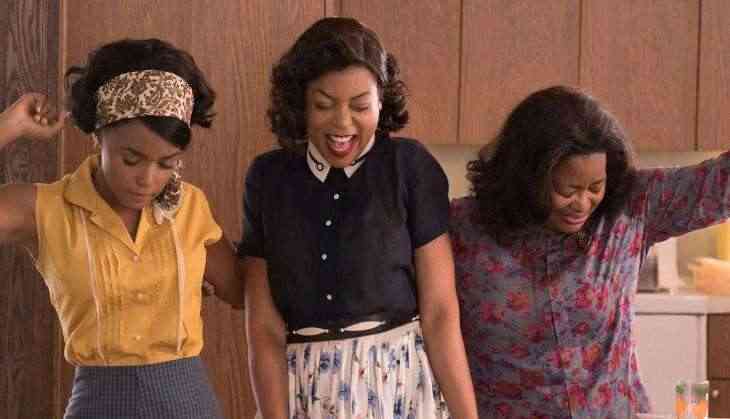 Two films. One backed by big stars, big cinema, and a really big Oscar presence; and the other, a film that tells the real-life story of three black women making their way up in NASA during early-60s America. During segregation.
The first, La La Land, is a beautiful musical where a white man saves jazz, has so far collected $118.2 million in North America. The second, Hidden Figures, has surpassed the Oscar favourite's figures and made $119.5 million in the region.
Not just that, while La La Land has bagged 14 Oscar nominations, a diverse film like Hidden Figures has also got three nominations, including best picture, best supporting actress (Octavia Spencer), and best adapted screenplay for Melfi and Allison Schroeder's co-written script. It's based on Margot Lee Shetterly's book of the same name
With any other film this would be amazing, but with Hidden Figures, it's amazing and politically relevant in equal parts.
Revealing hidden figures
Theodore Melfi retells the life stories of Katherine Goble/Johnson (Taraji P. Henson), Dorothy Vaughan (Spencer) and Mary Jackson (Janelle Monáe) with hard-hitting dialogues and poignant shots, without twisting facts and figures. The film also stars Kevin Costner, Kirsten Dunst and Jim Parsons in pivotal roles of the white privileged class, who realise their privilege only when they come in actual working contact with their black counterparts.
Hidden Figures, as the name suggests, is both about the hidden, invisible people, whose names were wiped from history despite the work they put in to build a nation, and about the hidden mathematical formulas and figures they were capable of cracking. Even though no one expected black women (or even women in general) to be able to in 1961.
Johnson, Vaughan and Jackson were human computers before larger machines took over. However, despite being relegated to a hidden office underground with a bathroom that had a large sign that read 'Coloured Ladies Bathroom', these women made inroads into predominantly white male spaces, and, incidentally, helped a white man reach space, and another, the moon.
Some timing
In Trump's America, where a new era of segregation seems to have dawned, this film's success comes as a timely reminder of everything that women and African-Americans, especially those who are both, have undergone. With each frame and dialogue, it reminds us of the black struggle for visibility, for a voice, for the right to use a bathroom, to get coffee, or to even dream of getting the job one rightfully deserves.
One such hard-hitting exchange occurs between Dorothy Vaughan and Vivian Mitchell (Dunst). I'll let the dialogues do the talking.
Mitchell: You know, Dorothy, despite what you may think, I have nothing against you.
Vaughan: I know... I know you probably believe that.
And a few scenes later, Mitchell identifies Vaughan for her brilliant mind and offers her a permanent position.
Vaughan: Thank you for the information, Mrs Mitchell.
Mitchell: You're quite welcome... Mrs Vaughan.
This grudging respect, a moment where a white woman in segregated America, despite her conditioning, finally sees a black woman as her equal, enough to stop addressing her by her first name, is one of the least historic moments in the film. And yet, it is one of the most historically relevant, merely for the catharsis it provides.
The film is moving, capable of showing a mirror to the white people rallying around the dream sold to them by Donald Trump, their saviour.
The problem is not the man alone, it is the ideology that is capable of pushing America back to the times shown in the film. To suspect the other, to constantly watch them, keep them out, or to even consider them the 'other' does not a democracy make. And Hidden Figures makes that amply clear.
Recreating reality
The film's popularity though, much like any film's popularity, cannot be credited to its politics alone. This is where its careful, intelligent retelling of history comes in.
The dialogues, as we've established, are memorable. Despite the grave realities it delves into, the film never loses sight of entertainment. There are some great lighter moments. There's love, there's disappointment, hope, some next level mathematics, and that all powerful moment of victory.
Not devoid of drama or emotion, Hidden Figures, manages to capture them subtly, without losing sight of the intersecting stories of these three brilliant women. Big on symbolism, the film's shots, make for a great feel-good blockbuster, much like a sports drama.
Here are some we thought brilliant:

A white man hands a black woman a piece of chalk, urging her to give some direction to all the men in the room.

A white man rushes into an office full of black women just to get a final nod before just the biggest takeoff in American history. At least, at that moment.

A black woman gets credit where its due. So what if she's 'just a computer'.

A black woman fixes her car. Another waits for it to start. The third fixes her makeup for work.

The only black woman in a room full of men (and one white woman).
Hidden Figures is for all audiences, and amazingly, it's an inclusive film about inclusivity. It doesn't villainise the white male or the privileged, seeing them for what they are.
That's a pre-requisite for any dialogue starter. Hopefully, this film will take people beyond the 'love Trump'-'hate Trump' segregation, and have them communicate again.