Grammys: Adele sweeps awards as 25 beats out Beyonce's Lemonade
Catch Team
| Updated on: 13 February 2017, 11:40 IST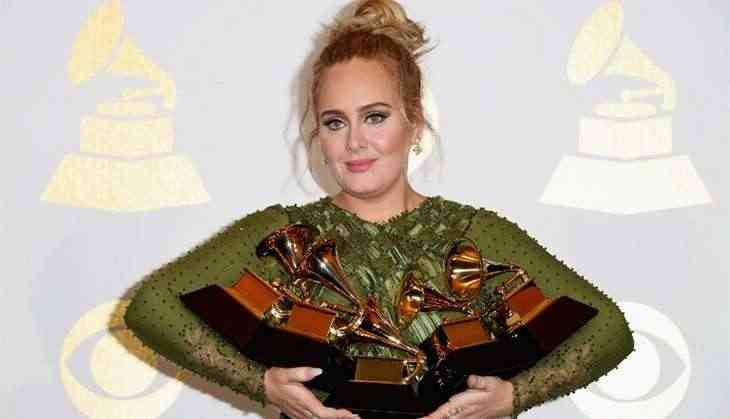 Adele may have stopped and restarted her George Michael tribute performance but that didn't stop her from walking away with the most awards. The powerhouse vocalist took home five awards on Sunday night at Staples Center that included the trio - Song of the Year, Record of the Year and Album of the Year.
Adele beat Beyonce in the top three categories. This was a complete shock to most people watching. She did this with her record-breaking album '25', released in 2015. This was a repeat of her haul from 2012 when she also won Song, Record and Album of the Year at the Grammys.
"My queen and my idol is Queen B. I adore you," Adele said to Beyonce as she accepted the last of her awards. "The 'Lemonade' album was so monumental".
Beyonce had gone into the awards on Sunday with a leading nine nominations for her groundbreaking album 'Lemonade' but walked away with just two awards - Best Urban Contemporary Album and Best Music Video for Formation.
"My intention for the film and album is to create a body of work that would give voice to our pain, our struggles, our doubts, and our history, to confront issues that make us uncomfortable. It's important to me to show images to my children that reflect their beauty, so they can grow in a world, where they look in the mirror, first with their own families as well as in the Super Bowl, the Olympics, the White House and the Grammys and see themselves," Beyonce said. "This is something that I want for every child of every race, and I feel that it's vital that we learn from the past and recognize our tendencies to repeat our mistakes."
Beyonce though, had the performance of the night. This was her first public appearance since announcing that she is expecting twins. Donning a sheer, glittering gold dress, she sand "Love Drought" and "Sandcastles" from her album "Lemonade".
Following Beyonce's performance was none other than Adele. After messing up the performance - due to sound issues - Adele stopped, cursed and said, "I'm sorry. I know it's live TV. "I can't mess this up for him (Michael)," before restarting.
Other awards
Chance the Rapper won the award for best new artist. Chance the Rapper is one who has fully embraced streaming and has no record label backing him. "I know people think that independence means you do it by yourself," Chance the Rapper said. "but independence means freedom".
The Chainsmokers won Best Dance Recording for their pop hit "Don't Let Me Down" and Jennifer Hudson won Best Musical Theater Album for "The Color Purple". Twenty One Pilots won for Best Pop duo/Group performance for "Stressed Out".
The winner of the night, besides Adele was the late British singer David Bowie. Bowie walked away with all five of the nominations for his final album "Blackstar". Bowie won Best Rock Performance, Best Rock Song, Best Alternative Music Albun, Best Recording Package and Best Engineered Album, Non-Classical, all for Blackstar.
Political moment of the night
Amid a number of political moments - Katy Perry performing "Chained to the Rhythym" and concluding the number in front of a projection of the United States Constitution - the nights most charged one was when A Tribe Called Quest came onstage. They accused "President Agent Orange" of "perpetuating evil". All this while dancers behind them broke through a wall. A number of women in Islamic garb took the stage. At the end of the performance, they raised their fists in the air and shouted "Resist!"