GLOW review: Orange is the New Black magic recreated, vintage wrestling style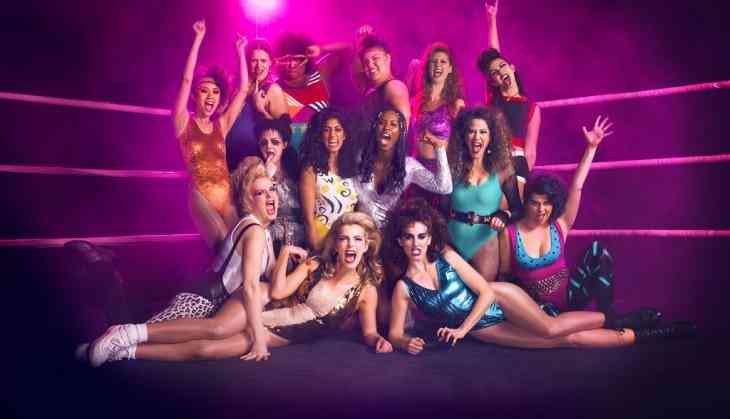 In 1986, American television marked a revolution with the introduction of women's wrestling league GLOW – Gorgeous Ladies of Wrestling. While that name might sound like the show objectified women, and it most certainly did, it also gave recognition to women in wrestling, enabling them to break bones and glass ceilings.

Now, Netflix has released a series based on the origin story of GLOW, named after the wrestling show itself. Netflix's GLOW, though largely fictional in terms of the characters, is true to the time it depicts.

Right from the make of cars, to poofy hairstyles, complicated pregnancy tests, and the 'newly released' flick Back to the Future, not for a second does the show forget the time period in which it is set -- the 80s. Coming from the makers of Orange is the New Black, it's no surprise that the show is completely on point with its setting.
What makes it GLOW?
Not unlike OITNB, GLOW starts with the sorry tale of a young woman totally out of place in her new environment. Ruth (Alison Brie) has a name that's considered dull, and a personality that seems to go with it.

So uninteresting is Ruth in the first three episodes of the 10-part season, that the viewer is almost be tricked into believing she can't act -- both on the show as the actor character she plays, and otherwise. But that perspective changes soon enough.

As the fledgeling wrestling promotion's director Sam (Marc Maron) comments, Ruth seems pretty from afar, and then you somewhere just sort of lose interest... He struggles to put her in a box, stereotype her, find a larger-than-life wrestling personality for her, much like the viewer does. And if the viewer were to stop watching GLOW after episode three because of that, it'd be a shame.

For Ruth's eventual character and her love-hate relationship with her best friend-turned-enemy Debbie (Betty Gilpin), forms the backbone of this show. The only love story one can find on this show is one of friendship, and honestly, heartbroken friends are the worst, aren't they?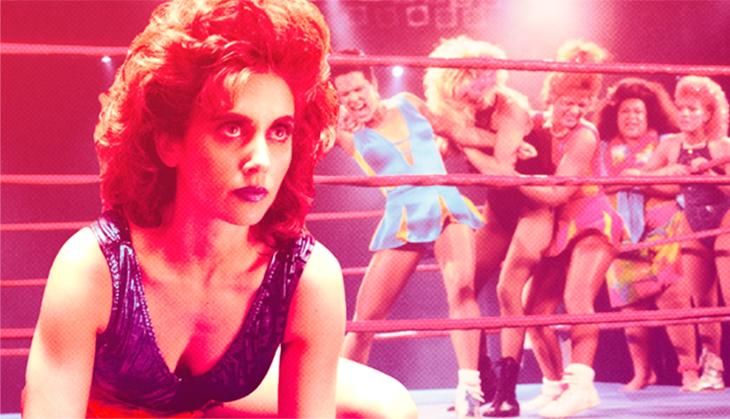 Ruth in a dream sequence
The theme of female friendship, in fact, though an obvious aspect of any sports drama involving women, is particularly well directed in this series. From shared tampons, to celebrating birthdays, the team spirit of these women isn't reiterated through dialogues, but through a simple bond of solidarity.

The women are phenomenal. The sulky teenager Justine (Britt Baron), the privileged brat Melrose (Jackie Tohn), the experienced-but-nervous Carmen (Britney Young), the has-been actor Cherry (Sydelle Noel), the queer Sheila the She Wolf (Gayle Rankin), and the rest, all truly make the show come to life.

Their eccentric wrestling personae are no more dramatic than their lives, their struggles, and, most of all, their belief in themselves. GLOW shines as a show because it captures the internal battles women have fought, just to be able to take on the rest of the world.

The wrestling, therefore, serves as a metaphor for larger themes of women's empowerment. And it does so without preaching.
Some fascinating themes
Sheila's character, for one, is most fascinating. Right up till the scene where she opens up to Ruth, the viewer sees her as a freak.

Clothed in wolf fur, with Gothic smokey eyes and yellowed teeth, Sheila barely speaks. She calls herself the She Wolf, and while her antics could have meant an entertaining caricature for the show, GLOW quickly brings in the layered aspect of queerness.

Sheila's wolf-skin is her drag, one that she meticulously puts on before meeting the world, each and every day. In the poignant scene with Ruth, she comes out by stating that this is who she is, or, at least, who she needs to be.
Ruth's best scenes though, come through mostly with her aforementioned friend-lover Debbie, barring some 'Russian' scenes, that is. In one scene, an emotional Debbie tells Ruth, "Sometimes, I hate that you took away the option of us ever having a normal f**king conversation."

Ruth constantly tries to reach out to Debbie, being the friend who royally f**ked up. But the show understands that female friendships aren't easy and can't be glued back together easily.

Towards the end of the season, the duo celebrates a huge win, and Ruth asks if Debbie would like to get a drink. "We're not there yet," she replies, stern but polite. Easy resolution is not something the show resorts to.

Progressive men are another interesting aspect of this show. They're made more interesting by the fact that none of them are particularly conscious about it.

Reveling in the rampant sexism of the time, the men, director Sam and producer Bash (Chris Lowell), aren't in the business to empower women. And yet, they slowly begin to appreciate the depth and value the team brings to their existence.

In one scene, shown in the trailer as well, Sam asks the women what they think the audience needs.

"Blood!," one yells.

"Tits!," says another confidently.

"Storytelling," says Sam.

And honestly, for a show with a lot of scope for nudity (and some actual nudity), there's very little sexualisation of the women. They're people with layered stories, and GLOW does a good job telling these stories.