Fukrey Returns review: Boring return of the boys except some chuckles and Pankaj Tripathi
Jhinuk Sen
| Updated on: 8 December 2017, 18:16 IST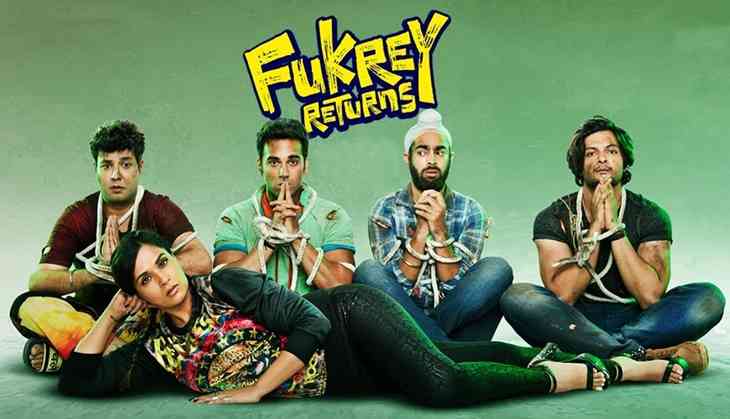 When you watch a movie every week, first-day first-show if you can manage to wake up on time, you develop a list of dos and don'ts to help you survive. The first on the list is – get a decent amount of sleep. Please.
Otherwise, you will be sitting glassy-eyed, staring at the screen, unable to laugh at quasi-decent jokes.
That's Fukrey Returns for you.
Buoyed by the success of Fukrey that hit screens in 2013, director Mrigdeep Singh Lamba was convinced that the four boys (played by Pulkit Samrat, Varun Sharma, Ali Fazal and Manjot Singh) and Bholi Punjaban (Richa Chaddha) needed another caper to make Dilliwalahs LOL.
However, what he probably did not take into account was the fact that 'Bhai tu mera bhai hai' and jokes that 95% Delhi people will guffaw about – can only take him so far. The other 5% of Delhi, won't watch Fukrey Returns so it doesn't matter.
The story so far...
After their last lottery scam, the four - Hunny (Samrat), Choocha (Sharma), Lalli (Singh) and Zafar (Fazal) - are just up to their normal Delhi-type antics. But then Bholi gets out of jail. And of course, she wants her pound of flesh.
So, they come up with a new plan. And of course, it gets ruined. And then there is plan B, C and D.
And a happy ending.
Please exit from the back.
So what works?
What works for Fukrey Returns is the fact that you like the characters, you still like them even though that have nothing sparkly and new to offer. Especially story-wise. They are like these old school friends you can't shake off because you never left your home-town in the first place.
The plot-line is papad thin and the raita is spread out wide just because you need the drama to last a bit.
Some of the jokes ARE funny, we have to give them that. But a very sleep-deprived me could muster up enough energy for a feeble chuckle.
The best thing about Fukrey Returns is Pankaj Tripathi (as Panditji) and Varun Sharma, though the latter kinda gets on your nerves after a point.
Tripathi has been having a pretty solid 2017 with the stellar role in Newton and meaty ones in Anarkali of Aarah and Bareilly Ki Barfi. And with Fukrey Returns, he makes you wish that he had more screen time than all of the other actors put together.
Listen... itna bhi na funny nahin hai
The other problem we do have with Fukrey Returns is – the shelf-life of Delhi jokes is as good as its momos. They are great when you devour them piping hot, let them linger a tad and the cold wads of thick flour-skin will make you want to never touch momos again.
And no amount of good chilli sauce or mayo can save it.
Bhai tu mera bhai hai, deja chu...yadayadayada – not that funny any more. Enough for a smirk, but that's all.
Albeit, there were a few people in the audience who seemed to love the jokes. They probably got more sleep than I did last night. I blame me for not finding verbal slap-stick hilarious any more. It is not you, it is my sleep-cycle, or the absence of it.
Should you watch it?
Yaar, dekhna to banta hai!?
Maybe. Watch it on TV when it turns up there. Or throw back a few neat ones before you hit the halls. The two points are only for Tripathi.
Rating: 2/5