Blame Bollywood for making Karwa Chauth sexy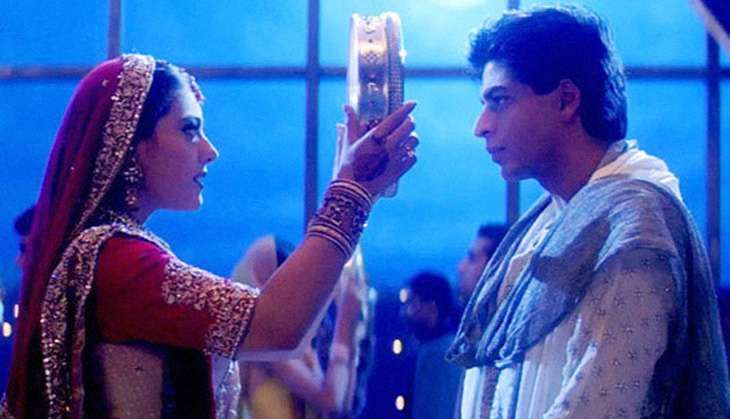 It's just past 8PM.
The wife waits patiently, bedecked in heavy jewellery, for her husband to arrive from work.
Once he does, the two proceed to search for the promised moon in the sky. They wait a little. The wife is hungry but dutifully smiles at her spouse. The husband returns the favour.
The moon is out. She looks at the moon through a sieve before turning it towards her husband. She then does his aarti, puts a tikka. He makes her break her fast with a sip of water. She touches his feet in utter devotion.
They live happily ever after.
That's the Karwa Chauth Bollywood shows you. It's the closest thing India's Hindus have to Valentine's Day.
Except that couldn't be further from the truth. For starters, Karwa Chauth isn't celebrated all over India. It is no Diwali, Christmas or Eid. And, had it not been for Bollywood's elaborate Karwa Chauth scenes, most of India wouldn't even know of it.
And they shouldn't have to.
It's not a national holiday
Bollywood's cultural imposition of Karwa Chauth has ensured that everyone must have an opinion on it. "You practice it? Tell us why." "You don't? OMG, are you a feminist?"
When was the last time a festival posed such a big moral question mark by sheer virtue of its existence? Well, barring the need for nationalistic pride on national holidays, just about never.
India is plural and Bollywood is slowly pigeonholing it. And we're celebrating this restrictive homogenous culture as a mark of true love.
It's not breaking news that the premise of Karwa Chauth is problematic. For women to abstain from eating and drinking water all day for the long life of their husbands cannot be fun.
That we are able to portray it in this way, just to appease our guilt, is mostly thanks to Bollywood's success in reinventing Karwa Chauth.
We can go on lamenting the regressiveness of such a festival year after year, but as long as this larger than life film industry celebrates it on the big screen, it will only continue to gain popularity.
Karwa Chauth: Ek Love Story
No, that's not a real title of a film... yet. But a few hours of looking through Karwa Chauth scenes in Bollywood films leaves one surprised that there isn't already one by that name.
As with most things in Bollywood romance, it all started with Yash Raj Films' iconic Dilwale Dulhania Le Jayenge. Karwa Chauth, for the women who knew of it or practised it, became a festival to fast for their boyfriends.
With a nauseatingly cute scene where Simran (Kajol) pretends to faint when her fiance tries to break her fast, just so that her lover Raj (SRK) can (for whom she is secretly fasting), DDLJ made Karwa Chauth a festival of romance.
Thanks to the film's cult hit status, young men and women envisioned the DDLJ romance as their ideal. It's no surprise then that Karwa Chauth became such a large part of Bollywood drama.
In teen romance Ishq Vishq, Amrita Rao's character says these lines to a boyish Shahid Kapoor as he helps her break her fast: "Ye rasm nahi, ye mera pyar hai. Aur kal jo bhi ho, main humesha chahungi ki tum khush raho. Aur tumhe jo chahiye na, who tumhe mil jaye."
Interestingly, Shahid Kapoor's heart at this point in the film desires another classmate of theirs. But ultimately, he realises his love for the devoted Karwa Chauthing Amrita.
In Babul, Amitabh Bachchan and Salman Khan's characters check on their wives - played by Hema Malini and Rani Mukherjee, respectively - early in the morning. They check on them to ensure that the wives are fasting for their long lives.
Salman later waltzes in, munching on an apple, while his wife's starving, only to announce she's carrying his child. Also, he declares the child male because "mera pyar tumhare pyar se zyada hai. Toh wo meri tarah hoga." Rani Mukherjee smiles.
But while all these films prolonged the Karwa Chauth obsession over the years, Karan Johar established it as the ultimate festival for Indian families in Kabhi Khushi Kabhie Gham.
Sargi, which is a uniquely Punjabi tradition, is marketed by Johar in K3G as a bonding ritual between Indian mothers-in-law and daughters-in-law. In this film, Jaya Bachchan carefully explains how a mother-in-law must feed her daughter-in-law sargi before dawn breaks, and with that one scene, Johar expertly establishes Punjabi culture (in an impossibly affluent family, mind you) as the culture of the masses.
And then, to sign it off with a catchy tune, we have Kareena Kapoor celebrating Karwa Chauth through a song and dance routine.
If you'd thought that those backless cholis and shararas were the only trend to have caught on post K3G, think again.
To each his/her own
As the moon comes out tonight, many heterosexual couples - married and otherwise - will stare at it before the woman breaks her fast. And that tradition comes out of a belief.
Their right to practise it or not should be their prerogative alone. For Bollywood to appropriate a festival and display it as a cultural 'ideal' is plain hogwash.
If anything, devout believers of Karwa Chauth ought to object to Bollywood's misrepresentation. It's shown as a party, where women have the choice to relax all day, without dealing with any patriarchal expectations of household work. Working women be damned.
The association of Karwa Chauth with general affluence is also bizarre. It's almost as if it cannot be observed without the grandeur.
That makes it dangerously exclusive. And if a festival isn't for the masses, what's the point?