Baywatch movie review: Not even the lifeguards can save this film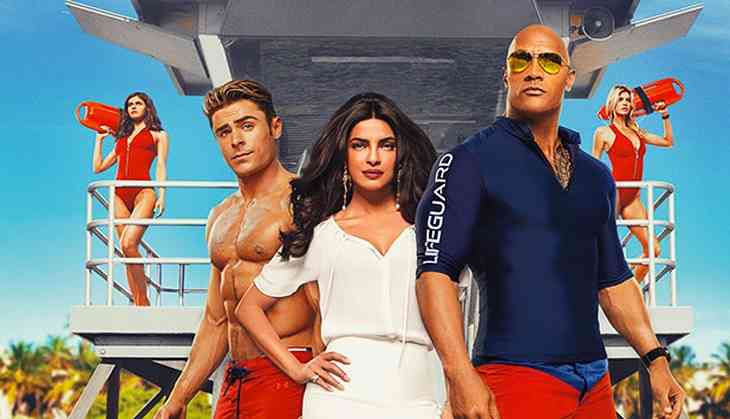 There's one key difference between Dhinchaak Pooja and Baywatch – Seth Gordon's slapstick comedy can never make it to the 'so bad it's good' category.
A remake of the cult TV series by the same name, Baywatch in its new form has failed to retain the elements that made the 1989 series so popular. While attempting to laugh at the dead seriousness with which the original was made, Gordon's film manages to botch up comedy as well as action.
For a film that could've been a great parody, Baywatch refuses to take risks beyond a few skits here and there, essentially about how they see themselves as protectors of the bay area, and not just lifeguards. Dwayne Johnson plays David Hasselhoff's iconic Mitch Buchannon, also known as 'the Lieutenant'.
CJ Parker, played by Pamela Anderson in the original, is played by Kelly Rohrbach. She's also gloriously objectified as just another buxom blonde, efficient, but also impossibly oblivious to the male attention she gets. However, CJ's slow-mo running scenes on the beach are made fun of in the film, in probably one of the better dialogues.
Then there are the lifeguard trainees Matt Brody (Zac Efron), Summer Quinn (Alexandra Daddario), Ronnie Greenbaum (Jon Bass), and the Lieutenant's second-in-command and yet-another-hot-woman Stephanie Holden (Ilfenesh Hadera). The largely white and good Baywatch crew is up against rich and ruthless baddies – Victoria Leeds (Priyanka Chopra) and her posse of non-white men.
The most watchable scenes, however, belong to a side character. Sgt. Ellerbee's (Yahya Abdul-Mateen II) banter with Buchannon and his love for chocolate shakes is somewhat endearing.
Beyond that, though, the film falls face flat off a lifeboat. Baywatch tries way too hard to live up to the action of the TV series, and action is not a strongpoint for this film. If anything, it's a snoozefest.
For Indians worried about Priyanka Chopra's performance, you won't be too disappointed. Chopra makes the best of what is otherwise a completely futile film, often arching her perfectly shaped eyebrows, possibly at her slippery career in Hollywood.

For fans of the original, you'd be treated to Hasselhoff, Anderson, and the iconic song in the opening credits – 'I'll Be Ready'. But Hasselhoff doesn't wear his uniform, Anderson doesn't wear hers either, or even utter a dialogue for that matter, and as for the song, you could just listen to it here.
Should you watch it?
No, just catch Wonder Woman instead. Or watch the TV series online.
Rating: 1/5