Baby Driver movie review: Rides high on music, creates old-school magic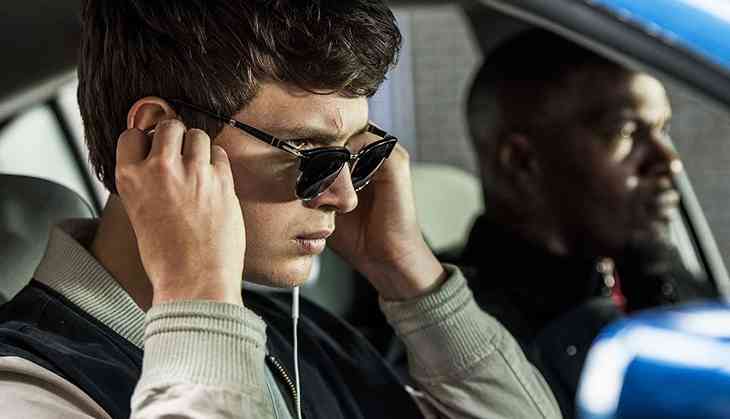 Let's face it, this film's title alone wouldn't attract a large audience, unless they're Simon & Garfunkel fans. And that's a shame.
Baby Driver is indeed about a man called Baby who is... well, a driver. As dull as that sounds, Edgar Wright's film is anything but.
From the word go, the film picks up speed, quite literally. In the first scene itself, we're treated to a truly eccentric protagonist, who blasts some great retro tracks while zipping through the city, expertly navigating, shifting gears, and looking cool, all at once.
Baby (Ansel Elgort) is a shades-wearing, iPod-loving 20-something who doesn't like talking much. While that comes across as general indifference, Baby suffers from a buzzing in his ear drums, only drowned out by his favourite tracks.
He drives to the pace of his music, counting seconds according to the beats, knowing exactly which strum corresponds with which turn in the city. But of course, a high-end skill like that can't be used for pizza delivery. So Baby plays driver to some of the most dangerous people in town.
Doc's (Kevin Spacey) core gang of smooth criminals include Buddy (Jon Hamm), Darling (Eiza González), Bats (Jamie Foxx) and others who get pointlessly killed along the way. Baby drops them to their chosen location for heists, picks them up and escapes cops, as the audience enjoys the truly epic music he drives to.
You can sample some here:
It's not entirely surprising that these seasoned actors deliver badass dialogues flawlessly. But the real standout here, of course, is Baby himself.
His current romance with the girlfriend Debora (Lily James) and the unending romance with his dead mother (Sky Ferreira, who also sings for the film), both cross roads without hiccups. That there's some strong oedipal complex at play here is obvious, what with Baby repeatedly picturing Debora in vintage clothes his mom would rock.
Speaking of vintage, the film is an absolute delight in terms of the very 70s feel it has through and through. Instead of the forced vintage we often get in cinema today, Baby Driver feels like it was shot back in the day, and of course, the music totally helps.
The action is on point, with more than one car chase fit to take on the increasingly dull Fast & Furious. In one sequence, Baby pulls off a particularly cheer-worthy run reminiscent of the game Subway Surfer that was all the rage two years ago.
Baby Driver doesn't depend solely on action though. There's a solid plot in place, with Baby's personal struggle at the centre of it all. He must get out of this nexus of criminals, but he owes Doc money for stealing his car. So he must serve.
His relationship with his ageing foster dad Joseph (CJ Jones) is thoroughly heart-warming. Joseph is hearing and speech impaired, so all their scenes are shown in sign language. Not for a moment though would you feel bored at the lack of dialogue.
The only drawback of Baby Driver, if one were to nitpick, is the resolution at the end. While Baby doesn't get away from this life of crime immediately, he gets away from Doc almost too easily.
Barring that slight disappointment that may not even seem so to others, the film is a winner.
Should you watch it?
Well, the theatres seem to be showing more than one good film. But don't let that deter you.
Go watch Baby Driver if you're a fan of driving, or of good music, and especially, if you're into both.
Rating: 4/5