Why Bollywood is the protector of India's sanskriti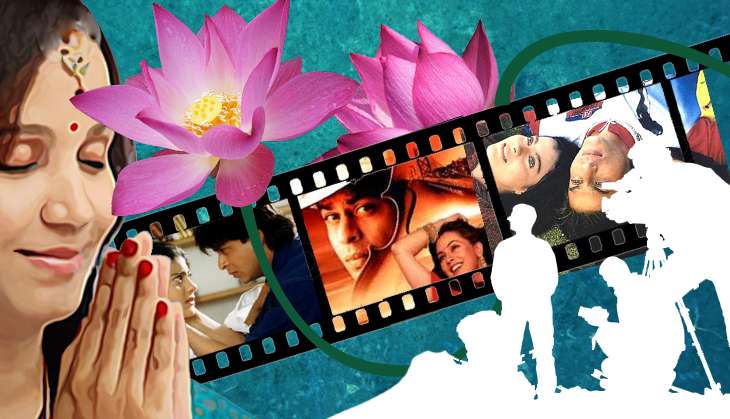 "Simran, Main ek Hindustani hoon aur main jaanta hoon ki ek Hindustani ladki ki izzat kya hoti hai." Raj (Shah Rukh khan) stole a million hearts with this iconic dialogue in Dilwale Dulhaniya Le Jayenge.
With this, Raj did not just deliver a dialogue but reasserted his Indian-ness to the audience even as a drunken Simran dozes off in his bed and wakes up wearing his shirt. Scared stiff, she deduces that she had sex with Raj, but Raj reminds her that he is "Hindustani" and knows the significance of an Indian girl's 'honour'.
Raj comforts her, and, more importantly, the audience who are worried about the loss of values. He reassures them that, in spite of him being a brat brought up in London, he remains ethically "Indian."
Raj's is just one of the many examples of classic patriarchal restlessness that Bollywood is rife with.
Not women, but values
Conventionally, films have found ways to confine female sexuality within the precincts of a nation-state.
Women in films have come to represent the dominant idea of Hindu values. They don't just represent themselves but their communities and their sexual chastity represents the safeguarding of a nation's identity.
In 1991, India's ambitious economic liberalisation caught on, and with it came satellite television. These two factors opened India to the world. This was further augmented by the giant leaps of innovation in Information Technology, exposing India to a sea of different cultures other than its own.
But with the opening of the economy's aperture came something else - a feeling of threat from global competition and a need to protect the Indian identity from this. This defence was associated with the protection of the idea of India as a nation state.
The chastity of the nation was identified with the spotlessness of the Hindu woman who represents the morals of Sita, the "pure" and devoted wife of lord Rama. The sexually chaste Indian Hindu woman in films embodied Hindu values, making women a conduit of gendered nationalism in Bollywood.
NRI nationalism, a nostalgia
In Karan Johar's Kuch Kuch Hota Hai, Tina, a young college girl who dresses in mini-skirts, is derided by college mates as being less Indian than them. Finally, in a desperate display of her traditional values, she sings Om Jai Jagdish. The result of proving her Indian-ness is instantaneous - she is readily accepted by the film's male lead. This is followed by her dialogue on how she has lived overseas all her life but has not forgotten her "sanskriti."
The need among Indians who've moved abroad to maintain or reclaim their Indian identity, coupled with the rise of the Hindu-right and economic reforms in the 1990s, has seen a groundswell of support for Hindutva among the NRI community. And it is this phenomenon that Bollywood seems to be catering to.
Indian films evoke nostalgia of a blissful domesticity among the first generation migrants. To second generation Indians born abroad, they are fables -- preaching the values of 'Indian' life. This portrayal of 'India' is that of a non-materialistic, communitarian stance on life, in sharp contrast to the materialistic and individualistic perspectives of the West.
These narratives run parallel to the transforming socio-political milieu in India, sparked by the strengthening of right wing parties.
Bollywood heroines hence played an iconic role in representing familial values and traditions that Westernisation and globalisation have undermined.
In Pardes (1997), the heroine (played by Mahima Chaudhary) is branded with pure and traditional Hindu values. She epitomises Indian-ness. She is as tremendously religious as she is naive. Her character is named after the Hindu Goddess Ganga, further implying chastity. This association between Ganga and Indian values is further implied throughout the film.
In one scene, an NRI father trying to reconnect with India wants his American-born son to marry Ganga because he wants his son married to the values that Ganga possesses.
The movie also fosters a sense that Indian values are under threat through a scene where Ganga travels to America. Here she comes across the night clubs of Las Vegas - the antithesis of Indian values. While the movie, in typical Bollywood fashion, does offers pleasing images of foreign locations and luxurious lifestyles, it is underscored by a fear of compromising Indian values.
Despite enjoying American lifestyle and glamour, Ganga refuses to have pre-marital sex with her fiance. She eventually beats him up when he insults Indian conservativeness, thereby both symbolically and literally fighting to defend Indian values.
Re-inforcing gender roles
Most of these films also go to great lengths to re-inforce traditional gender roles that exist within Indian society. Gender roles which are extremely regressive. For example, the role of the woman, even though she's meant to represent these 'sacred' virtues, rarely goes past that of an object.
In Pardes, the heroine is shot within the male gaze all through, starting with the voyeuristic camera work, the heroes who crave her, and the male audience who imagine her. In the film, there's even a kabbadi match played between two challenging families who want to get their sons wedded to Ganga. Ganga is that medal the winner gets.
Along with representing women as objects, submissive to the will of their families or patriarchs, most of the other characters also embody traditional gender roles.
You usually have tough authoritative characters, generally, the father or grandfather. Young men are extraordinarily compliant to their elders and younger women are subordinate to the elder women as well as the men in the family who exercise their power over her.
These films had women playing larger than life characters that still epitomised values of love, care, discipline and obedience which are characteristic of the values possessed by Indians from a global perspective.
The western proxy
Bollywood films set in the west have gone up in the past decade. This is not unintentional.
Diasporic films today do not unambiguously differentiate East and West. Rather, the contrasts are much more subtle but still persist. Additionally, using a western setting is generally the pretext for discussing issues that would be taboo in India. These range from extra-marital affairs, pre-marital sex, casual dating, drinking, and homosexuality, to find a narrative influence.
In many new age diasporic films like Love Aaj Kal (2009) and Salaam Namaste (2012) sexuality patents itself in a more balanced male-female bond unlike the pecking order of a patriarchal regime. In these films the female NRI eventually gets some autonomy from the nation and does not remain a subject of understanding of the nation or its culture, progressive ideas more in tune with current times.
However, as Cocktail proved, this doesn't hold true for all movies. The movie is set in London where the male lead Gautam and female lead Veronica have glamorous professions and a causal relationship.
However, Gautam eventually rejects Veronica who swears by the so called 'western' ideals of living and chooses to marry her friend Meera, who dresses up conservatively, squirms at the very mention of hugging a boy, receives his mother's approval and believes in her culture.
It is heartbreaking to see Veronica's character trying to change herself and become more Indian - by praying, wearing Indian attire, and cooking - to win the man's approval. This cocktail would've tasted better if Meera was given the scope to be more pragmatic or Veronica didn't have to succumb to the pressures of becoming more Indian.
Despite Bollywood completing a 100 years, along with the mounting accessibility of these films and the general exposure to the wider world, things still haven't changed much when it comes to reducing the representation of female sexualities into the unworkable idea of the nation.