Vijay Barse: the man who used football to kick poverty in the gut
Asad Ali
| Updated on: 10 February 2017, 1:48 IST
India is in the middle of an international football tournament. The women's team have played seven games, winning four. Out of 15 teams, they're ranked 5. The men's team have played five and won three. They're ranked 31 out of 48 countries. The tournament? It's the Homeless World Cup, happening in Glasgow right now.
The Homeless World Cup uses football as a platform to uplift homeless people and empower them in society. Co-founded by Mel Young and Harald Schmied, the first such tournament was organised in Graz in 2003. However, closer home, one Vijay Barse, a retired school teacher, was already doing the same thing with Slum Soccer - or, as he still calls it, jhopadpatti football.
Slum Soccer has also been using football to change the lives of hundreds of slum kids, helping them to negotiate the harsh realities of a marginalised life with the beautiful game of football. In an interview with Catch, Barse talks about how he took inspiration from a bunch of kids kicking a bucket on a rainy day, the way he's managed to run a football academy without any big corporate sponsor and why bigger football bodies aren't always too happy with his work.
Tell us a bit about yourself and why you decided to do a project like this?
I was a lecturer for 36 years in Nagpur's Hislop college and retired in 2006. I come from a very poor family so I understand the value of money and hard work. When I was teaching I used to think that I got paid more than what my work deserved. I couldn't accept the fact that I used to work for some hours only but got paid for the whole day, and I kept thinking what to do about it. Since I was a sports teacher I wanted to do something using that as a platform.
So how did the idea to use football come about?
Once on a rainy day I saw a bunch of slum kids kicking around a small plastic bucket like a football. It struck me that if I actually give them a football, it'll keep them entertained. As long as they're on the field they'll keep away from bad habits. Whether it's drugs, alcohol or any anti-social activity they'll keep their distance if there's a sport to keep them occupied.
How'd you develop an equation with them, enough to convince them into playing?
Right opposite my college grounds there was a slum and I knew a lot of the slum dwellers personally. I knew a lot of the kids too, they used to steal bags and other things and come near the ground - I was aware of all that.
Whether it's because of my behaviour or understanding owing to my upbringing, I could always mix very well with people from the lower classes. That helped me talk to them.
Also, barring football, there was hardly any game we could play outside during that time. So when I gave these kids their first football in 2001, they were quite interested. I told them we'll all play the game together to just have a good time.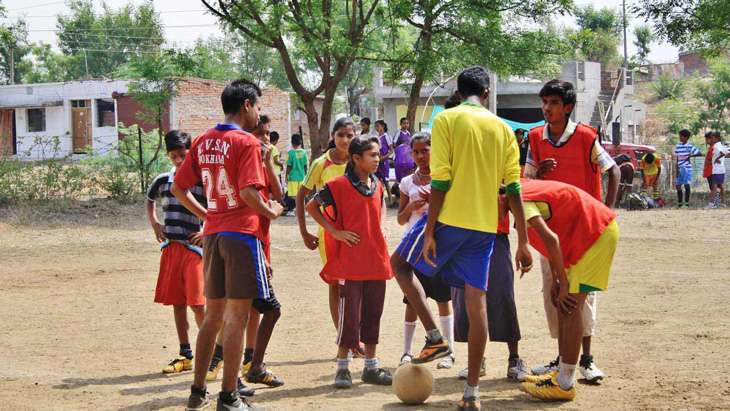 They picked it up pretty quickly?
Yes, they all had a basic knowledge plus I didn't stick to the rules. Instead of 22 players, if there were 25 or even more, it didn't matter. I told them what mattered was to play the game and have some fun along the way. That's how it all started.
The only real rule was that the ball has to get inside the goal post, which was made of two simple bamboo sticks. Uniforms weren't required. Some turned up in a lungi, others in shorts. There were others who played wearing shirts.
Most importantly, I ensured that they played the games without football shoes. I knew football shoes were beyond the means for these people and they'd again resort to stealing. So I told them to either play barefoot or using school PT shoes if they had any.
When did you first organise a proper tournament for them?
I organised the first tournament in 2001, 128 teams took part. I had divided Nagpur into four zones - north, south, west and east. The teams took part accordingly. The local media helped a lot. They would print the results of the tournament's matches on a regular basis.
Slowly, people from outside Nagpur also started calling me, enquiring about the tournament and wanting to host a similar event. In fact, I even got queries from Naxal-affected regions like Yavatmal to organise something like this.
By next year, it had become a state-level affair and it reached a national level status soon after that. However, I started Slum Soccer as a formal registered organisation in 2002, when people from outside started arriving.
I still call it jhopadpatti football. Slum Soccer is obviously an imported coinage. Since we go abroad frequently for games, hence the western label. It's still jhopadpatti football for us!
How did you finance the whole thing initially?
The academy was built on my own little bit of land, about 9 kilometres from Nagpur. When I retired I got 18 lakh rupees. I knew I'll also receive pension so I decided to make use of the money. And now, our academy actively encourages programmes like "Development through Football" for under-14s.
A lot of educated people volunteer for these things. From MBAs and doctors to PhDs, they contribute both time and money towards such projects. People look at it as worthwhile social responsibility to take on.
How do you manage to run the academy without major sponsor of any kind?
Till 2008 we managed to run everything primarily with our own savings. By 2006, our son, who was in the US pursuing a PhD, had also returned and shown an interest in our work. In fact he had run away saying that there's nothing to be done at home. He found it difficult to understand the fact that we always had slum kids at our place.
But during his studies abroad, he realised that we were trying to do something different. So he came back and tried to learn how we managed the administration aspects of running such an academy. The fact that we managed to take of everything - feeding, accommodation, even uniform of players, without asking for money from external sources, seemed to really surprise him!
To what do you attribute the successful run?
See, when these kids come, it isn't just the sport we encourage. Those who stay at our academy receive compulsory education. Whether it's learning English or getting familiar with computers and technology, the kids have to do all of it.
Some are attracted because the media also writes about us, so it gives some credibility also. They're also aware that at the end of the day, whether it's playing or learning English, it's free with us. So they have nothing to lose.
Any particular regions which show more interest or get you more players?
Football culture is very much prevalent in places like West Bengal and Jharkhand. In fact, recently for the under-14 programme, our coaches spent 2 months in those regions and selected 20 kids. Fourteen of them have joined the academy and have shown exceptional skills, already winning major games in Maharashtra.
Five of them have played national level games and two were invited by Pune FC - they wanted the kids to stay at their academy instead!
How do you go about the Homeless Cup selection?
We have extensive local tournaments, then we move on to district and state-level games, and finally national level games. For example, recently at our nationals in Howrah (West Bengal) we selected 40 players as probables. Next, we get them at our academy for coaching and further selection trials till the team is made.
What are the problems you face during selections?
A big problem is that for a lot of these kids, passports are difficult to make. A lot of them have no records - birth, education or work - nothing. In some cases they have police cases of petty theft or something against their names. We try and give at least 3 months or more just so this documentation can get done.
Even so, from 40 probables, the number comes down to 30 almost by default sometimes. Then we also have to verify whether they're actually homeless. We ask them to get photos of their homes, an attested letter from someone who's a known figure in their slum - these are some of the checks we do at the selection stage for the Homeless World Cup.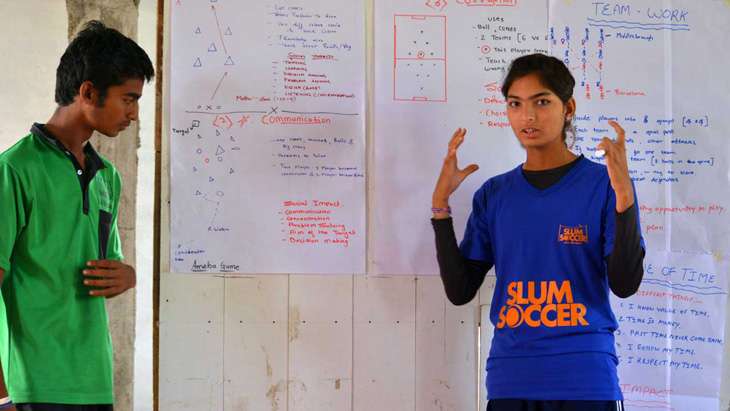 When was the first time India participated in the Homeless World Cup?
We had participated in the Homeless Cup for the first time in 2007 in Copenhagen, Denmark. I was invited in 2006 to South Africa where the Homeless Cup was born in 2003. I told them that I started doing this two years before them in 2001! What I call jhopadpatti, you call 'homeless'. They had already checked my records and told me that I should send teams from India too.
How was the first experience in 2007?
Bad. Actually, I've never played much football in life. So that time around I didn't know much when it came to appointing managers and the captain. I got cheated, and in fact some of them thought I must've received money since it was a foreign trip, and claimed money from me - in dollars!
I felt bad, and thought about why I'm doing this and if I should quit.
What kept you going?
It became a challenge for me. A friend of mine, a renowned journalist told me that instead of encouraging something constructive, there'll always be more people to criticise it. Also, those who are part of official football bodies, don't like the fact that our work has gained momentum, that we manage to take players abroad when they can't.
He also said something which I still remember, 'jis ped pe phal ho, ussi pe pathhar maara jaata hai' (stones are thrown only at trees that bear fruit).
Great players who win the cup or development of the community - which one is the bigger dream?
Playing good football is essential. But our real objective has always been to develop underprivileged communities through football, to use the sport to make a positive social impact on lives.