The Stage could have been fun. Till Monica Dogra began to fat-console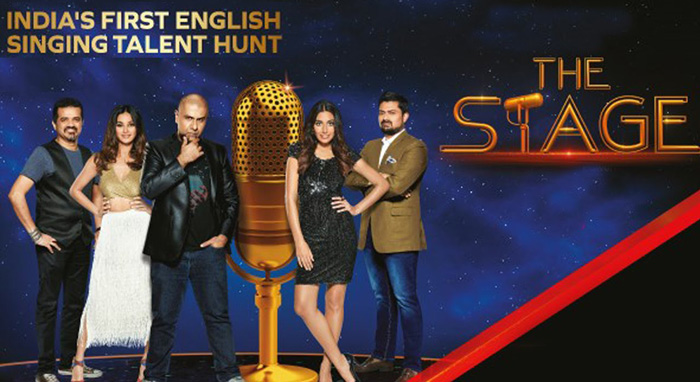 There's a new reality English music show on television. And it's doing something that India's never seen before.
Well, in truth, that's just the claim the show makes. And you'll know in a moment that it's some degree of hyperbole. Peppered with a moment or two of absolute horror. But we'll come to that later.
For as much as The Stage - the new reality show on Colours Infinity - is trying to depart from the Idol franchise, it clambers one foot out, and falls right back in.
There are four judges, twenty contestants, one startlingly beautiful host with outfits that could give a Ryan Seacrest tuxedo some healthy sweat - and one music deal with Universal Music International at the end of the horizon.
The result is largely formulaic, but still manages to do some things well.
Only half an idol
There are, for example, fewer Idol-worthy gimmicks.
The auditions-stage, which has traditionally contributed much of the TRP-winning laugh-at-the-little-guy material (in each of the fifteen American Idol seasons, six Indian Idol seasons and every Roadie season) has been entirely omitted.
Instead, The Stage has taken the far more dignified route of selecting the twenty contestants before the beginning of the season, privately, based on videos that were sent in.
There's also the conspicuous and happy absence of a Simon. A Simon, for those who weren't watching any television 10 years ago, is a trope. He is a judge who is cruel to the point of being crass, hard-to-please, abrasive, and loud.
In Indian Idol, for example, Anu Malik was very happy to take on that mantle and brandish it in the face of nervous contestants.
In The Stage, however, the judges seem less happy to cave in to Idol-worthy-types. But they do fall prey to some.
The only female judge on the show is Monica Dogra, (singer, songwriter and creator of Kickstarter Campaigns) the soulful ambassador of passion and love. She also takes it upon herself to compliment female contestants on their appearance.
On The Stage, a 'Simon' is conspicuously absent. Finally, a troll-free judging lineup
Following, of course, the well-laid footprints of Paula Abdul and Alisha Chinai.
Devraj Sanyal (CEO of Universal Music Group) is firm, informed and articulate when providing feedback. He nods vigorously otherwise.
Vishal Dadlani (one half of music director duo Vishal-Shekhar) jumps with glee after a great performance and gives standing ovations by literally standing atop a table.
And Ehsaan (from Shankar, Ehsaan, Loy), is the smiling neighbourhood musician, who speaks when spoken to and always finds an amiable way to dispense criticism.
Their criticism is informed. Their views are pertinent. And they're not very given to gimmicks.
They are visibly uncomfortable dropping tense silences in the pre-commercial-break strategically placed in a run-up to a judgment. Which is rather refreshing.
The show could have been a pleasant watch, in spite of the uninventive song choices by performers (Lady Gaga, Bruno Mars and Whitney Houston largely characterise the diversity in track choices.)
It could have made for adequate television, in spite of the fact that the musicians perform to poorly recorded Midi-tracks.
But it fails on that easy premise too. Because of cringe worthy moments like this:
Bringing on the cringes
Tshering Bhutia, in her first ever performance on The Stage, chose to sing Beautiful, by Christian Aguilera.
Beautiful is a song about body-issues and - as the name suggests finding, and having faith in the fact that you are indeed beautiful.
Bhutia may not conform to the standard television notions of beauty. She has been told in the past that her looks are an impediment in her career. Her choice of song therefore, was a tacit, poignant moment in the show.
Scratch that. Her choice of song could have been a tacit, poignant moment, had Monica Dogra not felt the need to spell it out loud and clear. "This song is perfect for you."
Thank you Dogra, for acknowledging that Tshering is indeed, the perfect candidate for body issues.
But Dogra doesn't stop there. "It shows me that as an artist you know where you lie on the planet."
Thank you once again, long-limbed Dogra, for reaffirming all Bhutia's doubts about herself.
The judges then proceed to discuss the pain of feeling physically inadequate.
Dadlani chimes in, "I've felt it too". The host then hugs Bhutia, calling her a "gorgeous girlfriend."
Way to remind someone loudly and clearly on national television that they aren't, you know, overwhelmingly gorgeous, and then console them with lavish compliments about their singing.
I'd put up with midi-tracks and the n-th cover of I Will Always Love You, if it meant discovering the next big English music star from India.
But fat-shaming, no thank you.