The legend of Faadu: The Delhi rapper who says it like it is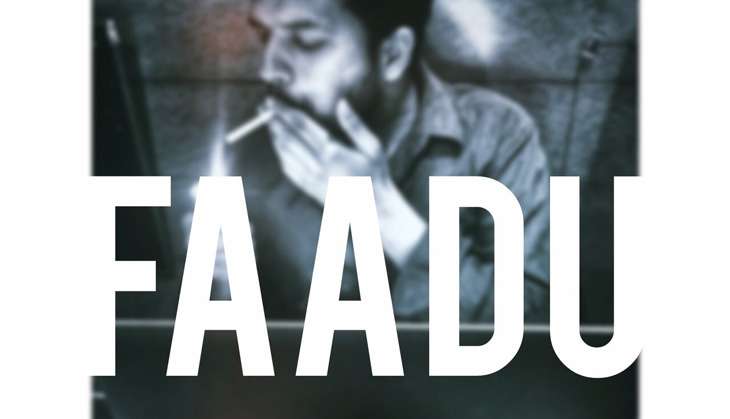 I first met the reclusive rapper, Faadu, at The Toddy Shop in Delhi's Hauz Khaas Village. This was two years ago. We'd been talking on the phone and trying to fix a date for a rendezvous for as long. We'd come close. I live in R block, GK 1; Faadu made it to M block market-it was my birthday and I was throwing a party-but then went back to his place in Preet Vihar for unspecified reasons.
A few nights later, I called him drunk. It's not a conversation I remember. He told me later that I was in a state and told him: 'Main writer hoon aur tu rapper hai. Aukat me reh.' This is now a running joke between us.
Also read -Ladies Room: this web series is a storm of fresh air
Faadu aka 28-year-old Aditya Parihar is Delhi's best kept secret. A true blue maverick, and an instant internet sensation, his songs routinely get tens of thousands of hits on YouTube. His debut single 'Kash Koi Mil Jaaye', an anthem of sexual frustration, has been viewed 1,284,905 (that's 1.2 million or over 12 lakh) times.
WARNING: VIDEO CONTAINS EXPLICIT CONTENT
None of his songs have been backed by a record label, sponsor or event management company. Each song has made its own way in the chaos of the online space.
Faadu doesn't seem himself as an English-wallah. He's a Dilliwallah - an East Dilliwallah, suspicious of the air-kissing South Delhi crowd. When we met at The Toddy Shop, he told me: 'Sir, yahan par to sab ek doosre ko jante hain.' He felt like an outsider.
So who is Faadu?
When I ask him his age, he says: 27.5. He studied electronic engineering at Bhartiya Vidyapeeth, I.P. University, Delhi. He specialized in the 'communications' branch. He's worked as a patent analyser in Gurgaon.
In appearance, he looks like a regular guy - jeans, shirt, simple haircut. Not hip-hoppish at all. In his new track 'I vs Myself', he says: 'Naa hai gale mein haar, na koi super car/ Meri chhoti si duniya studio ki chaar divaar.'
This is what makes Faadu so special. He is a born rapper (Eminem is a big inspiration) but he doesn't feel the need to take on the trappings of the genre. He doesn't wear oversized pendants. He doesn't wear expensive sneakers. He doesn't own a flashy car. He rides a simple city motorbike - a Bajaj Pulsar.
In '50 Ladkiyan', he raps: 'Rukhi si class or sukhe se lectures attend karta hu/ Fir koi item dikh jaye to door se he aanhe bharta hu/ Karu b kya cuz I don't have that much of liquidity/ Impressing her requires at least a Honda City.'
Faadu, the poet
When he's performing, Faadu strikes one as a cross between a manchkavi, of which there is a tradition in Hindi, and a rapper. Sometimes, when on the stage, he recites his 'poems', eyes shut tight in concentration. Although conversant in English, his first language is Hindi'; it's the language that comes most naturally to him and the one he chooses to express himself.
Faadu's songs might have autobiographical elements, but to conflate Faadu with Aditya, the person, would be a mistake. Faadu is an invented persona.
There's a natural evolution in Parihar's song writing. At the time he released 'Kash Koi Mil Jaaye' (KKMJ) and '50 Ladkiyan', Faadu was drawing on the experience of engineering college and the lack of women in the classroom: 'B.Tech mein 4 saal tak brahmchari ban k padhte hain/ Isiliye to jada engineers gay banke sadte hain/ Rukhi si class or sukhe se lectures attend karta hu/ Bhai DU mein hai or class me hain 50 ladkiyan.'
Also read -Life is a lemon (And I want my money back): The failure of the Left
The range of references is staggering: porn film DVDs in Palika Bazaar, the DPS MMS scandal, the Nithari murders, Honda City, Amway, IGNOU, CAT, Sarita and Grihashobha. It's as if he's walking around with a specially designed butterfly net, which he employs adroitly to capture a wide variety of urban effluvia.
In the process, Faadu peels off layers of desi hypocrisy, showing us life as it is for the young Indian male. Where others are content to sweep unpleasant things about and around us under the carpet, Faadu collects the dirt diligently, then sprays it back on the pristine Persian rug: 'Ladkiyon se baat karne ko customer care call karta hoo/Life me newspaper nahi padha but matrimonial padhta hoo/ Maxim Playboy even Kamasutra bhi subscribe ki hai/ It's humiliating par Sarita Grahshobha bhi try ki hai.'
The evolution of rapping
By the time of the next release 'Ek Din' (over 2 lakh views), Faadu is out of engineering college and working in Gurgaon. The teenage sexual angst of 'Kash Koi Mil Jaye', and its 'non-veg' content, makes way for a searing critique of corporate slavery: '"Dil se khush tha first time office gaya main jis din/ Free ki coffee, maal badhiyan, sheeshe vali building/ AC office, English toilet, guard ne bhi salute kiya/ Sham ko shared auto mein vahi guard bola side ho/ Tab laga ki ye real nahi bas ek drama hai/ Gadhe se kaam karana hai to chaara bhi to dikhana hai."
There's a manager who's tyrannical about his employees' spoken English skills even though his own are hardly any better: 'English bol na pana is a criminal offense/ To a manager who thinks 'did' is future tense.'
In another verse, an ex-girlfriend gets married to an IIM type: 'Ex girlfriend ka status update shaadi kar rahi hu / IIM ke passout se or Mauritius mein honeymoon/Main ab bhi metro mein daily seat ke liye ladta hu/ 3 saal se hua nahi par CAT ke liye padhta hoon.'
For single men with no fancy MBAs and no money in their pockets, Delhi offers few options: 'Choti si bachelor life/ Ji bharke ji lo/ Theke se daaru leke khopche mein pi lo/Ya fir F-Bar mein jake apna katva lo/ Itna kharcha karte ho Facebook pe bhi daalo.'
Faadu's rapid evolution is evident on his latest single 'I vs. Myself.' Here he declares his intent, his monastic commitment to the craft of rapping, despite the distractions of a day job: 'Naukri karoon 9 se 7/ Gym mein fir bajte 8/ Fir use karoon time ko/ Likhta fir mein 10 se 2/ Subah aayega bukhaar 103 104/ Kha lo ek Combiflam or pakdo metro train.'
Faadu on stage
He's not bothered if he makes it big or not. He's an underground star and content to be so for the time being: 'Saalon se underground saalon or guzaarunga/ Jeetne ka pata nahi par jeetejee nai haarunga / Na kamaunga na bandiyan ghumaunga/ Lekin haan, sadiyon tak yaad rakkha jaunga.'
He's aware that when you become a brand name, anything that you put out will sell. He's willing to stick it out. Parihar, like any genuine artiste, is in it for the long run. He's willing to bide his time; he says he will continue to write even if he's in prison-for the ultimate battle is with his own self: '1GB paar mera lyrics n song folder/ Matka hai bharne vala/ Ab mein nai darne vala/Bhale he goli maaro main nahi marne vala/ Ek din khaali CD bechoon to bhi bikunga mein/ Mujhko tum umar qaid do jail mein bhi likhunga mein.'
Also read -Entertainment Underload: There's more entertainment than ever, just not for Indians
For a rapper who's got a huge following on the Internet, it's surprising that till very recently he'd never been asked to perform on stage. This travesty has been corrected by Delhi-based band Menwhopause.
Menwhopause collaborated with Faadu on their new song 'On a Boat', a cynical yet trenchant take on the cocaine and MDMA culture of South Delhi: 'Aaj 11 saal 6 mahine baad/ Apne he gaane mujhe nahi hai yaad/ Ek bacha tha guitar vo bhi kiya sale/ Rockstar naam pe bachi hai ponytail/ Media ki job jese lagti hai jail/ Career bana par life mein hoon fail.'
It's with Menwhopause that Faadu has started performing live and doing occasional gigs. When he went on the stage at Ziro festival in Arunchal Pradesh, the crowd went ballistic. When he got off the stage, he was mobbed by hordes of Arunachali girl-fans.
His rap verses on 'On a Boat' demonstrate his ability-the true ability of any good writer-to inhabit the skin of various characters and to be able to see the world through the character's eyes. In 'On a Boat', he raps from the point of view of a guy who has secured a dead-end career in Delhi's media jungle but failed to realise his dream of becoming a musician.
Recently, when Eminem released 'Campaign Speech', an 8-minute anti-Trump ramble over a minimalist drone, I asked Parihar what he thought about the song. Parihar, for the record, is both a Trump supporter and an Eminem fan. He joked that he was torn between his loyalties. I said : 'Why don't you write one about this antardwand?'He said: 'Sir, main politics se door hi rehta hoon. Politics pe likho to sirf jootey padte hain.'
(The writer's House Spirit: Drinking in India was published earlier this year)