The Hateful Eight review: classic Tarantino, but where's the new ground?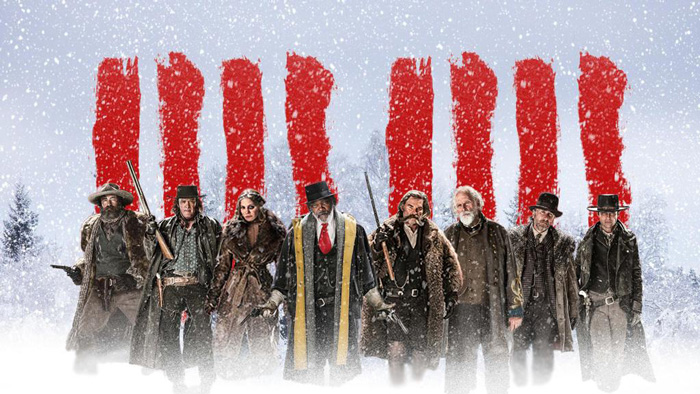 It's Quentin Tarantino time folks! It's that time when you get lost in a sea of violence (occasionally needless) that makes you cringe and whoop with joy all at the same time.
Or is it?
Well with The Hateful Eight - a Western and Tarantino's eighth film - it's hard to say. It's a slow-burner and not everyone (including Tarantino fans) will have the patience for it. I barely did.
Also read - The Danish Girl review: a beautiful but bland biopic
And I'm the kind of person who, like many of you, will go see everything the man makes because he's earned it.
But as usual, his foreplay is brilliant.
Samuel L Jackson plays bounty hunter Marquis Warren (he's introduced while resting atop a pile of bodies-turned-bounty), who gets caught in a blizzard enroute to Red Rock and begs a ride in a stagecoach with another hunter, John 'Hangman' Ruth (Kurt Russell), and his prisoner, Daisy Domergue (Jennifer Jason Leigh). Domergue is set to hang, but John Ruth worries that a rescue team will ambush them.
The stagecoach is flagged again by Chris Mannix (Walton Goggins) who claims to be Red Rock's sheriff.
Much of the first half is spent in that stagecoach. The rest - excluding brief trips to an outhouse and a stable, plus minus a few flashbacks - is spent in Minnie's Haberdashery. It's a lonely hangout in the middle of nowhere that serves coffee and stew.
It's at that location itself that the lineup is assembled: a fussy little Brit who introduces himself as Oswaldo Mobray (Tim Roth), an old Confederate general (Bruce Dern), a quiet giant (Michael Madsen), and a Mexican named Bob (Demian Bichir).
Some of these characters are not who they seem (otherwise where would the fun be?), and none of them can be trusted. There are no 'good guys' in the movie; every character is miserable and capable of shocking brutality.
What follows has more in common with a classic Agatha Christie drawing-room mystery.
Tarantino has the ability to draw a scene out beat for beat. And in such a small space, the director teases the audience with the idea that violence could erupt at any second.
That non-action is something he draws out till the edge of the intermission.
But when the bloodbath does erupt, it's just not satisfying, not in the way Reservoir Dogs, Kill Bill Volume 2 or Inglorious Basterds were, thrilling and chilling you to the very bone.
'The name of the game is patience'
A still from the film
It's an indisputable fact that a Tarantino film will have ample amounts of blood, gore and profanity. Much has been said of the delight he takes in extreme violence. But the man has proven his genius time and again.
Here, it's almost like he tried to pull a Fargo, with slow dialogue-filled scenes followed by sudden bursts of violence.
The Civil-War infused script, structured in Chapters, methodically builds misunderstanding and sneakily seeds odd recurrent elements (a letter from Abraham Lincoln is a highlight. So is the door to the Haberdashery).
And while there's no scene quite as horrifyingly captivating as the barroom one in Inglorious Basterds, it's still tense stuff, with the real narrative point of the movie shifting multiple times.
From all of Tarantino movies, this is the one that looks more like it was made for theatre. More accurately, it's like a murder mystery of sorts - but about a murder that's yet to be committed.
Juggling the players
The entire cast is outstanding, and in a year full of terrific ensembles, The Hateful Eight may be the very best. Every character brings a wonderful bit of nuance to the table.
As always, no-one sings Tarantino dialogue quite like Jackson, who is never better than when he's working with his Pulp Fiction director.
Jennifer Jason Leigh is a weird little thing as Daisy Domergue, and the way she can't resist goading John Ruth, even when she knows she's going to pay for it, is pretty terrific.
As great as Tim Roth is as the eccentric hangman, it felt as though he was intent on playing a poor man's Christoph Waltz.
The biggest surprise of the lot is probably Walton Goggins as a slimy-but-honest potential sheriff; he's got a lot more to do than he did in Django Unchained, standing as a key representation of the racial themes.
Tarantino famously shot The Hateful Eight in Ultra Panavision 70, and, in select locations in the US, it's being exhibited on 70mm film as well. For a Western, (with a spirited score by the genre's iconic Ennio Morricone) the cinematography allows for some beautiful shots of the icy peaks and plains of Wyoming, whose purpose is less to dazzle us than to wall in the drama.
The verdict
After the thrilling convolutions - narrative and moral - of Pulp Fiction, Jackie Brown, Reservoir Dogs, Kill Bill and even Inglorious Basterds, Tarantino has stopped challenging himself.
Though my mind could change with another viewing. That's the power of Tarantino.
RATING: 3 out of 5
More in Catch -Why does 'awards season' always disappoint? A TV junkie's rant
Daddy's Home review: for a slapstick comedy, I only laughed thrice
Our Brand Is Crisis review: A battle of the spin doctors that isn't half bad