The GoT dragons were born in Goregaon. But has Indian animation really arrived?
Asad Ali
| Updated on: 29 August 2015, 5:42 IST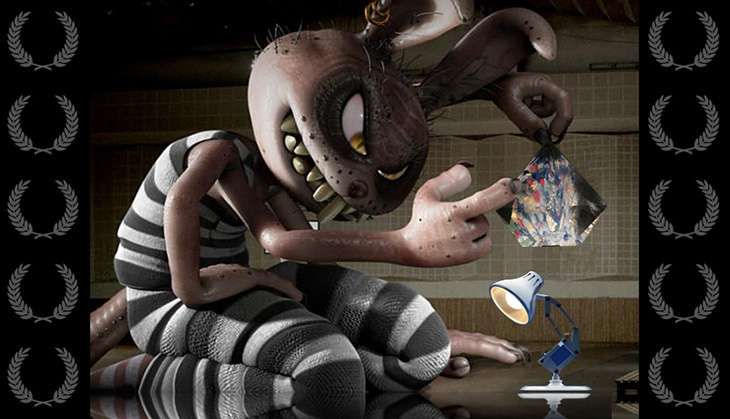 If you're an Indian animation enthusiast, the past couple of months may have given you reason to squeal with fangirl/boy delight. And, possibly, with mild vindication.
Indian animation projects have suddenly become the flavour of the season, and our contribution to the special effects - or VFX - industry of the world has suddenly become drawing-room conversation.
All this is supported by impressive market predictions and big numbers from industry bodies. So, to borrow the ol' saying, which is also coincidentally a recent Disney Pixar tweet, 'It's all good under the hood.'
Not really, though.
Beneath all the noise and seductive stats lie a far less satisfied - if not completely disgruntled - clutch of artists, wary of numbers, suspicious of policies and tired of hearing the old narrative of Indian animation set to become the next big thing.
The (little) Big Bang Theory
Suddenly, Indian special effects is everywhere, and people won't stop talking about it.
Yes, the dragons from HBO's megahit series Game of Thrones were born in Goregaon, Mumbai. An Indian subsidiary of an LA-based company, Prana Studios, developed the fire-breathing beasts for the popular show.
Then there is SS Rajamouli's staggeringly successful Baahubali, whose special effects were created by Hyderabad-based Makuta and generated serious buzz among both critics and audiences.
Beyond the realm of the mainstream is Ravi Shankar, a Bengaluru-based IT guy working on the world's first Sanskrit animation film, Punyakoti, due for an early release in 2016.
And there's an Indian studio called Eeksaurus that won a Cristal for Fateline, a Commissioned Film at Annecy International Animation Film Festival, France - often considered the ultimate platform for the global animation industry.
What the numbers say
According to a FICCI-KPMG Report 2014, the size of animation, visual effects and post-production industry in India was about Rs 39.7 billion in 2013, with a growth of 12.4% in 2014.
Their 2015 report says that the VFX, Animation and Gaming business is worth about Rs 80 billion right now and will grow approx 16% every year.
By 2020, just the animation and VFX industry is expected to comprise 10% of the global industry.
The growth seems seductive enough that even the Ministry of Information and Broadcasting (I&B) has got in on the fun: by proposing a National Centre for Excellence in Animation, Gaming and Special Effects to be developed by 2016.
Maharashtra Chief Minister Devendra Fadnavis echoed the enthusiasm when he rolled out the state's IT policy in June.
The new policy will waive entertainment tax on projects in animation and gaming that complete 50% of the work in Maharashtra. VFX films will be offered 50% subsidy with a cap of Rs 2.5 crore.
Why the artists aren't singing their way to the bank
All this doesn't impress 82-year-old Ram Mohan very much.
Mohan, who was born in Kerala, joined the Cartoon Film unit of the Films Division of India in 1956.
Often called the father of Indian animation, he's been working for close to 60 years in the Indian animation industry.
While there are seemingly a million different animation programmes to choose from today, there were no such options for Mohan. So he taught himself cartooning, turning to Punch, New Yorker and Disney's short animation productions for inspiration.
Mohan learned the craft under the aegis of a Walt Disney animator sent to India for two years to teach a technical aid programme.
And he learned it so well that he went on to win two National Awards - in 1972 for You Said It and again in 1983 for a feature called Fire Games, both full-fledged animation projects. He also won the Padma Shri in 2014 for his contribution to the industry.
And yet, he remains skeptical about the industry. "If you go by sheer economics and how much we are earning then perhaps yes, the animation industry is doing well. But that's only because there's a large amount of work being outsourced by places like the US. There's cheap labour here and we've become competent in certain technical skills."
When it comes to producing proper feature films though, India "hasn't lived up to the promise it once showed", says Mohan.
Though he acknowledged that some productions, despite being small, do some great work, for instance Eeksaurus, which won the first ever Annecy Cristal for India this year, a recognition equivalent to an Oscar for the animation industry.
Mohan says they've been consistently getting nominations for the last seven years or so and it's a much deserved honour for the outfit.
But most other projects, he says, are "just a flash in the pan. They maybe raking in some money but aren't doing anything to help the cause of Indian animation overall."
What India needs, he says, is for people to understand how to write for animation stories. It's imperative that the writer has an understanding of the sensibility of characters in an animation feature and how the story will differ from a live-action film.
Glass half full?
Representatives of the industry though remain gung-ho, often lapsing into optimistic business-speak.
For example, Biren Ghose, President of Association for Bangalore Animation Industry (ABAI), says that Indian animation is all set to take off.
He quotes the same FICCI-KPMG 2015 report and says that India, in this sector, has been "an incredible growth story considering that, a decade ago, the Indian Animation and VFX industry was not even a single digit of the country's market share in this sector."
"You know all this data and numbers is pure bunkum, and you should do a separate investigative story on it!" laughs Suddhasattwa Basu, a generation younger than Mohan, but still a big name in the history of Indian animation.
He goes on, "They've come up with such surveys before as well and it hasn't changed anything. Our problem remains our inability to produce people who can tell good stories in animation."
Basu was the one-man creative force behind India's first indigenously made animated television serial for children, Ghayab Aya. Made in 10 parts, it was first telecast on Doordarshan in July 1990.
Most animation schools, says Basu, end up imparting technical education that doesn't quite lead to innovation. "No one looks at the nature of the work behind the big numbers."
The new guard
Lest you think this is an old boys' club cribbing about the glory days, unable to share the joy of instant industry profits, meet some of the younger brigade of animators who echo the sentiment.
E Suresh, who leads Eeksaurus, is just back from the win at Annecy.
He was the creative force behind the country's first animated music video, Bindu Re Bindu, which released in early 2000. Later Suresh teamed up with Vaibhav Kumaresh to produce some memorable Indian animation projects.
Who doesn't remember Simpoo Sardar, the incorrigible maths teacher that everyone loved to laugh at on Channel V in the late 90s? That was them.
They came up with the Amaron Battery ad series (lasts long, really long!) and the MTV Pogo commercials. They also did the animated ad campaign Buladi, in West Bengal, in which a middle-class housewife would talk about sexual health and condom use. The results were both hilarious and effective.
Both Suresh and Kumaresh are seasoned animators themselves now, and have a host of such popular animation projects under their belt.
But despite the popularity, their efforts seem sporadic and can hardly pull up a whole industry by itself.
Both agree that the need of the hour is for people who have the right mix of animation skills and the inclination to tell an engaging story. The two skills can't be mutually exclusive.
Take for instance Yash Raj's animated feature film Roadside Romeo (2008), which didn't make waves at the box office.
It's not that the production house lacked experience in filmmaking, explains Suresh. It's that they didn't know how tell a story in animated form.
And if Yash Raj can fail, who's going to hire them for features?
Fast forward
Pete Draper, Co-Founder & Division Head of Makuta Visual Effects - the company that made Baahubali - is not buying into pipe dreams.
He admits that the Indian animation landscape is currently "purely about the money". The Western studios have it, and so are outsourcing the menial tasks to India as service, because it means they can be more competitive with their pricing.
But he is optimistic about what's to come: a lot of studios are in fact starting to carve their own name in the market with innovative projects, and it's only a matter of time before more creative work is sourced or developed internally.
Time is clearly the deciding factor. One reason why India has been a successful outsourcing hub is because it's relatively cheap, especially when compared to that other global outsourcing hub, China.
Suresh warns though, that India's other big advantage - English proficiency - may soon be nullified by the aggressive Chinese. And by then, if India still has nothing to offer in terms of actual original content, we may lose even that slice of the outsourcing pie.
Nothing glamorous about the prospects
Many feel India can still reach for recognition - and money - via the special effects or VFX projects.
Entirely distinct and often confused with animation, the VFX sector too, though, is high-risk.
While it's true that VFX is a necessity in all films, and hence a seemingly safer bet, the story of Rhythm and Hues may put things into perspective.
Despite being the company behind the special effects for the award-winning Life of Pi, the US-based Rhythm and Hues had to shut down after their Oscar win because of persisting financial challenges.
The only logical way ahead, says Suresh, is to expose the upcoming generation to excellent original animation stories that find resonance, not just another Disney rip off or mythological flick.
"Once we have our own audience we won't need to look at import/export avenues as the only source of animation work."
Because as many other businesses built around outsourcing have discovered, if you have no stake in the demand, you can't build a longterm business of supply.