The F-Spot: 7 photographers who have changed the shape of fashion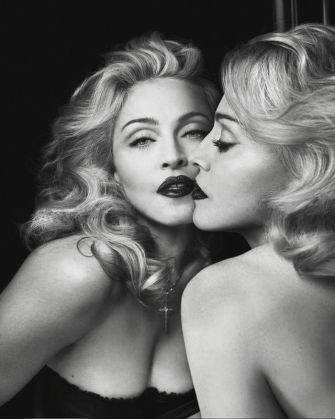 Photographers have probably done more for fashion than many fashion designers.
If it were left to product descriptions, it's unlikely most luxury handbags would ever get sold: 'spacious insanely-priced handbag that costs more than your car and can fit a laptop but you wouldn't dare,' isn't a compelling pitch after all.
Photography shapes desirability. Images show you what a trend looks like. Images make 'cool' tangible.
Contest alert: enter #SnapCatch, our fabulous street photography contest! Details here
That's why great photographers are revered by the fashion business.
Models love them, because the lens shapes how they're seen.
Designers, because the lens makes desirable what they craft.
Celebrities, because a photographer is the most influential link in their journey to immortality.
And then they do more. They make us - the audience - see differently. They give us insights into what's remote, and illuminate what's under our eyes that we couldn't see.
They take what's pretty and make it stunning but they also take what isn't necessarily considered beautiful - and make that desirable too. When Annie Liebovitz shot the heavily pregnant Demi Moore nude for the now-iconic Vanity Fair cover, she made the naked swollen body something to pride in. She shaped our way of seeing.
That's something all seven photographers featured here have in common: whether by eliminating the extraneous or shedding light on the hidden; whether by disruption or seduction, they have fundamentally shaped how we see fashion and its famous entourage.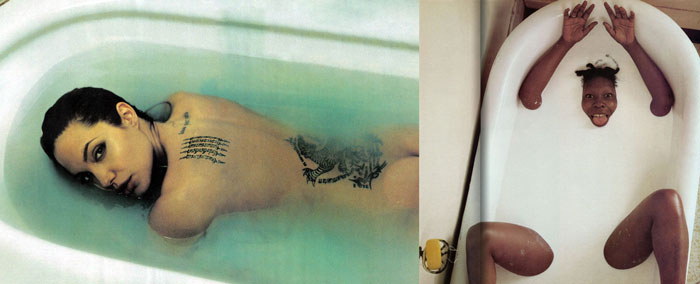 Even if you'd never heard of Annie Leibovitz, chances are you know one of her pictures. She has taken some of the world's most iconic celebrity images - no easy feat when you're in the business of shooting the world's most photographed people.
Starting out as a staff photographer for Rolling Stone magazine, her technique involves the use of bold colours and unconventional poses that often startle to create a long-lasting impression.
She counts fellow lensmen Richard Avedon and Robert Frank as influences - but herself has had lasting impact on the field. There's rarely the subdued or subtle about Liebovitz' work - her portraits are staged, wildly lit, dramatic affairs, no less insightful for their drama.
Her shoots are often controversial, almost always provocative. When she shot a heavily pregnant Demi Moore for Vanity Fair in 1991, for instance, it kicked off the trend of pregnant celebrities posing nude.
She was also, famously, the last person to photograph John Lennon. She took the now-cult photograph of a nude Lennon and wife Yoko Ono for Rolling Stone on Dec 8, 1980 - he was shot and killed the same day the portrait was taken.
She has shot fairytale-themed fashion editorials with celebrities like Roger Federer, Rachel Weisz, Jennifer Lopez, Gisele Bundchen and Scarlett Johansson.
Despite being in the business for decades, her influence hasn't waned in the least - already, she's shot easily the most notable magazine cover of 2015, Vanity Fair's stunning Caitlyn Jenner portrait post transition.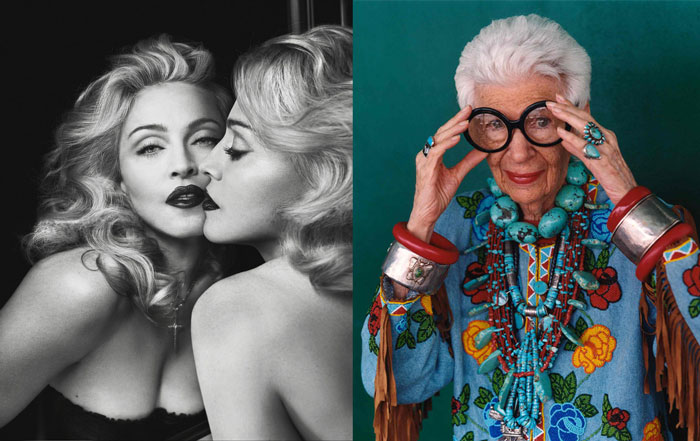 He's shot for the top-tier of fashion. His images, often verging on the erotic, are known to break the boundaries of beauty in fashion. That explains why he's behind the pathbreaking fashion campaigns of brands like Calvin Klein, Revlon, Versace and Ralph Lauren.
But it's his work for Abercrombie and Fitch - whose ultra-sexy, and largely homo-erotic catalogs he created during the 90's - that really made him a name outside the fraternity. The catalogs were often so racy that at some malls across America, kids had to show an ID before being able to buy them.
And then there was the Calvin Klein underwater campaign, one of fashion photography's iconic moments. Weber did the formerly unthinkable - he made an almost naked man posing in nothing but his underwear fashionable, sexy, and aspirational.
Supermodel Naomi Campbell, one of his favourite models said, 'He is rarely - and bravely - afraid to be silly.' That means he doesn't engage with the public idea of the highbrow: he's as engaged when photographing high fashion editorials as he is a dog wedding.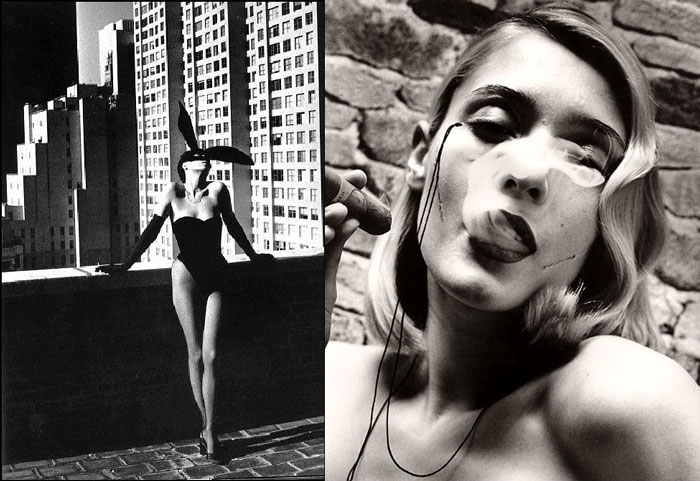 Newton flipped the gender switch in fashion photography - strong, powerful women were at the heart of his work.
During his long reign as the self-proclaimed 'bad boy of photography,' Newton waged war against the wallflower. When he began working for French Vogue, he rebelled against the docile, subdued women he found in fashion magazines of the time. Women were now strong, dangerous, dominant and in charge of their sexuality.
While his shocking images were far from celebratory posters for the Women's Movement and gender equality of the late '60s, he teased and toyed with notions of power and control during the battle of the sexes.
While Newton appears to be in charge of the photographs, it is the women who feel in control. They were strong, coldly detached and certainly didn't reflect the cliched object of male desire typically documented in the fashion world.
He's won most accolades that there are to be won - in 1989, he was named 'Chevalier des Arts et des Lettres' by the French Minister of Culture, won similar honours from Germany and Monaco. Life magazine gave him the 'Life Legend Award for Lifetime Achievement in Magazine Photography' in 1999. Helmut Newton met his death in a car crash outside the Chateau Marmont in West Hollywood in 2004.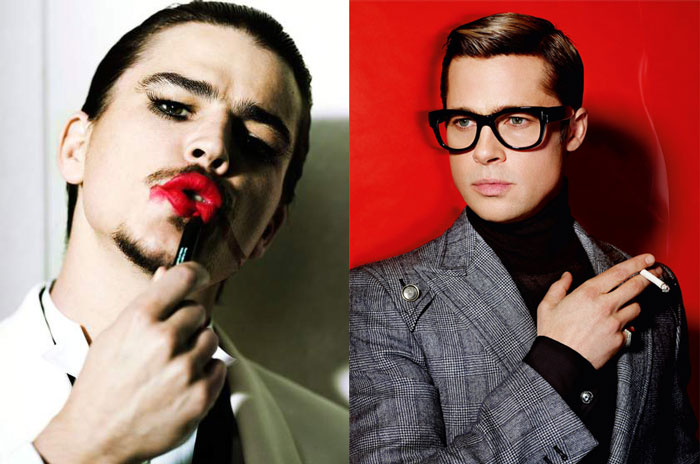 It's a name instantly recognisable to even a layperson interested in fashion - Tesino is behind some of contemporary fashion's most celebrated magazine covers including Vogue and Vanity Fair.
His eye for cultural relevance while keeping a firm rein on commercial success have made him much sought-after in the fashion and beauty industry. It's no exaggeration to say he has a significant role to play in the success of leading fashion and beauty houses from Burberry and Gucci to Dolce & Gabbana and Versace.
While fashion photography seems to skew towards women, Testino is famed for his shoots with men. In an interview to The Guardian the 60-year-old photographer said he was always better at shooting men. 'It's easier, you don't have to do hair, makeup, clothes, the length of the skirt, the height of the heel - on a man, you can put anything and 'Oh! It looks great.'
That hasn't stopped some of the most photographed women in the world from seeking him out - he's the photographer of choice whenever the British royal family choose to be profiled in luxury magazines. He famously photographed Princess Diana as well as the Duke and Duchess of Cambridge.
His personality adds a unique dimension to Testino's work - not for him the status of chronicler of the famous; he is very much a celebrity himself and unapologetically documents his own life the same way as celebrities do - a video crew usually follows him around documenting his life.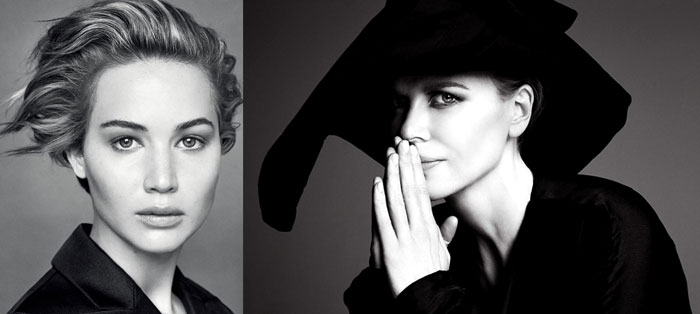 Vogue and Demarchelier have worked together so often, it's hard to think of one without the other.
He worked with the iconic Grace Coddington during her tenure at British Vogue and has credited her with helping to launch his career. 'It was the best magazine in the world, the one you really wanted to work for, so to be with her was a big breakthrough,' he told the Telegraph in 2012.
In 1975, having won a reputation as a respected fashion photographer in France, Demarchelier decided to follow his girlfriend to New York, despite not speaking a word of English.
His life seems to have been a series of risks that turned out right. In a 2003 to the magazine, he said, 'I have no formal qualifications, just the school of life. I learned most by just taking pictures; a lot of pictures. I've made plenty of mistakes, but it's often from your mistakes that you learn most. Being a photographer is like being an athlete. You must practice every day.'
He worked as a freelance photographer and assisted the likes of Henry Cartier-Bresson, Terry King and Jacques Guilbert. His work has since featured in numerous publications, including many Vogue covers, and he has shot campaigns for Calvin Klein, Ralph Lauren, Chanel, Elizabeth Arden, Dior, Giorgio Armani and Louis Vuitton to name just a few.
He has said that his favourite subject to photograph is his dachshund, Puffy. "When people ask me which is your favourite portrait, they expect it to be Diana, or someone famous. But the answer is my dog, Puffy." he told the Telegraph in 2012.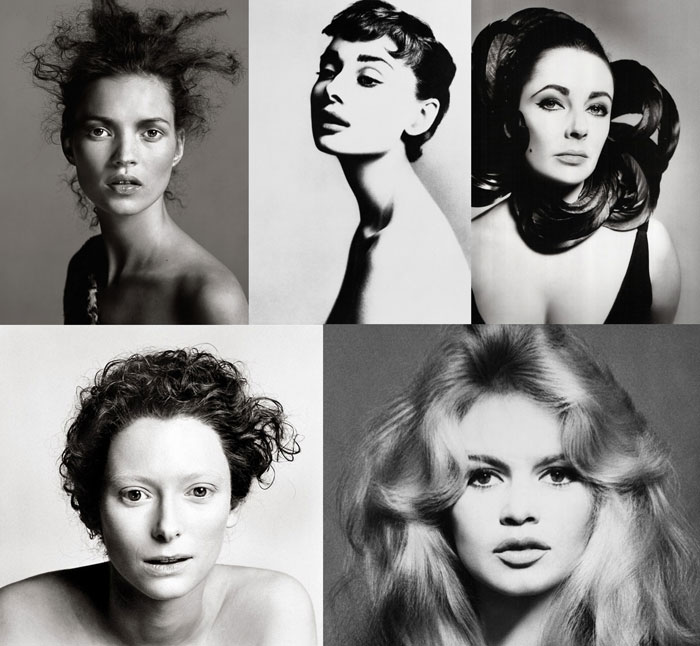 An obituary published in The New York Times said that Richard Avedon's fashion and portrait photographs helped define America's image of style, beauty and culture for the last half-century.
For more than 50 years, Richard Avedon's portraits have filled the pages of the world's finest magazines. His stark lighting and minimalist white backdrops drew the viewer to the intimate, emotive power of the subject's expression. When printed, the images regularly contain the dark outline of the film in which the image was framed.
There is no fashion magazine of note in the world that hasn't proudly featured his work; he's also the only photographer to have had two major exhibitions at the Metropolitan Museum of Art, in 1978 and 2002.
He was voted one of the ten greatest photographers in the world by Popular Photography magazine, and in 1989 received an honorary doctorate from the Royal College of Art in London. He died in 2004.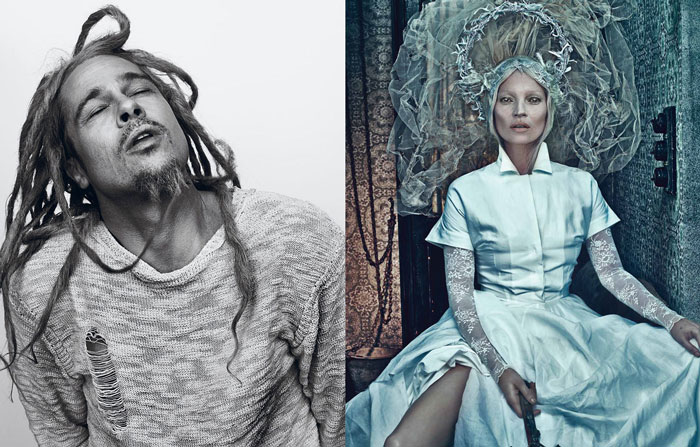 Klein has made a career of flouting the rules of celebrity portraiture, which may explain why he's referred to as an artist as often as he is a photographer.
Almost inexplicably, the stars he shoots often seem to be in service of his art than their own image - he has been able to persuade the intensely reserved to open up for him; the flawlessly attractive to open themselves to unflattering images.
'Brad and Madonna are two of the biggest icons in the world,' says Klein. 'But I don't connect with them because of their standing. I've connected with them because of their way of morphing into my pictures, and being willing to go there with me.'
It's his confident, disruptive worldview that has made him close friend and photographer to mavericks like Lady Gaga and Madonna, and brands including Calvin Klein, D&G, Alexander McQueen and Nike.
'The thing that gets frustrating about fashion,' he says, 'is that as a photographer you always want to grab on to something that reflects what's happening in the world, what's in the street. You don't want to just fabricate these dream lives of these idealistic Barbie dolls that don't even exist anymore.'
Fortunately, Klein knows how to make it sexy even as he keeps it real.