The Girl Who Won't Be Forgotten: Larsson's Millennium trilogy is back without him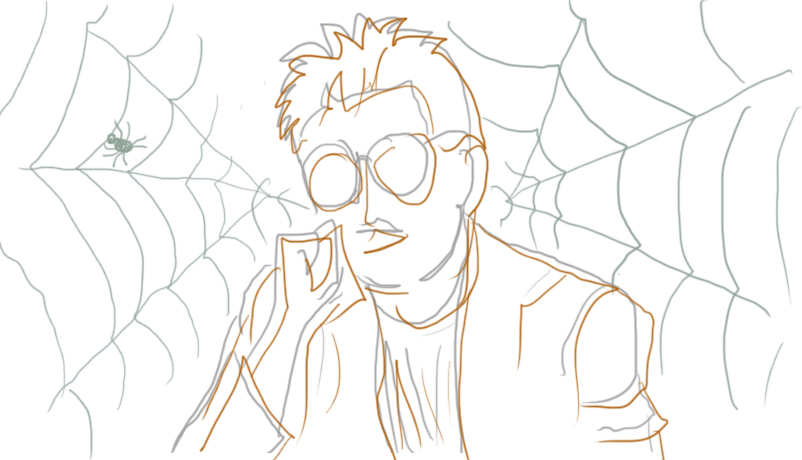 The return of an 'evil' twin sister and a Viking curse have helped create a lot of drama around the release of the fourth installment of Stieg Larsson's infamous Millennium trilogy.
Lest we forget, they also make for great ingredients in creating the next bestseller in the world of crime fiction.
Yesterday, fans of the late Larsson had reason to cheer again when the controversial fourth book - The Girl in the Spider's Web - was released with much intrigue, secrecy and of course, the Viking curse.
Authorised by Larsson's father and brother, the new novel has been penned by Swedish journalist and author David Lagercrantz, who is best known as the ghostwriter of the Swedish footballer Zlatan Ibrahimovic's autobiography - I am Zlatan.
Larsson, who in 2004, had delivered a ridiculously long manuscript to his publisher, never knew that his work would develop into one of the great sagas of modern publishing with over 80 million copies sold so far in 30 languages.
Before he could even see how wildly successful his books thanks to his creation of immortal characters like the enigmatic, tattooed, sociopathic Lisbeth Salander and journalist Mikael Blomkvist, Larsson died of a heart attack just a few months later.
As Larsson hadn't left a will, his estate went to his brother Joakim and father, not Eva Gabrielsson, who had been Larsson's partner of more than three decades.
Gabrielsson went on to lose a bitter battle with them to manage his work and has now called for a boycott of the book saying that Larsson would be "furious" about the publication - which was timed to hit the shelves to coincide with the 10th anniversary of the release of the first book The Girl with a Dragon Tattoo.
If that's not enough masala yet, here's more: the writing of the newest book was shrouded in secrecy with the author, editors and translators all working on computers disconnected from the Internet to prevent hackers from leaking the plot.
And then there was another twist.
'Manic, depressive'
Despite being an experienced writer, it was no walk in the park for Lagercrantz. The author said he was 'terrified' while writing the book. "I used to say that I was bipolar, manic depressive all the time, and I think it was kind of a good thing to write," he said to reporters hours before the launch.
In an interview to AFP, Lagercrantz spoke about crazy hours spent "obsessively" poring over Larsson's trilogy, reading it over and over again to make sure everything was perfect.
The "fear of not doing Stieg Larsson justice" kept him going despite the fact that Lagercrantz questioned his ability the whole time.
"The writing process was a combination of an enormous desire and total fear," he admitted to AFP, adding that he was "scared to death" that his book would not live up to the trilogy.
Larsson writing always had a slow burn with sudden bursts of high intensity action at intervals. He'd linger to explain complicated ideas and narrate even the minor details of some minor characters.
Thankfully as a majority of the reviews for Spider's Web have been positive, it seems that Lagercrantz fears were unfounded and he didn't let anxiety get the better of him.
The New York Times' Michiko Kakutani wrote that despite plenty of "lumps" in the novel, "Salander and Blomkvist have survived the authorship transition intact and are just as compelling as ever".
"The novel is well-researched and more intelligent than the average thriller, though the detailed descriptions of maths and computing often bring the narrative to a shuddering halt," The Independent's Nick Clarke writes.
Despite his fear of failure, Lagercrantz said that being given the opportunity to write the book was "an incredible privilege, an enormous joy".
But doing justice to the complex, dark character of Lisbeth Salander was the bigger challenge for the writer, who said that Blomkvist was a character he could identify more with.
The Viking curse
Larsson had made it clear before his death that the Millennium trilogy was the inauguration of a series that would extend to eight or 10 volumes.
Gabrielsson, 61, herself admitted that he had begun to work on the fourth right after he submitted the first three to his publisher Norstedts. She says that Lagercrantz never consulted any of those notes.
She even went far enough to call him a "totally idiotic choice" in March.
Gabrielsson says the release smacks of greed and admitted that she has put a Viking curse on those who have made money from his name. "They say heroes are supposed to live forever. That's a load of crap, this is about money," Gabrielsson said.
Larsson's father and brother say the book's royalties will go to the anti-racist magazine Expo co-founded by the late writer. The huge royalties from his three books, therefore, have gone to his father and brother too, with whom Larsson reportedly had not been close.
Old friends of Larsson's, like administrative director Anders Lindblom and psychiatrist Svante Branden - who are actually mentioned in one of the Millennium books - have also criticised the project. They've said it's disrespectful to the author and have called Lagercrantz unqualified for the job.
The Girl in the Spider's Web
For those yearning to spend more time with some of the most extraordinary thriller protagonists in the past decade that gave the original series staying power, this is possibly as good as it gets.
"It's my novel in his universe," Lagercrantz told AFP. "His world, his characters, but I put some of me in it too."
Fair warning - spoilers follow.
At the end of Larsson's trilogy, Salander had managed to squirrel away a fortune and disappear. The new book picks up with a tired and drunk Blomkvist, who's a little down and out in this age of Facebook and Twitter, wondering what Salander is up to. His magazine - Millennium - is going through certain financial difficulties.
One new notable character is introduced in the book - Camilla - Lisbeth's sister who was mentioned in the first book when Lisbeth met her mother on a few occasions. A hacker herself, Camilla is determined to kill the sister she has hated since childhood.
The other major new character, Frans Balder, is a specialist in artificial intelligence, although he is aiming to move beyond AI to ASI, or artificial super-intelligence, creating machine brains infinitely superior to humans. Balder, whose experiments have made him a person of interest to both the National Security Administration in the US and a hydra-like corporation called Solifon.
He's a single father to a severely autistic eight-year-old son, August, who possesses a human super-intelligence in art, producing drawings that become important to the storyline.
More than anything else, The Girl in the Spider's Web is a novel about hacking. The punkish Salander guides a hacker group called Hacker Republic; Salander manages to hack the supposedly airtight networks of the National Security Agency and there are several other hackers who fill the story.
Even so, we'll possibly never know what Larsson himself intended to write in a post Wikileaks world with powerful groups like Anonymous holding some puppet strings.