Step aside Disney. Banksy just opened a Bemusement Park called Dismaland
This is a theme park that comes with a disclaimer: it is unsuitable for children.
It's a warranted warning: one of the star attractions, after all, features a boatful of migrants in the water, surrounded by bodies. Your job, should you wish to indulge in Banksy's idea of a good time, is to out-manoeuvre the migrant boat and the unfortunate few who fell off.
The stencil-graffiti artist, known from New York to Gaza for his knife-sharp political commentary and equally piercing wit, has set up a warped, dystopian parody of Disneyland, the Happiest Place in the World, in the cold and gloomy seaside town of Weston-super-Mare in south-west England. It is the world's first Bemusement Park.
A little bit about Weston-super-Mare: it was first a manufacturing town for military equipment during World War Two. After the war ended, the town became a tourist hub.
The government spent vast amounts of money in constructing a Grand Pier that housed a go kart, funfair style attractions, a fudge factory, and a series of old-school arcade games. It was the Orlando of West Britain, bringing in massive crowds from across the country.
The fun lasted a few decades, till English tourists discovered Europe - cheaper and more accessible than ever before.
By the closing decades of the twenty-first century, Weston-super-Mare grew increasingly silent. The arcades and rides began to shut down. Now, it's reduced to a ghost town - few open shops, and the odd Rip Van Winkle tourist who hasn't realized that fun's moved elsewhere. Banksy could hardly have chosen a better, more loaded spot.
A Secret Dystopia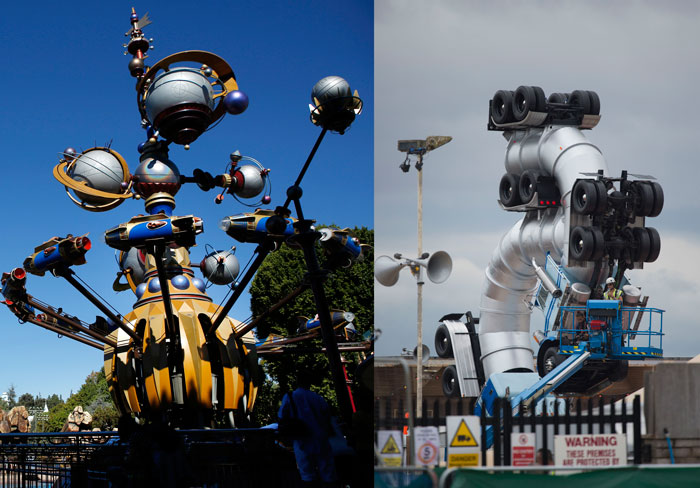 Dismaland was a well-wrapped secret till Opening Day, August 21st. Locals were told a film was being shot at the abandoned old swimming complex that is now its setting.
It would have been implausible, but if anyone knows how to protect his secrets, it's Banksy. Despite almost 25 years as an artist, his real identity has yet to be conclusively established. All that is known with certainty is that he grew up around Bristol - and that this park has been on the cards for months.
Prepare to be bemused
Unlike the obsessively good-natured folks at Disney theme parks, Dismaland boasts employees who are bored at best, testy at worst.
It also, fittingly, features an exhibit of Cinderella's coach having crashed and turned on its side, with her struggling white stallion in the air. Furiously clicking - and predictably apathetic - paparazzi surround it.
There's a kiosk where children can obtain high interest loans for an advance on their monthly allowance, a geodome covered in protest posters, a lonely Grim Reaper riding a bumping car, and a bookshop of anarchist literature.
Should you be looking for it, guests can also solicit advice about collective bargaining and unions. Or learn how to picket and hack billboard signs.
While Banksy was predictably unavailable for comment, Jeff Gillette, one of the fifty artists on display at Dismaland along with Banksy, offered his take. "[Disney] is vulnerable, to me, they're such a big presence and such a big part of culture and symbolic of so many things. It's hard not to f**k with them."
Jeff's art features Disney characters juxtaposed against landfills.
The theme park - which is, in effect, Banksy's latest show, just conceived on an unprecedented scale - will be open for visitors from from August 21st to September 27th. 4,000 tickets will be sold every day, for the token price of $5 each. It's not a solo show either - 58 artists including Damien Hirst and Jenny Holzer have created works specially for this show.
There's almost more gems in this 2.5 acre plot than a single person can take in on one visit: take, for instance, the Jeffrey Archer Memorial Fire Pit, where a daily burning of the author's books is slotted. Banksy himself has created 10 new works for Dismaland, each with layers of complexity and comment built into it.
There's little doubt tickets will sell out almost instantly - not the regular seaside amusement park crowd perhaps, but Banksy fans, art lovers and anyone with a half-sophisticated sense of humour.
And when they arrive to enter this dystopian domain, they will encounter this announcement: knives, marker pens and lawyers - perhaps on the assumption that Disney may send a few - are not allowed.
It's not yet known whether optimists are, either. But for the first time in recent decades, Weston-super-Mare certainly has something to smile about.