An emperor mourns his love: what drove Shah Jahan to build the Taj
Rana Safvi
| Updated on: 13 February 2017, 5:11 IST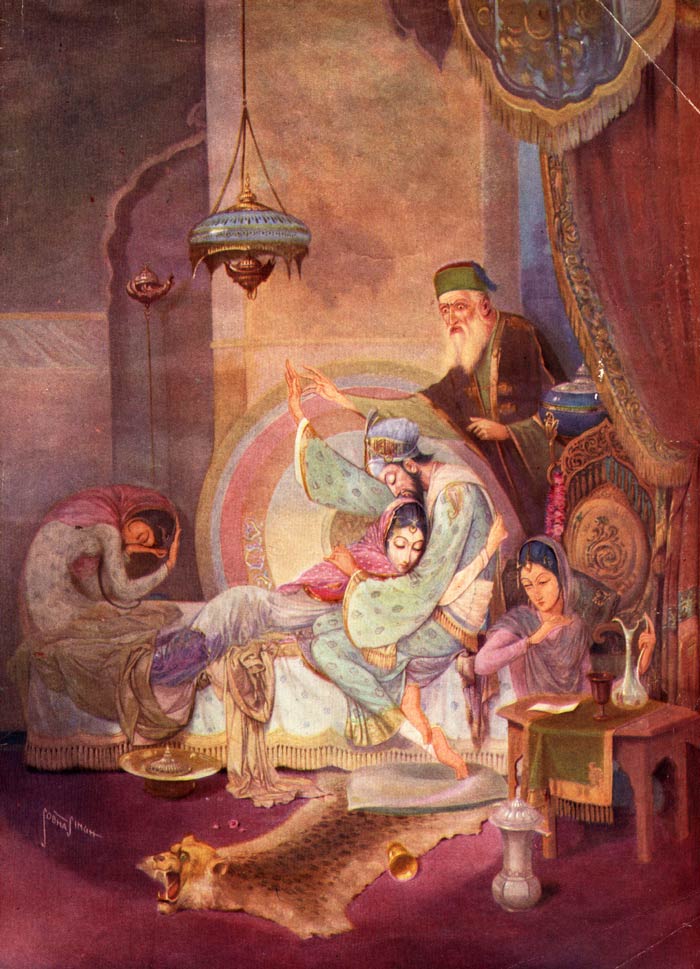 "Taj tere liye ik mazhar-e-ulfat hi sahii
Tujh ko is vaadi-e-rangee'n se aqeedat hii sahii
Meri mehboob kahin aur milaa kar mujh se!"
(The Taj may be a symbol of love for you
You may have faith in this beautiful monument
My Beloved, please meet me elsewhere)
Even poet Sahir Ludhianvi, when denouncing the Taj Mahal, was very clear in his mind that he was rejecting it not as a symbol of love, but because it wasn't the symbol of a common man's love. It symbolized the love of an Emperor only.
No one, then, has ever questioned Mughal emperor Shah Jahan's emotional capacity or his love for Mumtaz Mahal.
Khurram (the title Shah Jahan was given in 1617 by his father) was the son of Jahangir and Jagat Gosain from the royal house of Jodhpur, also known as Jodh Bai. He inherited his mother's Rajput features. He was fluent in Turki, the court language Persian and Hindavi, which was spoken in North India.
Prince Khurram was betrothed in 1607 to Arjumand Banu, daughter of the Persian noble Asaf Khan, and married to her in 1612. Khurram gave her the title of Mumtaz Mahal Begum ('the chosen one of the palace'), as - in the words of Padshahanama writer Muhammad Amin Qazwini - he was so delighted with his new wife and found her in character and appearance 'mumtaz' amongst all the women of the time.
Qazwini further writes:
The intimacy, deep affection, attention and favor which His Majesty had for the Cradle of Excellence [another title of Mumtaz] exceeded by a thousand times what he felt for any other. And always that Lady of the Age was the companion, close confidante, associate and intimate friend of that successful ruler, in hardship and comfort, joy and grief, when travelling or in residence..

The mutual affection and harmony between the two had reached a degree never seen between a husband and wife among the classes of rulers (sultans), or among the other people. And this was not merely out of sexual passion (hawa-yi-nafs): the excellent qualities, pleasing habits, outward and inward virtues, and physical and spiritual compatibility on both sides caused great love and affection, and extreme affinity and familiarity.

(translated by Ebba Koch in The Complete Taj Mahal, 2006)
An emperor's grief
She accompanied him everywhere; in fact, they were in Burhanpur in 1631 when, during the birth of her fourteenth child, she died. The emperor's grief knew no bounds.
It was Professor Yunus Jaffery who pointed out contemporaneous references to this extreme state of mourning that Shah Jahan had fallen into. The Emperor wore white clothes while mourning for his wife and the rest of the court had to as well.
His court historians record his passionate love for his wife and his inconsolable state after her death. Qazwini records that he even considered abdicating his throne and becoming a religious recluse, such was his sense of loss after Mumtaz Mahal's passing.
Shah Jahan considered abdicating his throne and becoming a religious recluse, such was his sense of loss
He gave up wearing coloured clothes, jewellery, hearing music or using perfume. His hair turned white; he wept so much he needed spectacles. (Could he then have been one of the first in the subcontinent to wear spectacles, since they had only just been introduced by the Portuguese?)
Wednesdays and the month of Zil Qada, in which she died, were observed as days of mourning for many years.
Professor Jaffery also told me of a letter he found, and which is referenced by Ebba Koch, in which Qasim Khan 'Manija', husband of Mumtaz Mahal's aunt, remonstrated with him. Manija said that if Shah Jahan mourned with this intensity, Mumtaz Mahal may have to give up the joy of Heaven to come back to earth, the place of misery. He added that Shah Jahan should also remember the children she had left in his care.
A monument worthy of an empress
Shah Jahan had already resolved to make the most perfect memorial to his dead wife, after having been inspired by the words of Bilbadal Khan, "May the abode of Mumtaz Mahal be Paradise."
Her body was taken out of its temporary grave in Burhanpur in December 1631 and brought to Agra, a year before, only six months after her death.
The foundation of the mausoleum is on logs of sal wood sunk in wells fed by the waters of the Yamuna. All the chronicles record that the land found most suitable for this heavy and magnificent mausoleum was found to be the palace of Man Singh, which was in the possession of his grandson, Jai Singh. It was called Aali Haveli (Lofty Mansion).
Though Jai Singh was willing to give it as a present, the Emperor bought it in lieu of four other havelis in Agra.
An emperor so passionately mourning his wife would not build the Rauza e Munawwara (illuminated Tomb) or Rauza e Mutahhara (The Pure Tomb) - as the mausoleum was officially called - on confiscated land, as namaz is forbidden on it. Thus his insistence on not accepting the land as a present.
There is great emphasis on Shah Jahan's personal involvement in the building of the mausoleum. The identity of the architect is not known and has, according to Ebba Koch, led to 'fanciful speculation'.
She adds that that "In the 19th century, local informants of the British fabricated the story of an architect from Turkey named Ustad Isa. So obviously it follows that all the tales of cutting off his hands etc were more tales of the fertile British informants and receivers of the information!"
The two names mentioned in connection are Ustad Ahmed Lahauri and Makramat Khan.
It was officially completed in 1643 and was meant for eternity.
It's certainly eternally associated with notions of love and beauty in India and the world over:
Upon her grave-may it be illumined until the Day of Judgement
The King of Kings constructed such an edifice
That since Destiny drew the plan of Creation
It has not seen such an exalted building
-Abu Talib Kalim, Padshahnama 1630-40 (tr. Ebba Koch)